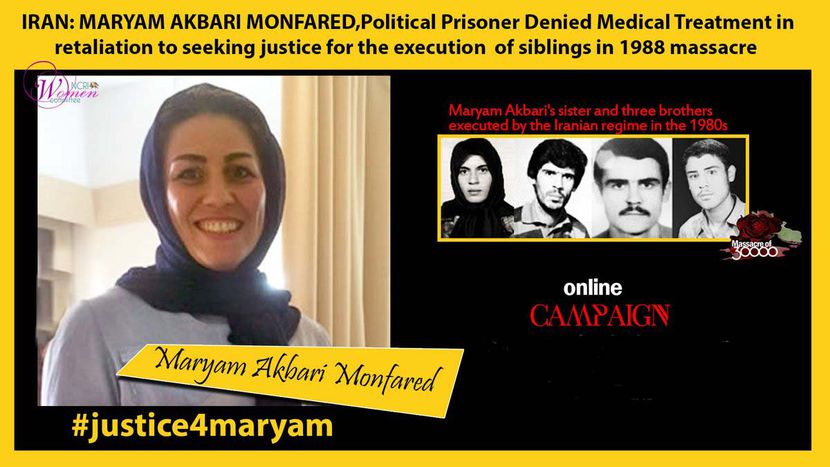 Iran: the case of Maryam Monfared 
Published on
Translation by:
Jamie Kendrick
Political prisoner Maryam Akbari Monfared is banned from seeing her children and family. She is accused trying to bring the perpetrators of a 1988 massacre in Iran to justice.
A flagrant injustice
All Maryam did was publish a letter asking for an explanation and an official investigation of the killing of her family in 1988. She wants to know who the perpetrators were and where the victims are buried.
In her letter, she explains: "Three of my brothers and one of my sisters were executed in the 1980s ... My brother Abdolreza, a cadet, was 17 years-old when he was arrested for selling documents regarding the MEK [People's Mujahedin of Iran] and was sentenced to three years in jail. The authorities refused to release him after his sentence was up and he was executed in 1988 ... Another brother of mine, Alireza, was arrested on the 8th of September 1981. He was tried and executed ten days later ... On the seventh night of mourning for my brother Alireza, the security forces raided our home and arrested some guests, as well as my mother and sister. My mother was released five months later but my sister was condemned to eight years in jail. She was killed in August 1988 with only one year of her sentence remaining."
No access to medical care
On top of being denied visits, Maryam has been refused access to medical care. Iranian authorities refuse to bring her to medical appointments to treat her rheumatoid arthritis and thyroid problems. According to the stand-in prosecutor at Evin prison, her appointments were cancelled because she has become too "insolent". Her sister Reza has asked that the UN weigh in face of all these injustices.
A political prisoner considered a "criminal" by criminals
Maryam's letter cost her the fury of prosecutor's office in Tehran, which immediately banned visits from her husband and children on the basis of orders "from on high", in their own words. An employee of the prosecutor's office replied to Maryam's family saying: "What does she want to know? Those who executed her brother and sister are either dead or too old and her brother and sister are probably buried in Khavaran cemetery." He went on to threaten the family affirming that Maryam's complaints serve only make her situation worse and prevent her parole or release.
A dubious sentence
Maryam was arrested in 2009 for membership of the banned organisation MEK [People's Mujahedin of Iran]. For the first five months, her family had no idea of her whereabouts or fate. In 2010, a revolutionary court in Tehran sentenced her to 15 years in prison, basing their judgement on her contact with and visits to her sister and brother, both MEK members. For the next 43 days, she was put in solitary confinement and went through intense interrogation without access to a lawyer. Multiple appeals were rejected without explanation.
Support from fellow prisoners
Political prisoners from the Gohardasht jail in west Tehran have published an open letter in support of Maryam Akbari Monfared and the families of the victims of the 1988 massacre in Iran. They also condemn the prison authorities. Here is an extract from their letter: "Last Wednesday, we were informed that the political prisoner, Maryam Akbari Monfared, has been detained incommunicado for some time. Three brothers and one sister of Maryam were executed in the 1980s, two of which were executed in the massacre of political prisoners in the summer of 1988.
Today Maryam's case, published in her letters, is considered by the regime as a crime in itself and the corrupt regime, shaken by her letters, has resorted to psychological pressure and threats against her. On the orders of high-ranking prosecutors, her weekly phone call and visits from her husband and children have been stopped until further notice.
In its approach, the regime is not only torturing her, but is also inflicting suffering and mental torture on her husband and young children."
Translated from Iran : Le cas Maryam Monfared