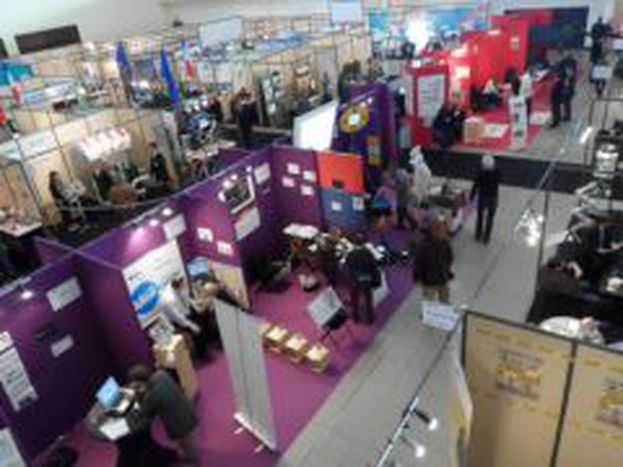 Inventors invade Brussels for Innova 2012
Published on
By Agata Olbrycht Brussels is the perfect hub for exhibitors and fairs, and a perfect meeting ground for Europe's innovators. The Innova event is an opportunity for regional bodies, SMEs, start-ups, enterprises and colleges to get to know each other, exchange ideas and practices and possibly begin fruitful collaborations.
Despite being dominated by exhibitors from Belgium, the event also hosted guests from Poland, France, Russia, Serbia, Hungary, Saudi Arabia and Georgia and featured serious business mixed with fun ideas. Strict-looking men in suits recommended the best engineering and scientific schools in Central and Eastern Europe, while other equally serious-looking researchers talked passionately about their innovations, some of them gathering good-sized crowds. Guests were invited to learn about a wind energy tower that permits the utilisation of wind energy and transforms it into mechanical or electrical energy by coupling a fixed energy, or about a device for formation of music and audiolines for music therapy. There were also explanations of the circular transportation systems for big cities and high-tech devices for ion light therapy, which can improve health and metabolism.
At 'Innovation avenue' , devoted to ingenious and playful inventions, guests were welcomed by Lego-like colorful constructions – the new conceptual learning game made up of plastic click-together ABS parts. Moving along, a coach taught how to follow and improve tennis moves on the court while using the laser tennis racket', a device equipped with emission means of luminous laser beams that form luminous spots on targets placed on the floor or on the wall, giving the 'student' very precise reference points. Then there was the 'Clic-clac house', a foldable building of 16 square meters for use by disadvantaged populations, the homeless, disaster victims, and the army. Further on, guests examined the ZENERATOR, a small object made of the synthetic crystal that shows the movement of luminous waves used for relaxation purposes...
Elsewhere 'Starters avenue', a dedicated section for innovative start-ups, guests were treated to such innovative marvels as the odourless toilet...There were also opportunities to participate in workshops. Guests were spotted gathered around tables enthusiastically discussing the role emotions play in work (emotional business), creative writing on innovation, or kinesiology and tools for learning how to handle our emotions and to anchor ourselves without dispersing ourselves.
And finally, a little treat for the innovation-hungry, and downright hungry: an innovative bag for fries that features little gaps on the sides and the bottom of the bag to let the air pass through, making the legendary Belgian fries even fresher, tastier and less loaded down with fat, plus a special eco-friendly and hygienic sauce-holder. And if that is not the highlight, we don't know what is...
Photo credit: Olek Mielczarek