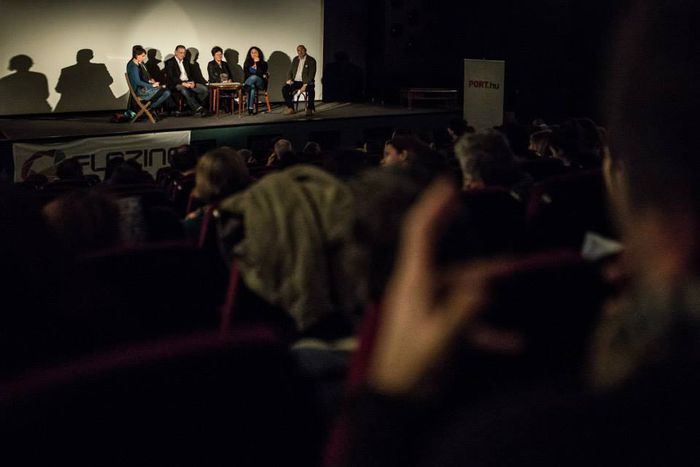 Interviewing the Managing Director of Verzio Festival
Published on
The only human rights documentary film festival in Hungary, Verzio, has been organized by Verzio Film Foundation and OSA since 2004. Its program addresses a wide range of issues, including: political oppression, civil conflicts, terrorism, minorities, refugees, women's rights, trafficking, and children's rights.
The 11th Verzio Festival took place in four different cinemas (Toldi, Muvesz , Kino, Cirko Jejzir) in Budapest
Aniko Kovecsi, the Managing Director  of Verzio Festival talks about it:
The 10th Verzio Festival just finished. Are you satisfied with the result and the people's correspondence? 
We've had more than 5000 viewers this year which is the highest so far - and it is also a good number, I believe, for a small non-profit festival. However, I do not like to hunt for numbers too much for it is really the films that matter and the issues we raise and the discussions we manage to trigger. That's the whole point: see, think, talk about human rights and film and be conscious and critical members of society.
Did foreign people come and watch documentaries or only Hungarian was interested in coming?
Verzio is an international festival and as such we reach out to both Hungarian and non-Hungarian audiences. The films are available with English subtitles especially because there is a large expat community in the city and their presence is also very important to us. What I love about our audience is its diversity, we have visitors from all over Hungary and abroad as well, and the age span is also rather large which is wonderful.
Tell us a few things about the festival and the theme that is based on, human rights. 
Verzio means version in English and the festival presents various versions of stories on human condition. Verzio is committed to promoting open society, democracy, and tolerance exploring new territories in the vast field of creative documentary cinema. It has created a forum where films, perspectives and interpretations can be examined creatively and critically. Born out of a commitment to documentary film and human rights, and backed by the indispensable institutional support of the Open Society Archives (OSA), Verzio continues on its course of human rights promotion via film.
How many documentaries was screened this year? How do you choose them?
In 2014 we screened 61 films including
An International Panorama with a selection of outstanding films in which creative filmmaking intertwines with political activism and deep reflections about today's world. A Hungarian Panorama featuring 11 recent documentaries that present human stories from all walks of life in Hungary. We also had thematic blocks such as
Born Digital investigating how boundless connectivity and access impacts our lives. 
Global Hungarians exploring the life of Hungarians across the globe. 
Reactive Citizen looking into the societal costs of nuclear energy use. 
Protest Waves offering a snapshot of protest movements around the globe standing up against censorship, repression, and corruption. 
Screening India surveying the deep contrasts in contemporary Indian society as well as creative approaches to documenting and inspiring change through cinema.
Verzio selection criteria: creative human rights documentaries (shorts and feature length) selected from submissions as well as invited from the pool offered by international festivals.
Also there were 4 masterclasses with directors this year, was it the first time?
DunaDOCK MasterClass series aimed at documentary professionals (but not exclusively) and provided an opportunity to get to know the insights of filmmaking from award-winning filmmakers such as Peter Kerekes, Petra Lataster Czisch, Peter Lataster and Marcell Gerő. This was our first cooperation and was very successful.
What are your plans for the future and the next festival?
Verzio wishes to continue promoting open society, democracy, and tolerance exploring new territories in the vast field of creative documentary cinema.