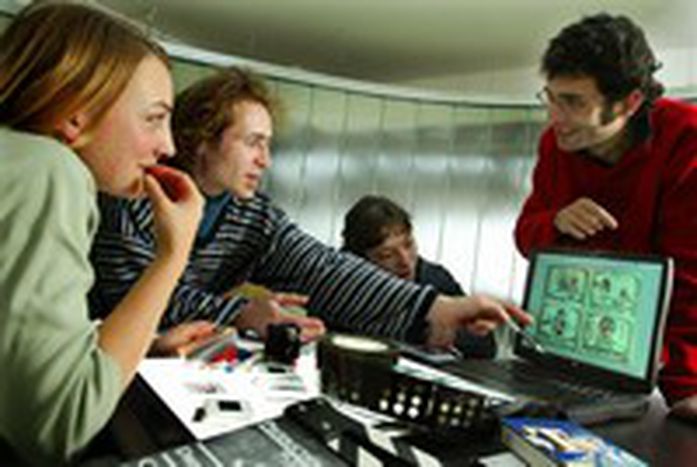 Internship fever
Published on
Translation by:
eleanor forshaw
The internship phenomenon is gathering ground and is not showing any signs of slowing down. How do young Europeans deal with it? What are the pitfalls and the tricks of the trade?
The summer holiday period is but a distant memory for many European students who, in early September, are already in the midst of a work placement. Countless University courses now require the successful completion of a placement period of varying length, generally lasting between three and six months.
Selling yourself
Internships are a wonderful professional training tool that give students and graduates a feel for the workplace, helping them to choose which career path to follow. With today's stagnant job market, gaining interesting and secure employment may sound impossible. So, to give a CV that extra edge, future employees are increasingly being asked for some sort of work experience, which makes their applications richer and more appealing to employers.
Creating a solid CV has thus become a necessary step. The candidate's profile, from both a professional and personal point of view, is outlined in just a few printed pages which may or may not open doors to employment. For employers, studies are of course important – but professional experience in the field may count even more.
Leonardo, mon amour
Universities and the European Union have come together to create programmes that aim to facilitate the entry of students into employment. 'Placement offices', as they are known, liaise with companies and draw up agreements and training contracts. They also help students to search for a placement that meets their demands, interests and aspirations.
'Leonardo da Vinci' is one of these programmes sponsored by the EU. Although it was initially created to encourage the exchange of students within the European Union, it is now one of the key instruments for those looking for placements abroad. One of the main popularity factors of the programme is that it provides a small sum to help refund expenses.
From photocopying to exploitation
Unfortunately, more often than not, placements are unpaid and interns are just an extra pair of hands for no extra cost to the employer. In the worst cases, the student sees all initial hope of good professional training slowly drift beyond reach. "I don't do much; at the most I make photocopies or do some archiving. I'm not learning anything that could potentially help me in future employment. I'm not saying it's useless, but… nearly!" says Elena, currently completing a two-month placement in a centre for the professional rehabilitation of ex prisoners.
However, not all young talent is wasted in this way: placement experiences are very personal and diverse. Michael, who has just completed a three-month internship in the editorial office of a local Italian daily newspaper, seems content. "Of course, I worked like mad: I started every day at eight and finished at ten at night, for free… but this experience has proved crucial for sorting out my ideas about a professional career. I know now that I want to be a journalist! If I could, I'd do it again", says the young man.
Regrettably, a placement is not necessarily a fast-track to employment. Davide Sighele, editor of an online newspaper, admits that "we couldn't take on all the students who do a placement in our editorial office. However, we do believe that it is important to give those aspiring journalists the opportunity to see what work in an editorial office is like. We like to think that we give them a real insight into our line of work".
Harmonsisation
A genuine solution to this problem, which would benefit both the students and the companies, could be the organisation placement offices into a Europe-wide network, managed by the universities and supported by educational institutions. They could, for example, offer to refund various expenses to the student, which could, in turn, lead to regulations concerning the accessibility of placements, making them fairer and more accessible to all.
The possibilities are endless (local, national and European institutions, companies, NGOs, international organisations), but it is essential to obtain guarantees. The necessary frameworks need to be available and the placement students must be protected by an internship contract that outlines the precise tasks the student will be doing. The students should also be constantly supervised by a tutor who helps and supports them.
The race is on. Placements are now a compulsory step for all students who want a foothold in the job market. Students need not be afraid of this first contact with a working environment, and they must show conviction and initiative in order to render their training more interesting. All that remains to be done now is knock on doors, proffering applications and CVs, whilst bearing closing dates in mind. It seems that placement fever continues its inexorable advance.
Translated from Sindrome? Febbre da stage