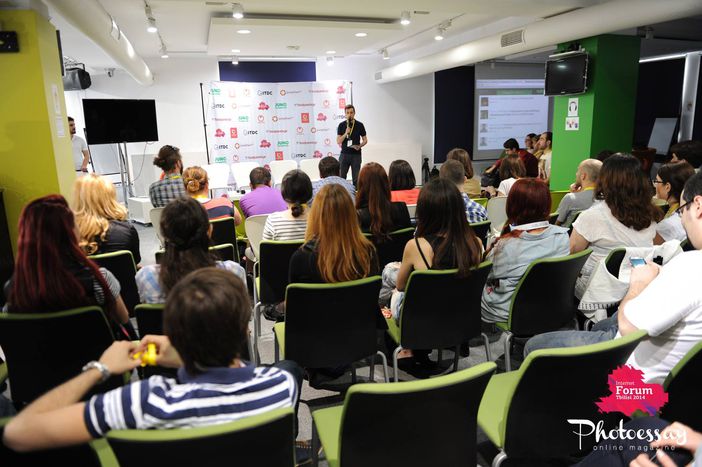 Internet Forum Tbilisi 2014
Published on
On May 24 2014, Georgia's first Internet Forum was held in Tbilisi. The goal of the event was to bring local bloggers, activists and internet enthusiasts together to talk about the development of the Internet in Georgia. 
As soon as the event was announced, it was clear that the Tbilisi Internet Forum was going to be a huge success. Many wanted to register to attend, but there were only 100 seats available in the venue. Attendance was granted on a first come first serve basis, so only the first to fill in their online registration forms were able to participate in the day's activities.
Despite the fact that the event began at 11.30 on a Saturday morning- an unpopular time for most Georgians- the event was packed with attendees. For those who couldn't attend or who chose to stay in bed, a live stream was available on http://myvideo.ge
The first session featured a lively discussion about Online Magazines in Georgia. The discussion was led by the founders of several online publications - Ako Akhalaia, Marketer.ge, Mariam Talakhadze, Pink.ge, Levan Paichadze, Ideahub.ge, Lasha Kavtaradze, Photoessay.ge, and Nastasia Arabuli, Wis.ge.
As online magazines become increasingly popular in Georgia, more and more begin to appear. But as one of the speakers so rightfully pointed out, if anyone thinks that they will become rich by starting an online publication, they are very wrong. The most an online magazine can hope for is to support itself.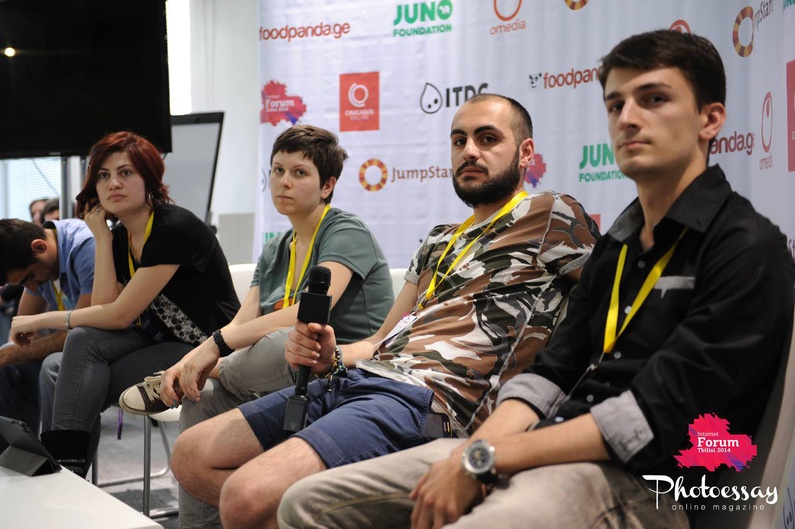 The speakers led an in-depth discussion on how they run their magazines and how they regulate content. They also discussed how to contact sponsors and how to write articles that sell.
Mariam Talakhadze said that her magazine's main goal is to write about topics that will still be newsworthy in years to come.
The second session of the day was about online activism in Georgia. The speaker, Nika Davitashvili, is an activist from the local Guerrilla Gardening movement. His talk focused on how the Guerilla Gardeners use social media to develop their environmental campaigns, exchange information and mobilize activists. The organization uses both Twitter and Facebook to inform people about where they plant seeds and where trees are being cut down illegally. 
Making good use of simple technology, the Guerilla Gardeners use a Fast Follow system that sends messages from their twitter account directly to activists when they are needed. This type of social media has been instrumental in allowing the group to protect Tbilisi's green spaces The Guerilla Gardeners are currently mobilizing to protect Vake Park, which has been threatened with the loss of many trees since the construction of a new hotel was launched in January 2014.
One day, for example, the police came to evict an area where activists had built barricades. At the time there were only a few activists present, but 50 people arrived on the scene just 15 minutes after emergency tweets were sent.
Another topic of discussion was the Georgian blogosphere. The speakers: Dodie Kharkheli, Digit.ge, Giga Paichadze, dgiuri.com, Nestan Tsetskhladze, netgazeti.ge, Davit Chikhladze, radiotavisupleba.ge, discussed the nature of blogging and if "micro-blogging" is killing "traditional" blogging.
Is one of the most active politicians on Facebook, Goga Khachidze, a blogger? Is a person who uploads photos of food on instagram a blogger? The debate was multifaceted.
"The main goal of blogging is to tell stories. You just need to find the right platform and say what you want. If your story gives something to others, then you are a blogger" - said Giga.
The sixth session was perhaps the funniest because it centered on online satire. The speakers, Saba Lekveishvili and Nodar Davituri, chiti.ge, Germane Sabo,  and  Nika Kavtaradze, a famous Georgian comedian, talked about what they can poke fun at and if there are any obstacles to humor.
There were also many questions posed about blogging in foreign languages. Giorgi Jakhaia, Sukhumi, Tamar Mirianashvili, Up Close and Personal Stories, Mirian Jugheli -  and I - Irina Kvelidze, discussed this topic. During this session I described my experience writing for the website Cafebabel.  
Many people in the audience wanted to know if news about Georgia is interesting to foreigners. The answer from every speaker was a resounding "yes".
Giorgi Jakhaia, who writes in Russian, was the most active non-native language blogger in 2008 when a war broke out between Russia and Georgia. Following the conflict, he was the target of Russian hackers. Now, Giorgi tries to give a realistic impression of Georgia through his writing. Many tourists have come to Georgia after reading Giorgi's blog.
The final session was on Citizen's Journalism in Georgia. The speakers were Nino Chelidze, ireporter.ge, Irina Aliashvili, mportal.com, and Nino Macharashvili, JumpStart Georgia. Nino defined citizens' journalism as - "news that is made and spread by people for people."
At the end of the event, the organizer, Mirian Jugheli, announced that the Tbilisi Internet Forum will be held on an annual basis from this year forth. Next year's event will also feature foreign speakers.