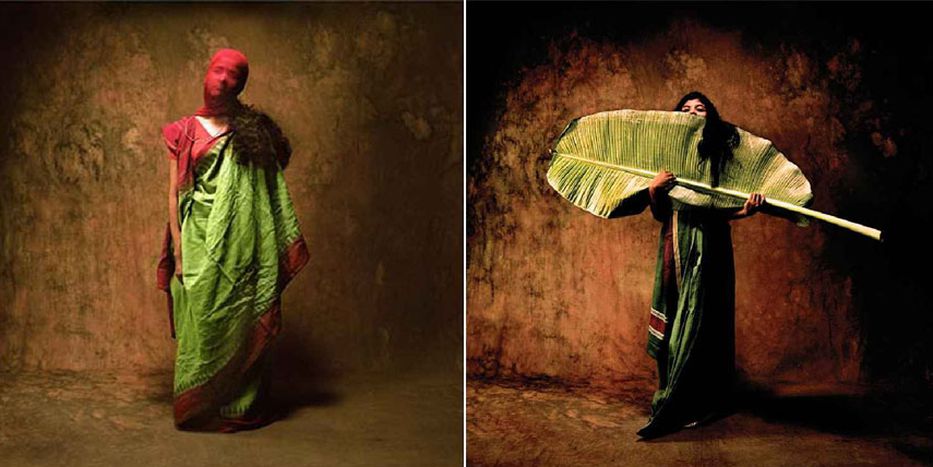 International women's day on 8 March: focus on sex trafficking, woyoyi
Published on
Human trafficking is a rapidly growing and extremely profitable business. An estimated 120, 000 women and children are smuggled into western Europe each year. According to the UN Global Report on Trafficking in Persons, the most common form (79%) is sexual exploitation. We review some of the films, exhibitions and music casting light on the topic on international women's day
In South Asia where I am currently living, I heard about a project called Another Me which captured the portraits of 126 girls and women victims and survivors of trafficking. Guided by an Indian team of photographer Achinto Bhadra and counsellor Harleen Walia, they transform themselves into their alter ego during a photo shoot to share their stories and feelings. From snake goddess to vengeful spirit and a budding leaf, they have designed their costumes themselves and are shot in silence. Theirs are not simply stories of prostitution; these 126 portraits catapult us into the backstage of the most perverse and obscure social dynamics.
European problem too
According to The Links between Prostitution and Sex Trafficking: A Briefing Handbook prepared for a joint project coordinated by the US-based coalition against trafficking in women (CATW) and the European women's lobby (EWL), one of the most rapidly growing and lucrative illegal activity is trafficking women and girls. They are reduced to modern slaves, their bodies exploited for the sex industry destination of western Europe. Paradoxically, in 30% of the countries which provided information on the gender of traffickers, women make up the largest proportion.
Organisations such as the UN's women leaders' council, the terres des hommes foundation (TDHIF), the organisation for security and cooperation in Europe (OSCE), the council of Europe's group of experts on action against trafficking in human beings (GRETA), and many others are raising public awareness of the problem.
Best of women's day events: Brussels, Paris and London
International women's day 2012 is approaching on 8 March. It is an annual celebration where thousands of events are held throughout the world to inspire women, celebrate achievements in terms of equality and justice and to reveal issues related to the fair sex. In Brussels, the EWL launches ten days of action for women's rights in Europe (29 February - 9 March). The European parliament will bring together European and national MPs from parliamentary committees for equal opportunities, with discussions on the theme 'Equal pay for work of equal value', to tackle the current measures to reduce the gender pay gap. On 7 March, the British film Made in Dagenham (2010) will be screened followed by a debate.
In Paris, a concert organised by Unesco together with the international organisation of la francophonie welcomes Moroccan singer OumEl Ghait and the Malian singer Bafing Kul. Oum will play soul music mixed with her natural influences, such as Hassany poetry (culture of the Moroccan desert) and African rythmes. Kul denounces domestic slavery and excision - sexual mutilation which still affects 80% of women in Mali and thousands more around the world.
London will celebrate women's success with a champagne breakfast on 9 March (Great Hall, Guildhall, City of London). In 2011 the event raised over £28, 000 for Refuge, an organisation supporting over 1, 600 women and children to escape domestic violence every day. Men and women will be meeting on the south side of Millennium Bridge before marching across the river Thames and west towards the Royal Festival Hall. The event is organised by Women for Women International in the framework of the 'Join me on the bridge' project. Whilst the Another Me project helps over one hundred girls with their confidence and self-esteem on one corner of the continent, many others are still waiting for someone to rescue them.