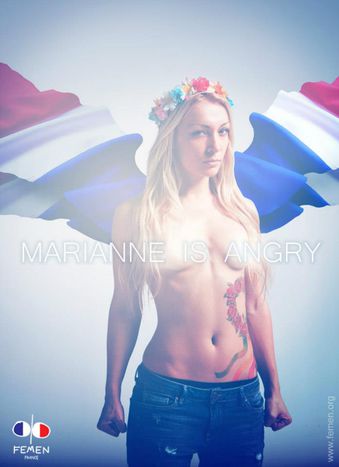 Inna Shevchenko: 'I was against being topless for a long time'
Published on
At the Lavoir Moderne, Femen's headquarters in the 18th district of Paris, the 22-year-old Ukrainian feminist has just finished Femen training – which also serves as a film set for a crew from the TV station France 2 - and allows me a few minutes for an interview. She is cold at first, but turns out to be cordial and passionate in her answers
cafebabel.com: Inna, how was Femen born?
Inna Shevchenko: When all this started in 2008 - five years ago - Femen was a completely different movement. It was girls meeting at night, at a coffee shop, drinking tea, and saying: 'Ah, he called me a prostitute, again'. We decided that something needed to be done, that we needed to start acting. We started wearing pink clothes and tried to do huge demonstrations with huge banners. We kept doing this for two years. No-one looked at us. Nobody listened to us. While they kept ignoring us, our anger grew stronger. Then we saw that the orange revolution had failed, that people were disappointed on the same level as we were. We also saw how quickly the country forgot the Revolution. We saw the dictator coming to our country.
Our first topless action was a political one. We didn't think that we would continue being topless afterwards. I was against being topless for a long time. I couldn't accept it. But we couldn't stand the situation anymore. We decided to do something really radical. We were not ready to take a gun though, so we told ourselves: Ok, my gun is here. It is always with me. I am going to transform it to a gun and scare them. The next day, we realised that it was the first time, in the history of independent Ukraine, that feminists were protesting! We captured the attention of people from around the globe. We realised that, yes, it could work.
cafebabel.com: Why did you move to Paris?
Inna Shevchenko: It wasn't planned. I had to escape the country after cutting down the cross. After fleeing Ukraine I spent the first few days in Poland thinking what to do next, where to go next. What would be the most strategical place? 
Read cafebabel.com's 2011 interview with Inna Shevchenko
And then France came up. We had many supporters here at that time and many activists were waiting for us. Also if you want to develop feminism, if you want to give it a new form, then France becomes the first logical choice.
cafebabel.com: What are you doing today, apart from being an activist?
Inna Shevchenko: Today I only have my activism. Of course it wasn't like that from the beginning. Sometimes at night, when I close my eyes, I wonder – what if I was to wake up in the morning and there was no Femen. Then what? Then I am nothing (laughs). I am not interested in anything else, I don't feel that I want to do something else. I really find myself in what I am doing.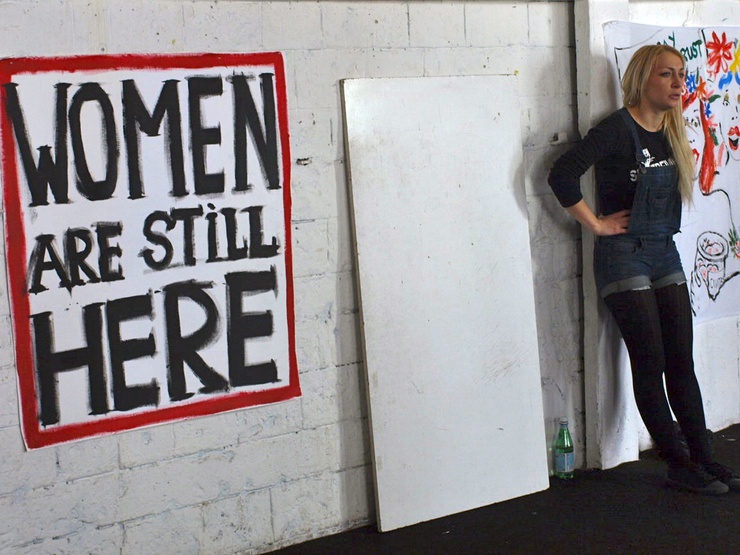 cafebabel.com: Do you have male friends? Or are all men afraid of you?
Inna Shevchenko: I don't know - you have to ask men! I don't have so much time for men. If you are asking about my personal life, I don't have any long-term or serious relationships. This is a personal choice. Of course there are some who are running away because they are scared, and don't support or like what I do, or whatever. But I don't have problems with men that I would like to be with because definitely there are types of men that support and accept my activity. There are a lot of men around who support and help Femen.
cafebabel.com: You once said that your actions allow you to 'check each country's level of its liberation'. How do you see France from what you have experienced during the different protests you carried out in France?
Inna Shevchenko: When you come from Ukraine you only hear about the perfect image of this country – that it is very emancipated, feminist, that women have reached everything here, that everything has been done. That's why they are writing books here – because they don't need to do anything more. When you live in eastern Europe you expect a perfect life, heaven, and when you come here you don't understand, you are a bit confused. Yes, of course it looks better.
Once you try to scratch beneath the surface with our actions, we understand that the question of secularism is a theory. When I talk to the girls, I understand that there are guys who touch women's asses here too! Those guys propose them to have sex for a cocktail. This is why we are trying to explain that there are no societies where women and men have reached equality. I cannot compare Ukraine and France. We are too far. There are a lot of things that have already been done in France, that make you feel proud to be in this country. But let's not put rose-tinted glasses on; let's keep going and doing it.
cafebabel.com: Do you get threats ?
Inna Shevchenko: Yes. Yesterday night, before going to bed, I received a text message from a French number (shows me her mobile phone) 'Die'; 'Fuck Femen, you are a shame for women and the world'; 'Fuck you Inna. The day you die I will open a bottle of champagne'; 'I hope you will die soon'. Yeah (laughs).
cafebabel.com: Are you scared?
Inna Shevchenko: Our protection is our actions and our activity. Until now we keep going and we are protected because they are scared. Of course I know that I can be killed. But it is all about personal choice and we are all thinking about it.
'I have already been in a kind of situation where I was already prepared to die, in Belarus'
Maybe I am the only one who is saying this, because I have been in a kind of situation where I was already prepared to die. It was in Belarus, where I was waiting for death to come for 24 hours. And you just check yourself. I did it when I was being nearly killed. I then realised that I don't feel sorry and I don't want to change anything to stay alive. When they try to do it, it shows how scared they are and it shows the huge potential of what we do.
Image: courtesy of © Inna Schevchenko facebook page; in-text (cc) Inna at Femen France courtesy of © Alexandra Kuderski/ video (cc) BanyanHell/ youtube