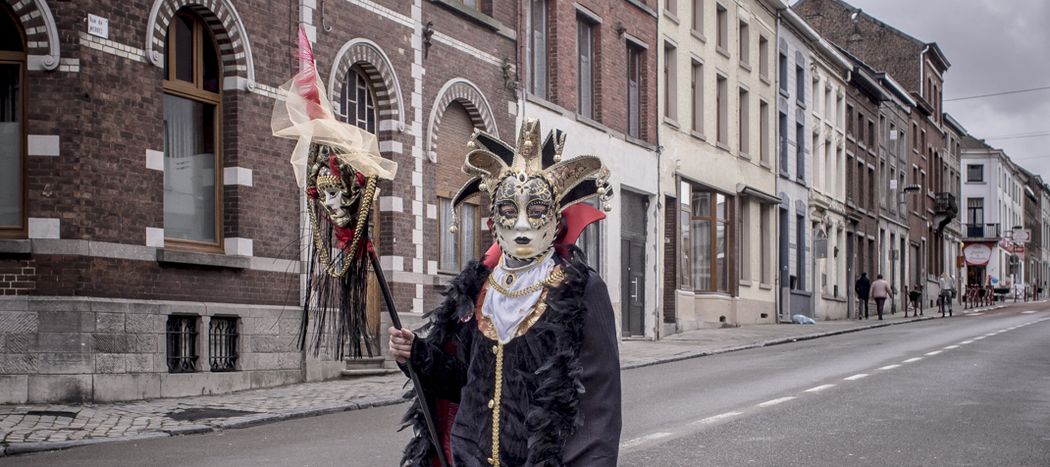 In the madness of the craziest carnival in Belgium
Published on
Translation by:
Odile Michely
The Belgian city Binche is internationally known for having the most famous carnival in the country, especially for its 'Gilles' and their peculiar masks made of wax. Registered as an Intangible Cultural Heritage of Humanity by UNESCO since 2003, this Belgian folklore is a mixture of nonsense and rule breaking. We followed François, a Gille, in the direction of the big festival.
François has been a Gille in Binche since his childhood. "Careful," he warns us, as we arrive in the medieval town at 7:20 pm, "it will be difficult to get into Binche. Be prepared to walk to the city centre by foot." We are already crossing paths with families on their doorsteps, drums in hand and dressed up. Parking lots are hard to find, and the police is setting up road barriers that will cut off the traffic the entire day.
Croissants, champagne and a man's world
At the crack of dawn, a bunch of friends within the 'Gille society' called the 'cagnottes' start to open the first bottles of champagne and put on their costumes, which have been kept secret for several months. François is part of the 'young independents' cagnotte, and the theme this year is Star Wars. Part of the team is dressed as the old school Luc Skywalker, and the others as samurais with lightsabers.
The button warThe Gilles have just finished adjusting the last details of their costumes, which they have been working on since last November, as we enter the old pub Saint-Jacques that seems to have been set up in the 1950s. They are surrounded by their families and wait for the group to be ready to set off. In the pub, we notice a rather old man with a badge that says "superintendent". Surprised, we ask him about his role in all of this. "Well, you certainly know what a superintendent is," he replies, laughing. "I make sure the rules of the carnival are well respected by the Gilles and their family. For example, a Gille cannot appear drunk in public. Especially on Tuesdays, when Gilles will no longer be allowed to sit down in public or to move alone anymore, that we will start being very strict." He adds that there are three superintendents for each of the 14 Gille societies.
We set out before sunrise with the rhythm of drums and violes, large string instruments, in the background. The group of friends are already dancing, and go from one bar to another where champagne glasses are waiting for them. Everything comes at a price, though. "I am not going skiing," François admits, while winking at us. "This year, I gave around 700 euros to my parents who organise everything." Between the champagne, various costumes and nights out, which are all organised two months before the carnival, the budget is quite hefty. It's 8:30 in the morning, and we are already taking our third round of drinks of the day. It's going to be a long one.
Every 50 metres, we stop to give way to the group that dance their way ahead, in a very good-natured atmosphere. Wives, sisters and mothers accompany the parade and form a guard of honour. We bump into other cagnottes who march on in various themed costumes: Christmas trees, Milka chocolate, pirates, giant babies… humour and self-deprecation are the norm here.
Seeing this spectacle, the first thing that comes to our mind is how male-dominated this festival is. We ask François why. He does not really know how to explain this tradition, besides it being a heritage of a "patriarchal society". For the viole players of the group – also called maniqueu – the rule appeared rather recently, after World War II. "There were some women before, but then we figured that Gilles needed support. For instance, without my sister helping me with my viole, I can't do anything." His sister, standing by his side, seems somewhat of a fatalist. "I think some people would be open to women's participation, but others much less, especially those as old as our father." Surprisingly, young women can take part in the parade, as a 'Pierrot', for instance. As soon as they turn 15 though, it's over: no more carnival for girls over 15 years old. Women are thus an essential part of the proper functioning of the carnival, for the work that often goes unnoticed, like preparing meals, sewing costumes and helping the Gilles get dressed.
Bar hopping in Binche
To become a Gille, one needs to apply to the Association of Defense of Folklore (ADF), and meet certain criteria: being born in Binche - increasingly complicated as there is no more maternity centre, according to François - having lived for more than five years in the city, or being son or grandson to a "binchois". It is equally important to have a godfather, and not to have been a Gille in another city after turning 18. Once a Gille, one is then required to join a society, free of choice. "Usually it is the family's society, but you can also choose to join your friend's society," explains François. These associations can count up to around 100 members. The men are then divided into cagnottes who parade on Sunday.
While becoming Gille is a right only reserved for the Binchois, the carnival now attracts spectators from all over Belgium. And for the non-Binchois regular participants, wearing a T-shirt with a bucket list on it is a must. The game? Tick off all the to-dos! Some have already marked a large number of them as early as Sunday noon. Three days will follow, and François' answer to the question about when the day ends - "when we fall down" – all makes perfect sense.
Still, for newcomers, Binche remains a riddle, a visible disorder and an accepted and perfectly orchestrated debauchery. François describes what looks like a long-distance race of the bawdiness. Fortunately for the Binchois, they have been trained since their early childhoods. Everything begins six weeks before three "jours gras" (greasy days, ed.). Societies gather up every Sunday evening for "soumonces" (rehearsals, ed.), which allow them to rehearse but also to animate the town. The previous Monday of the carnival week is the "fear of noodles", an event where all the villagers must go to with a mask. An unmasked person must buy a drink for the one who uncovers his or her identity, an organised and institutionalised tradition of alcoholism. And the Friday before the carnival, every society gathers up after in general assembly to give the last instructions and the indications to its members.
Sunday is also subject to numerous rules, even if it is the day when Gilles have most freedom to dress up and roam around the streets, as they please. In François' cagnotte, for example, Monday's itinerary is meticulously plotted, the dances choreographed, and the costumes approved. Several traditions are also added. Violists begin to play from Sunday morning, so do players of all kinds of heavy but portable barrel organs. The "straw grip" as well, which is tied to a straw on the belt to fix it to "badines" (small sticks, ed.). All is a tribute to the farmers who fetched their straws on foot.
When we wander around in the city with the Gilles, we are struck by the historic and federating role of the event. Within these societies consisting of men of all ages, from grandsons to grandfathers, everyone has his historical or personal anecdote. Every hundred steps, we bump into one of their acquaintances. We learn that the Gilles drink champagne and eat well because, traditionally, during these three days, villagers would join castle-living aristocrats and adopt their costumes. "The Gilles' apparels on Tuesday were sewn by their families, and not until the 1950s did they begin to match one another," explains Francois, "They are embroidered with precious material to feign wealth." An elitist thought that distinguishes itself from people's idea of the festival.
"The best day of the year"
The mardi gras is the peak day for all Binchois. Monday is reserved for the children and the less "official" participants, and, fortunately, a day off for the Gilles. On Tuesday, the day begins very early. "In general, those who live far from town start to get dressed as early as 4 o'clock in the morning," explains François, "Then, as we cannot move around alone, we make a sort of chain and pass from one house to another to bring the others with us. A fife player is with us, and will play the morning dawn serenade. The tour finishes around 8 am, and societies will then gather around for the traditional "little oyster breakfast" served with champagne, oysters and salmon."
At 10 am, Gilles put on their wax masks and head to the Grand-Place and the city hall where the mayor delivers the medals to Gilles, Farmers, Pierrot and Harlequin for their years of participation in the carnival. After lunch, the Gilles exchange their masks for hats and start the parade. The first one is the "cortège aux oranges" (orange parade, ed.) during which spectators, jostling with each other on this cold February day, try to escape orange bombs thrown from the parade. Now we finally understand why railings have been set up outside house windows since Sunday. When night falls, the second parade takes place, without throwing any orange to the crowd this time, while photogenic Bengals' fireworks flourish in the night. The Gilles then start their final round, saying goodbye to the music. For the rest of the evening they will only be accompanied by drums.
Last Sunday, François explained how cunningly he needs to act to get back home on Tuesday evening. The first way is to remain on the spot until somebody feels obliged to take you back home, the way he prefers. The second one: leave with a group people that live in the same area.
It is not until the "ashy Wednesday" that the carnival really ends. On this day, societies offer their members herring soup. As a result, for a Gille, the carnival season lasts for almost four months from the choice of the costume up until the D-Day. Four months of partying, feasts, benders and comradeship. Thanks to these traditions, Binche, a former industrial city in one of poorest regions of Belgium, is still alive and kicking.
Translated from Dans la folie du plus grand carnaval de Belgique