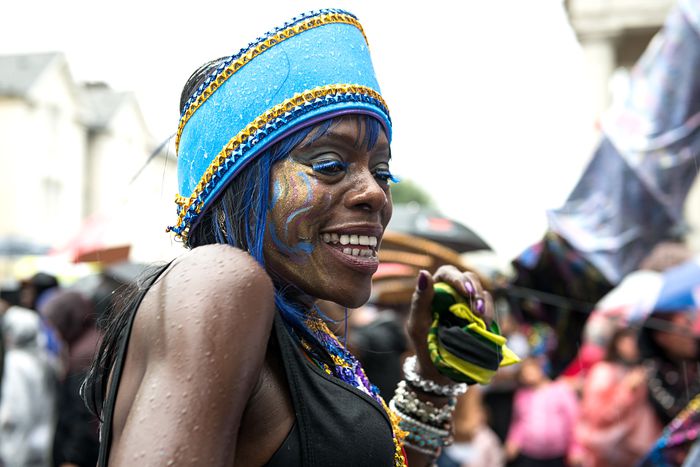 Imagine a world without the Caribbean: immediate digital culture making art
Published on
''With recent debate about the changing culture of and what it means to be , don't forget that people of descent are a part of this change. , the curator of for the asks if you can imagine a world without the cultural expressions of and
BritainBritishAfrican CaribbeanDionne WalkerChanging the world: perspectives on Caribbean DiasporaBritish museumUsain Bolt, Bob Marley, Calypso RoseChris Ofili
'In the summer at , , and the Olympic village; and later on at in London, in late August. While a mixed crowd who loved the vibe and its people were celebrating and 's years of independence and the , I was busy having an out-of-body experience over the degree to which Caribbean culture is changing the world.
Image: Masquerades in Africa, Caribbean and Europe @Zak Ove
Jamaica house

Notting Hill Carnival

Caribbean

Jamaica

Trinidad

50

My euphoria probably started when I participated in the inclusive politics of director for the Olympic Games on the box, though it wasn't until I saw the expressions on the faces of young people, including mixed race individuals of and backgrounds, some never set foot on one of the tropical islands, wave-their-flags and jumped-up that I became aware of my metaphysical state of wellbeing.

BritishDanny Boyle's opening ceremonyBlackAfrican, Caribbean, English, Scottish, Welsh Irish

At these events I observed that while the older celebrated their due respect for their solicited role in rebuilding Britain after the war; their grandchildren might have stumbled upon a fresh part of their British identity. They appear to have found a new joy of being of multiple ethnicities that included being of African Caribbean heritage. This revelation coincided with my impression that in the same crowds white British people, young and old, also recognised the extent of the role the Caribbean played in the making-of-new-Britannia.

Twitter and Facebook feeds were buzzing with a mish-mash of posts and status updates reflecting a hyper digital world of proud local islanders, transnational diasporans and indigenous bystanders interconnecting through friends of friends and followers. retweeted 'Look how we have influenced the world, we not only run fast, we have great writers and artists too', while Facebook user , a Brit of Jamaican and roots, was confident enough to pose the rhetorical question after , who is based in the USA, won his first gold medal for Grenada, his country of birth. 'How is it that people from these small islands are creating such a big impact?'

UKBLKKairon Nkrumah EdwardsGrenadianKirani James

is a Caribbean term meaning size isn't an indication of the depth of the intention and the range of methods used to outperform. Sporting achievements do not begin to tell the story of the unimaginable drive, of the collective talent of the Caribbean, especially when we learn that Black people were initially attracted to athletics because a win was hard to disprove. The Caribbean also plays an incredible role in the world of science and technology and people of Caribbean descent produce excellent quality and socially relevant fine arts.

"Wi likkle but we tallawah"

A unique complement of environmental skills and abilities adopted while resisting slavery, colonisation and racism created a special attitude, but that is still just half of the portrait in this immediate world we find ourselves. The other half is not necessarily very different from African Brazilians or African Americans coming up with ingenious processes of beating the severe forms of racism they encounter to excel. On top of a shared ancestral legacy transferred through memory of experiences of surviving dark dungeons, and the weathered cane and tobacco fields.

There is an extraordinary need to share and look outward that has been activated to unbounded levels by digital media. The cyber-atlantic middle space is activating interconnected exchanges between transient subverted and dominant cultures within countries bordering the Atlantic Ocean. Labour, tourist and educational migration and earlier analogue forms of communications enabled the movement but social and digital media has made it urgent, and intensely fierce, illustrated in the nature of the Facebook comments and the nano-speed at which twitter operates. More people from low and middle income backgrounds of African and Caribbean descent are interacting with each other and with the physical, virtual, local and international cultures simultaneously. This process is recalibrating their equivocal characteristics.

Social and politically aware artists are a part of this intense cultural movement, they are producing art that reflects the multiple layers of their identity and the intersection of time, race, class, place and issues.
's song , which was written in Jamaica, influenced , who was born in in of Nigerian heritage, but is now living in . His 1998 painting won the Turner Prize, a tribute to the , whose teenage son was killed by a racist gang in , UK, in April .

Bob Marley1974No Woman No CryChris OfiliBirmingham1968TrinidadNo Woman No CryLawrence familyStephenEltham1993

, a keen social media user who is living in the virtual middle space in between and, USA. Her work tries to unpack notions of male sexuality and homophobia in the urban enclaves of Kingston, Jamaica. She clinically engages with culture from a distant yet close perspective, as represented in her intellectual series .

Ebony PattersonJamaica KentuckyGangster for Life

, of mixed race parentage, currently lives in the UK but has also lived in the USA. He utilises a consistent fervent aesthetic that is transparent across the mediums he uses, film, photography and sculpture. His work considers a synthesis of happen-stance in the diaspora through rituals, colours and a carnival symbolic of his Africa, Caribbean and European memory demonstrated in his 2011 show .'

Written by photographer and participatory curator Dionne C.Walker