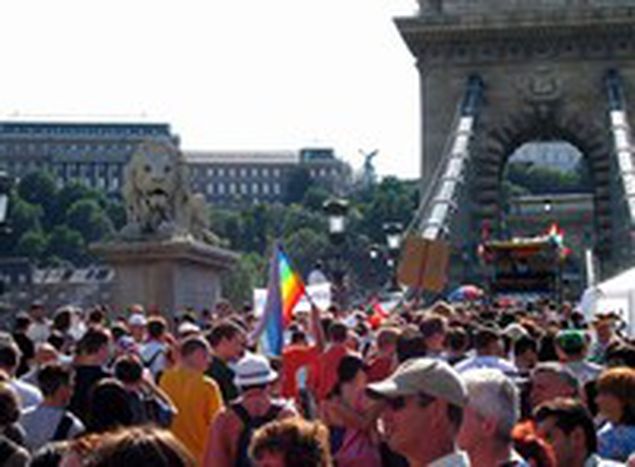 Hungary's Rainbow
Published on
Translation by:
geraldine ring
From July 7-10, Gay Pride will be taking place in the "Paris of the East" for the tenth time, but there is still a long way to go before Hungary's homosexuals can experience the freedom of their counterparts in Western Europe.
This year, gay and lesbian Hungarians will be on the streets again to campaign for equal rights during the homosexual and transsexual festival. The highlight of this relatively young tradition will be a street parade on the Saturday. The fact that Gay Pride is only in its 10th year in Hungary goes to show that it still doesn't have its troubled past behind it. This makes it a political message rather than a celebration, as it is in "old Europe".
Coming-out on television
The issue of homosexuality currently has a prominent place in political debate in Hungary. While the conservatives insist on the unique character of heterosexual marriages, the Alliance of Free Democrats (SZDSZ) has been fighting for homosexual marriage and the right of homosexuals to adopt. And as if that wasn't enough for a traditionally conservative and prudish country, Hungary has recently had its first coming-out by a politician. Klára Ungár, who sits on the board of the SZDSZ, announced on International Women's Day that she is a lesbian - a political milestone.
Although Hungary decriminalised homosexuality in 1961, for a long time it lagged behind all other European countries in adjusting the minimum age for homosexual relations to bring it inline with heterosexual ones. It was only in 2002, when the European Parliament threatened to refuse entry to the EU to countries that legally discriminate because of sexual orientation, that Hungary changed its legislation.
However, equality on paper is one thing. There are still people in Hungary who have difficulty in accepting homosexuality as a normal part of human existence, and that won't change over night. As in all countries of the former Eastern Block, gays and lesbians were oppressed by the communist regime and, even after its break-up, homosexuality remained a taboo theme.
A two-speed Europe
Is a two-speed Europe emerging? While a gay-lesbian protest was banned by the mayor of Warsaw, arch-Catholic countries such as Spain and Ireland have made great steps in equal rights. These differences are politically relevant in view of the EU constitution, which states that it is expressly forbidden to discriminate on the basis of sexual orientation. Since the future of the constitution is now on shaky ground, new negotiations are possible and it is questionable whether the ban on discrimination will remain as important as it currently is.
However, Hungary's 'Homosexual Spring' has only just begun. To join in their celebration of sexual diversity, which will take place on the most beautiful route for a street parade in Europe, get to:
Gay Pride Budapest
Saturday 9 July 2005
http://www.gaypride.hu/gp/gp2005/
Translated from Ungarn unterm Regenbogen