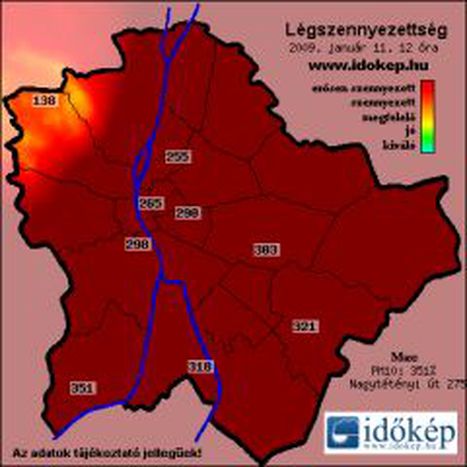 Hungary's 1st smog alert is in force since Sunday morning in Budapest
Published on
Sunday morning Gábor Demszky Budapest's lord mayor had alert a smog alarm for the first time in the country's history. His step became necessary because the daily average concentration of suspended dust exceeded the limit of 100 micrograms per cubic meter for two days in a row.
Owing to the threshold limits determined by a new law having entered into force October last year it seems that people living in Budapest must get used to car traffic restrictions both in summer and winter time.
The smog increase was partly result of the switch of power plants from natural gas to more polluting fuels after gas shipments from Russia through Ukraine to Europe were suspended last week.
As a consequence of the alert certain restrictions has been put in place in order to decrease pollution: on even days only those cars could be used what's licence plate ends with an even number and on uneven days only those being registered under a number ending with an uneven number.
Since October 2008 a new regulation is in force in Hungary according to that dust belongs to traditional polluting chemicals. Owing to this Hungary has the strictest air pollution law in the European Union. In other member states the high concentration of suspended dust alone does not make necessary to set such restrictions.
Since usually there is much weaker traffic on Sundays, there is no doubt that tomorrow will be the 'premier' for Budapest's inhabitants. Unfortunately the lack of further regulations makes difficult to enforce the restrictions: there is no sanction that could be put in place against those breaking the rules. Tomorrow, car-owners can show how they can give up their comfort for public interest.