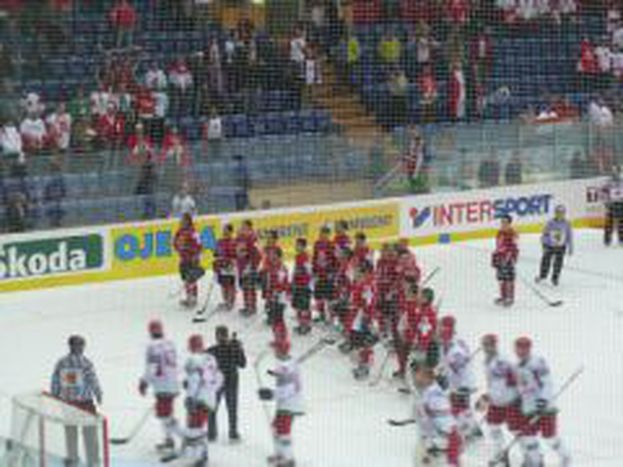 Hungary, on the map of ice hockey - First in supporting
Published on
By TÓTH Gábor
The Ice Hockey World Championship is just before the final, yet we already have a winner: the fans of the Hungarian team. Although the national squad finished its part on the last place on Monday already, each of us around Hungarian ice hockey can be proud and happy.
After 70 years of playing in lower divisions (mostly in division C, two categories below the 'real' Worlds), the team showed its ability to be an opponent for A class teams. And something demonstrated its supporters too!
If one only looks at the Hungarian records in Zurich and Bern, the two venues of the Championship, he will not find the reason for proudness at first sight: six losses in six games, 6 goals for and 29 against. There were close games, one versus Slovakia and one with Belarus, but these and the whole participation were only the cream on the cake of the qualification to the A division. The qualification itself was a huge achievement, the fruit of loads of work by very committed few, a result from the kind there is so little in this wretched country, something we should strive for in more areas of life, for that we once become a happy country.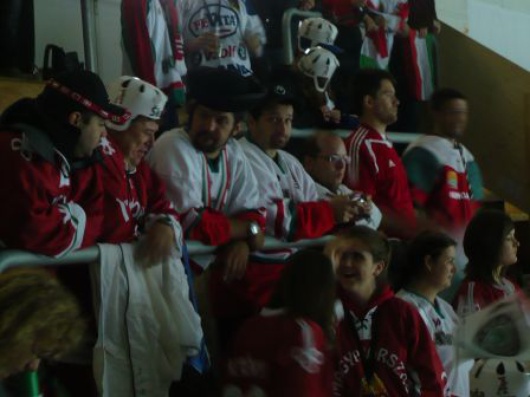 Views differ when the story of this success began but everybody agrees that KERCSÓ Árpád is one of the most emblematic of those contributing decisively to this result. The Transylvanian trainer from Csíkszereda (Gheorgheni, Niklasmarkt) who fled from Romania to Hungary in 1984, collected a group of talented 10-11 year old kids who later became the spine of the national squad. His innovative trainings were held in all difficult circumstances what was an especially difficult task in summer, especially without an indoor rink. In those heroic times, there was not any indoor rink in the country. Even in 2008, the year of A division qualification, the number of all year facilities is 17, a data that compares to 2,451 in Canada – an approximate to 2076 registered players in Hungary (558,173 in Canada)… When his youngsters entered the national adult championship in Dunaferr (the then team of Dunaújváros), their competitive edge to players shaped by the ordinary methods was shown in the first titles of Dunaferr. Once his players of the junior selection – Ocskay, Palkovics, Szélig, Gröschl and others – matured, came the chance of qualification within sight. SÁRKÖZY Tamás, recognised scholar in law, presided the hockey federation over a long period and took care of all necessary material conditions. Contrary to many other Hungarian sport leaders who socialised within the old (socialist) sport financing system, his principle was management from own resources and considering state subsidies as supplementary and residual. His attitude helped in domesticating a long-term, step-by-step approach in the ice hockey sphere, always wanting more but never living beyond the means. OCSKAY Gábor senior accomplished something similar to Sárközy at club level in Alba Volán. After several Hungarian championship titles and having ensured a long lasting financial stability for the club, this prophet led the team to the Austrian EBEL leage (Erste Bank Eishockey Liga), collecting the best Central European teams.
And finally, his son, junior OCSKAY Gábor. The most talented Hungarian ice hockey player ever, fulfilled its most beautiful dream in Japan, Sapporo, with winning the division B World Championship and the entitlement to division A. Playing in Switzerland would have been a fair prize for the work he had delivered for Hungarian ice hockey. With his tragical death at the age of 34 shortly before the Worlds, the country lost its best player who was an emblem for an exemplary sport man on the pitch and outside it.
Nevertheless, certainly, what he and his mates accomplished is not going to cease, but is the ground for further construction. Hope is strong that the national selection would again be able to win the 2010 division B, and thereby qualify to the 2011 A Worlds in Slovakia! The under 18 national team just proved in Belarus that a next generation in 5 years or so will be able to perform at a similar or even higher level. More and more kids begin to play ice hockey in clubs, perhaps with some very positive examples and icons in their minds. And most importantly, the team's performance gave faith – to me and some other thousands Hungarian hockey mates – in these difficult days that work pays off and we Hungarians are able to deliver. Still surprised that the fans performed number 1 in supporting in Zurich?