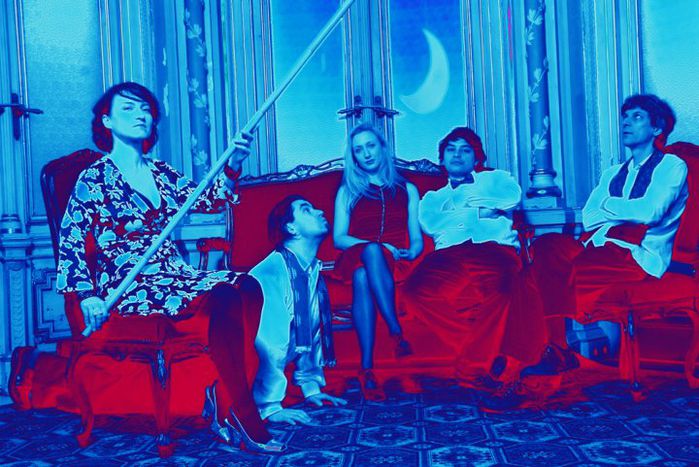 hungarian singer erzsi kisselt 
Published on
Interview with Erzsi Kiss It takes us years before we learn how to speak. Speaking is the main source of communication in our lives, this is how we make people understand us in most of the cases. Nevertheless, there's always someone to disregard conventions.
We've been talking about singing without language, about its advantages and disadvantages with Erzsi Kiss, the singer of 'Egy Kiss Erzsi Zene', the best-known representative of its genre in Hungary.
Where does the idea of 'languagelessness' originate from?
There's no model for that, it simply comes from my childhood. Or rather, when I used to act at theatres, I often had the possibility to improvise or to imitate African languages and drums. The African languages, for me, liven up these percussions and I'm looking for these kind of onomatopoeic words very frequently. Thus, I had these things in me: not only the English- related ideas, musical elements and songs which I've been doing since my childhood, but also those Arabic and Slavic ones which I used to imporvise on stage. These got sternghetened by the audience, by the director András Jeles and by my fellow actors as well, so I was getting on my way to shape myself.
What does the languagelessness of your songs actually mean? Could you formulate the meaning of the so called 'kisserzsilanguage'?
It's hard to find a one-word equivalent for 'gobbledegook'. It's often called like this and after all it's in accordance with the truth for those who want to understand expressly in one word what it is – or for those who begin to understand it to a certain degree. It brings them closer to reality but I don't like this word because it has a kind of infantilism, an overbearing attitude and a momentary meaning which is not really serious to me. When I see someone trying to imitate quasi-languages or just pretending speaking in some sort of language, I can sense if it's nonserious.
My language, on the contrary, is based on considerable musicality. I usually make up my melodies and ideas right away together with the words. So the melody rings out and the lyrics have to represent it. It has to merge with that musical world I want to recapture. For example, if the base is chanzon-like, a French-styled lyric is the most helpful, while if it's with a base of 'esztam', the Slavic style could be more useful. It shouldn't be flauntry as my lyrics don't have to be undertstood. Within this, there's the possibility to express the feelings softer or stonger, or in another way and to pluck the strings in the listener.
Is it worth looking for any reasonable content in the lyrics? Or is it possible to infer a 'story' from them?
Contents and meanings can be perceived through emotions. There are very international consonants, phones, words or syllables, like "mamma". I sort of feel that people of the Central-European milieu absolutely get the meaning of the songs, but in all probability the others understand them as well.
Do you write down or rather record these lyrics in order to replay them later?
I mostly record and then later replay them. The reason for that is that it occurs to me that I want to re-sing very accurately what I was improvising on the record. Or sometimes we sing it together with János. In this case it has to be textual to make it possible for both of us to learn it.
How did you find each other with the members of the band?
We formed the band in 1996. As a matter of fact it was me who has felt such saturation, readiness to act and desire for musical manifestation that I started to seek partners. Csaba Hajnóczy was the very beginning, I contacted him in '95 and we had been experimenting for a year. Then he invited Gabi Kenderesi and later Árpi as well. Árpád Vajdovich is still a present member of our band. By and by the lineup has changed a lot, in fact, we were actually re-forming the band over and over again. The members of the band which can work perfectly now as a group (János Bujdosó – guitar, Csaba Németh - drums, Árpád Vajdovich – double bass, bass guitar) are also playing together in János's currently formed Trió.      
Did these member-swaps alter your style?
Certainly. I always work with my own inspirations, my own ideas, the impression of the rumbling in my head or with the surrounding musicality. Thus, all the influence of János, Hunor G. Szabó, Zoli Farkas can be tracked when listening to the records.
Which musicians, bands make an impression on you? Do you have any examples or ideals?
I don't know about that. As for me, I don't have one and all of us are omnivorous as we all think on a wide musical spectrum and just enjoy life. So it includes really everything imaginable: from mainstream to wild and abstract songs.
In which aspect is your latest album, the 'Ugató', different and new?
It includes a Hungarian song for the first time and the majority of the tracks have a title in Hungarian. The lyric of the 'Csokidal'/Chocolate Song was not written by me. We officially borrowed it from Bëlga. I really like them and so does the whole band. Their world could somehow get connected to this languagelessness so we didn't have the feeling of becoming unbalanced. Leastways I could take their world because every segment of it is in quotation marks. I think this milieu is also mine because the languagelessness is also in quotation marks while it's dead serious.
Are you well-known abroad?
We rarely give concerts abroad. However, now we are going to play on the 22nd October at the Badehaus, at the Szimpla of Berlin. We've also been to Moscow, Paris, Venice and Bologna on the occasion of the Italian-year. We've been to the Czech Republic and Slovakia several times as well. We gave really great concerts there and I think it would be the same currently too but our relations were broken off. It's always up to an organizer but right now we have no relation and no possibility to have one. Well, it's all about relations. What we had was great and very elastic; we used to rage with the Czechs and Slovakians also. Maybe they used to be our most playful and wild audience. It's absolutely fine, we've also been to Brussels, at the Hungarian Institute and to Linz at Austrians, who were also reacting at least as passionate (as our fellow-countrymen). They weren't restrained and we didn't experience any coolness: they just loved us and we loved them too.
Do you still act in theatrical performances? Do you devote yourself to music or do you still keep to theater?
Fortunately there's no need to separate these two areas. I've been composing music for a while now for puppet performances.  I had the premier of my latest play at the end of last year. It's called 'Babies' Puppet Theatre' with plays dedicated to 1-3-year-old very small children. Among the constructers you can find a Belgian director Karel Van Ransbeeck, Ákos Futó – a puppeteer from Veszprém – and me. Through the Belgian director it is a joint production between the Belgian Theater De Spiegel and the Kabóca Puppet Theatre in Veszprém. We had the two opening performances with this formation; the one in Belgium took place in March this year. I was awarded for more prizes since then: first in Liberc for the music and then on the Kolibri Festival in September with the Michel Indali award for my performance. I really enjoy playing. We're singing for very young children accompanied by the ukulele and Ákos. While singing we're performing a puppet show with untraditional puppets. These are not finger puppets as they have a shape of balls and cubes. Abstract approach is of serious tradition in the North. There's no real story. The whole play consists of small etudes, of the particular motions and relations between objects and of humorous or emotional moments which originate from these. And then what a wonder! For a duration of half an hour these really small children, even the ones in arms, are paying attention without crying – they're participating in the play very gently. At the end of the performance they have the possibility to touch these objects and the children of today's digitalized world are reaching their hand open-mouthed for felt balls and wooden cubes. It's truly marvelous.
Written by: Tamás Kovács, Translated by: Eszter Kiss, Photos: Tímea Szentpétery