Human Zoo or just hell?
Published on
Human Zoo France, 2008, 110 min Director: Rie Rasmussen Cast: Rie Rasmussen, Nikola Djuricko, Nick Corey Section: Panorama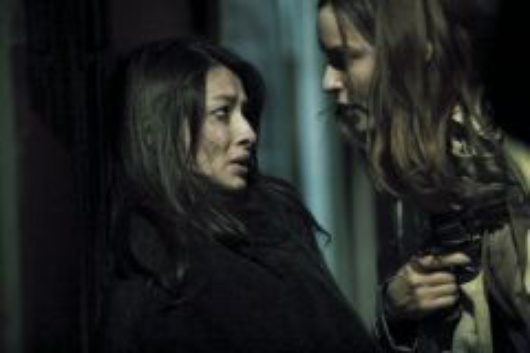 by Ole Skambraks

"Bonny and Clyde in Kosovo" is a proper label for the first feature film of the young Danish director Rie Rasmussen. It opened this years Panorama section and provoked a real uproar in the audience. Some burst out with laughter, others left the screening with disgust. Rassmussen announced the film as a "love story" but it turned out to be one not for the faint hearted. In the aftermath of the Kosovo war, Human Zoo shows the chaotic relation of Adria (Rie Rasmussen), half Serb, half Albanian and the deserter Srdjan (Nicola Djuricko). Both flee out of the former Serbian part of Kosovo and take on a career as racketeers and arms dealer. A different narration shows Adria separated from Srdjan in Marseilles, where she is an illegal immigrant. Flashback sequences connect the two narrations and locations. Rassmussen makes the audience hop from Adria's love quest in France to kosovar trauma and pain with a bit too much ease. She neither depicts an authentic way to come to terms with the war past, nor does she dress a psychological portrait of the characters. Adria is a freak, who knows how to survive by the means of violence. But what for? Rassmussen's character doesn't know the answer and does not search for it. And when this stylised Lady walks in high heels over piled cadavers we rather tend to think of "Human hell" than a "Human Zoo".
photo: Berlinale
More from the Berlin Film Festival, reviews and news from the red carpet in the magazine
Translated from Human Zoo