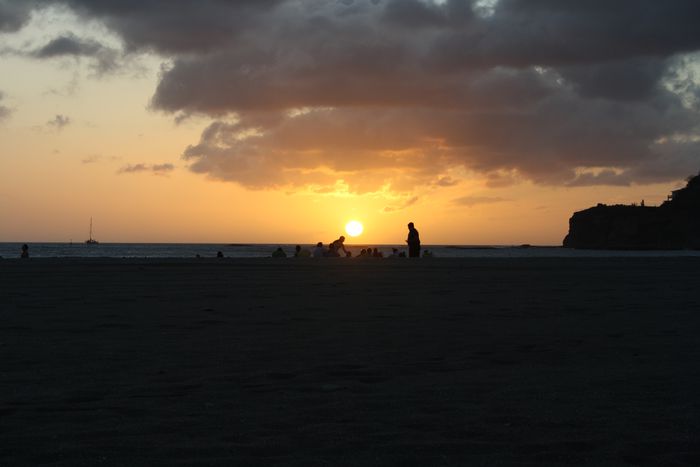 How to travel through Nicaragua in 10 days.
Published on
The largest country in Central America is the perfect place to get to know this part of the world. It is safer than its neighbour Honduras, yet less touristy than the bordering Costa Rica. Full of possibilities (and volcanos), the landscape is breathtaking and the colourful cities will leave you wanting more.
Day 1:
Leaving Managua is advisable in your first days. In general, you should try to come to the capital in the company of a local. The rumours that Managua is quite dangerous are not only hearsay. We have actually been robbed on our very first day in the city. Admittedly, it was in an overcrowded bus and we were not paying enough attention to our backpacks - mainly due to the fact that it was more worrisome being touched in all the inappropriate places imaginable, while not being able to tell who of the 10 Nicaraguans pushed up against you is harrassing you.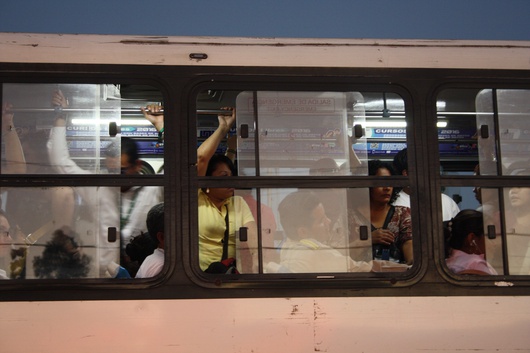 To avoid this experience is not really possible I think. You just learn to adapt and hide your valuables in better places. So do yourself a favour, take the next chicken bus - as they are called here - out of the hectic capital, head south and enjoy a couple of beach days after your (long) flight to Central America. Tip: Take the express bus from Mercado Huembes directly to San Juan del Sur. If you can't catch that, you will need to stop at Rivas. 
Day 2: 
In San Juan del Sur we stayed at the newly established Hola Ola Hostel. It's a very cozy place, with a great terrace overlooking the stunning bay, a small pool, lots of parties and a very cute house dog called Ola. San Juan is of course a surfer's paradise with a number of deserted beaches in the area that will take you breath away. But it is also a great place to meet fellow backpackers, kick back in a sun chair, have a beer at noon and just enjoy the easy life.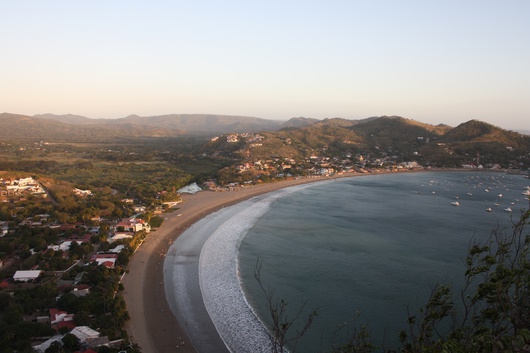 We actually celebrated New Year's Eve here and it was one of the best parties I have been to, until I fell asleep at midnight from all the exhaustion. But I was told the fireworks over the bay and especially the Jesus statue were a rare sight. Tip: There are shuttles for surfers organised daily from town. Just ask around!
Day 3: 
After a night of drinking and dancing you should start the day with a hike to Jesus. Believe me, you will curse yourself on the way up but the view from up there is unbeatable. And getting a blessing after a night of sin is never a bad idea.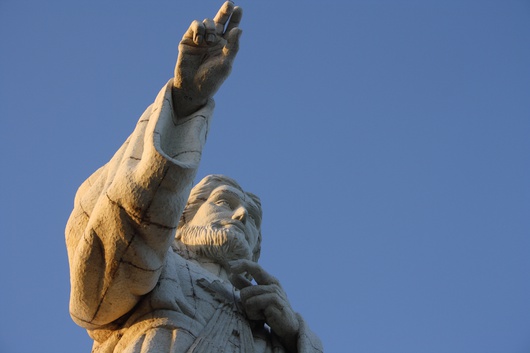 Tip: Just remember to bring some Córdobas to pay for entrance. When you get back you should try the typical Nicaraguan breakfast "Gallo Pinto" consisting of black beans and rice. The perfect hangover food. If you have the time walk around San Juan a bit more, it is a cute town with all its colourful houses and hip restaurants. One of my favourite spots was "El Gato Negro" combining cozy café and library. Now, it is time to say goodbye to SJD and continue on to Isla de Ometepe. The last ferry from San Jorge leaves around half past five in the evening so you need to calculate that in your travel time. From San Juan regular busses go straight to Rivas. In Rivas you can either take a bus to the Ferry Terminal in San Jorge or share a Taxi with other backpackers. Our destination was "El Zopilote" in Santa Cruz so it made more sense to take the ferry to San José, but you can also easily go to Moyogalpa and once you're on the island figure out your way to your accomodation.
Day 4:
"El Zopilote" is the coolest place I have been to in Nicaragua. The self-declared "Finca Ecologica" is an entirely self-sustained farm and hostel. It will not be the most sanitary experience but who cares? Taking a shower in the middle of the jungle or stumbling to your little hut with only the moonlight to guide your way, you will soon feel like Robinson Crusoe stranded on his deserted island. Only this island is not deserted and there is a lot to do. On our first day we just stayed inside the farm and explored the grounds. My favourite was the look-out on one of the highest points where I spent a lot of time writing down my thoughts about this bustling country.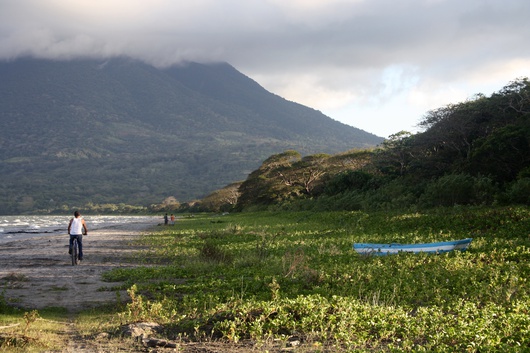 Tip: Try the pizza and the rum Flor de Caña with the hibiscus juice. You will never want for anything else in your life!
Day 5:
Because it is a must-do on Ometepe we went to Ojo de Agua but due to overcrowding we were not convinced. It is nice to take a swim but after that we went back to the main road and took a taxi back to Santa Cruz. The beach front there offers a great array of seaside restaurants. The first one, coming from Ojo de Agua, is a vegetarian restaurant that served some of the best food I had in Central America. You need to try this one out.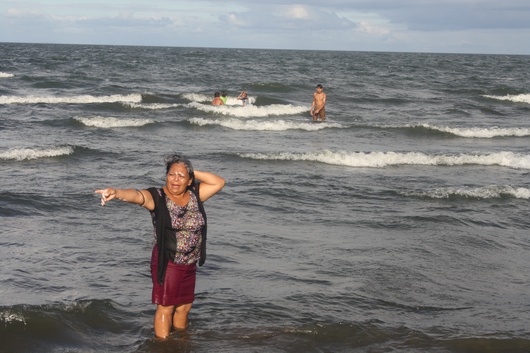 Getting back to our hostel was an adventure. We couldn't find a bus. Instead we found an elderly woman that looked so fragile under her big backpack that we offered to help her as she was headed in the same direction. She was very friendly and tried to tell us about the island. In general, Nica people are some of the most open I have met on my travels. Everyone is game to talk, show you around, have a drink etc. Sometimes not taking the fastest way opens up other opportunities. Back at "El Zopilote" we enjoyed their great food one last time and prepared to leave in the morning. Tip: Definitely book a shuttle to the ferry. Ask around for fellow travellers, we found a very nice American couple to share the shuttle with and had one of the most memorable conversation of the journey.
Day 6: 
Supposedly, there is a direct ferry from Ometepe to Granada on some days of the week. We were not so lucky and took the ferry back to Rivas. From there we actually took a taxi to Granada, because we were sick of crowded spaces, but to save money it is easy to just take an express chicken bus from Rivas. In Granada we stayed at Oasis Backpacker Hostel, a laid-back cozy space with hammocks lining the courtyard and an inside pool. Unfortunately, there was no time to relax. Instead we went sightseeing in this beautiful colonial town.
The churches are all worth a visit but especially Iglesia La Merced will take your breath away with its splendid view from the top of the stairs leading up to the entrance. In the evening Granada turns into a bustling gastronomical hub. You can really get your foodie vibes on. Some of my favourite spots were "El Pizzaiol" with some of the best hummus I ever had, "The Garden Café" serving tasty juices and "Imagine", a bar dedicated to John Lennon. Tip: If you need to get cheaper food just give the Mercado Municipal a visit and try the fresh fruits offered here. A Pali (the local supermarket) is also around the corner from there. 
Day 7:
Have you ever dreamed of swimming in a volcano? No, you're not crazy, right?! Well, I did it and let me tell you, it was quite surreal. I'm talking about Laguna de Apoyo, a lake inside an extinct volcano.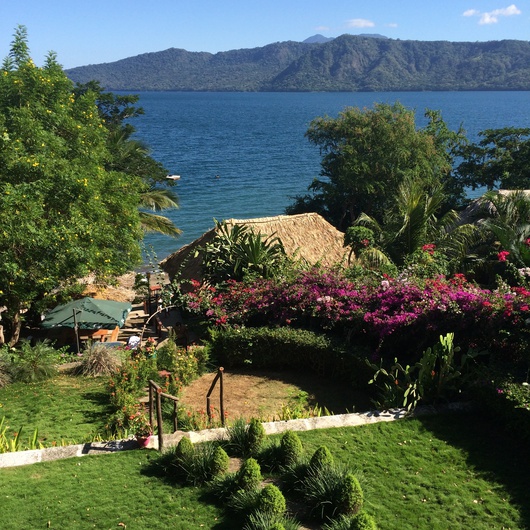 So no horrible lava scenarios. We spent a whole day there, most of the hostels in Granada offer a shuttle. Tip: Bring your own food and drinks, the restaurants around the lake are quite expensive. 
Day 8: 
This is where I have to confess that we have been unbelievably lucky. My friend, who had actually volunteered at a hostel in San Juan del Sur, knew someone whose family owns a coffee farm in the mountains surrounding Matagalpa. He took us on a tour of the Hacienda San Rafael and to his uncle's place, which was basically a cowboy farm. The beauty of those mountains, the aromas in the air there, the outstanding hospitality of the family are things I will never forget and that have made our journey through Nicaragua all the more special.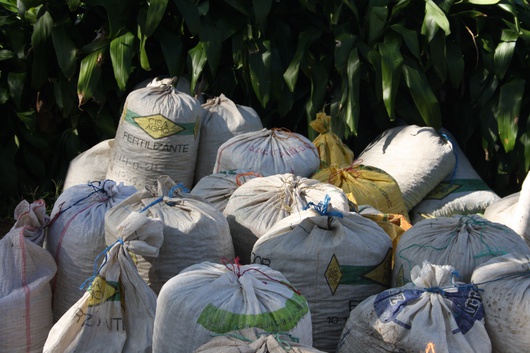 When you sit on a veranda of a ranch in the middle of nowhere in Central America and hear the horses whinny, you finally understand the meaning of life...as a cowboy. I know that it is quite a long trip to these mountains but it is definitely worth it, so please don't miss out on it. 
Day 9:
After a Nica breakfast at the farm, we drove down to Matagalpa and spent the day there. It is not as conventionally pretty as Granada but it is mired in history, which you should read up on before you come here, especially the Sandinista movement. Tip: A great book about that era is Salman Rushdie's "The Jaguar Smile".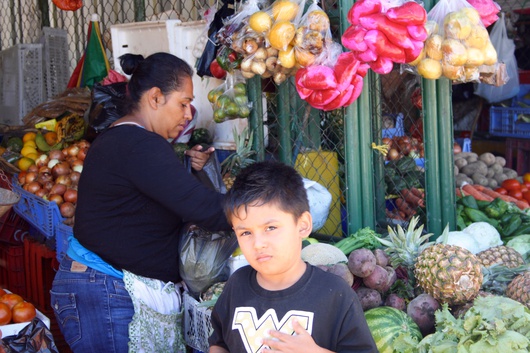 Matagalpa is a very colourful town with some nice spots to eat and party. Try out "El Palacio de los Batidos", they make some crazy blends of fresh fruit and vegetables. La Buena Onda, the Hostel that we stayed at, was the only one that we did not really feel comfortable in. 
Day 10:
On the way back from Matagalpa to Managua we admired the landscape one last time before returning to the big city. In the capital we stayed at a bed and breakfast close to the airport. Our last activity was the Mercado Oriental which is a great place to buy cheap souvenirs and observe sleeping Nicaraguans who are supposed to work.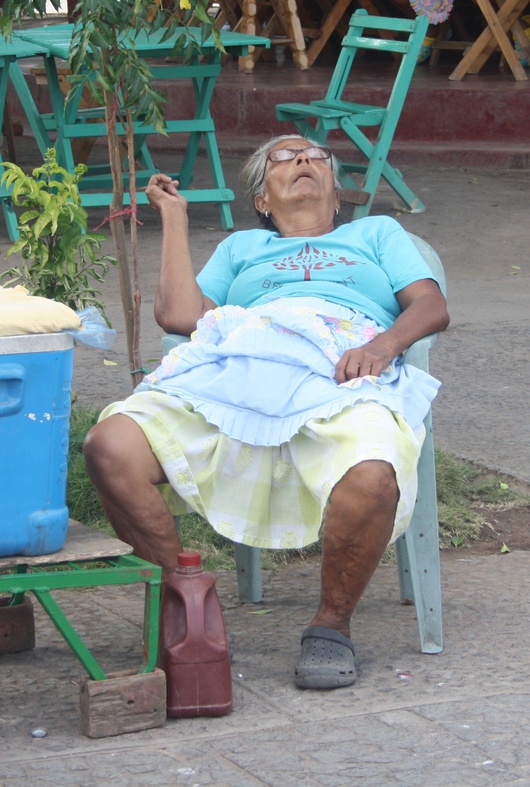 A last(ing) impression of the Nica way of life.