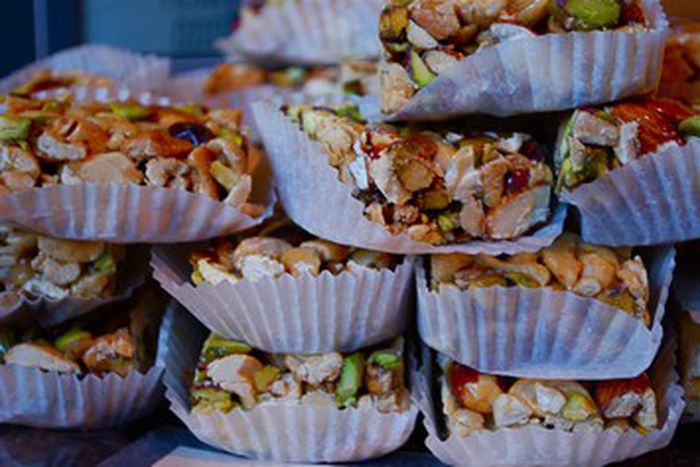 How to survive ramadan: Baklava recipe
Published on
Fasting during Ramadan is a considerably difficult strain on the body, made up for by the communal breaking of the fast. Meal times are in the evening and the middle of the night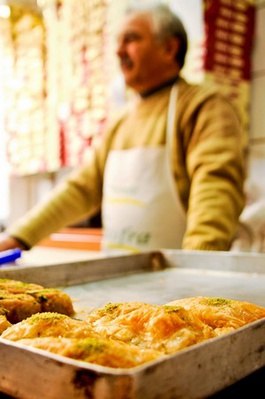 When I ask Özgür Yıldırım if he celebrated Ramadan, he has to laugh. 'The celebrations are four days after the end of the month of fasting, but ultimately fasting is a considerably difficult strain on the system,' he says. 'I haven't done the fasts for a few years because I used to get headaches and concentration problems from it.' Özgür is 26 years old and has a Turkish background; he's currently studying German at an adult education centre in Berlin. We meet up in a bakery to discuss food and fasting over tea and almonds. During the fasting month of ramadan (ramazan in Turkish), devout believers must observe a nil-by-mouth rule from sunrise to sunset; that means not even a sip of water. Özgür says that fasting has been rewarding experience for him, he adds that, 'It's not just about having nothing to eat; it's about self-control of your needs, self-discipline and inner reflection. During ramazan it's also important to not lose your resolve.'
The main thing? Lots of dough
Ramadan is the ninth month in the islamic lunar calendar. A lunar year is 10 to 11 days shorter than a solar year, which is why the month of fasting shifts in the gregorian calendar. 'Sahur' (the meal consumed early in the morning) takes place before sunrise and this is often the most substantial meal of the day. 'Mostly there is a breakfast that is substantial with pide (Turkish bread), or manti (ravioli-type pastry pockets); the main thing is lots of dough,' says Özgür.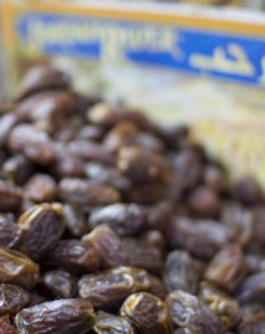 In the evening the family or mosque congregations meet for iftar, the breaking of the fast at sundown. Between those times the hunger is over-whelming, so a lot is eaten and appreciatively too. Typically there is hurma (dates) or olives, then soups and finally a main meal with salad and a pudding. The fast ends after 29 days. The end of ramadan is called Şeker Bayramı (the sugar festival) in Turkish, at midday all go to the mosque and then visit the grandparents or relatives. Naturally there are delicacies served up such as home-made baklava, grapes and peaches, Dolma (stuffed vineleaves) or dishes with lamb or beef.
A recipe for baklava
Ingredients (to make 12 pieces):
- 150 g butter
- 375 g filo pastry sheets
- 150 g walnuts
- 150g almond flakes
Syrup
- 225 g sugar
- 250 ml water
- 1 tablespoons orange juice
- 2 tablespoons rose water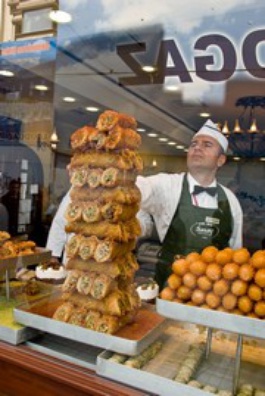 To make the syrup, put the water and sugar into a pan and heat it up slowly. Bring to the boil and let it simmer for about 10 minutes until the liquid has concentrated into syrup. Stir in the orange juice and rose water, put it to one side and let it cool.
Preheat the oven to 180C and grease a flat baking dish with butter. Cut the filo pastry sheets into shape for the baking dish and cover them with a kitchen towel. Lay 2 sheets in the baking dish and spread lightly with butter. Place 2 further lightly buttered sheets over them.
Mix the walnuts and almonds and scatter half over the pastry. Take six sheets and lightly butter every alternate sheet. Scatter the remaining nuts and place another 6 sheets on top with every alternate sheet lightly buttered. Pour the remaining butter over the top most sheet.
Cut the baklava into 6 squares and then cut each square diagonally in half. Leave to bake for about 40 minutes until the pastry is golden brown. Take them out of the oven and pour over the cooled down syrup. Leave to cool before serving.
Article first published on cafebabel on 10 October 2008
Translated from Ramadan - Verzichtkultur mit Magenknurren