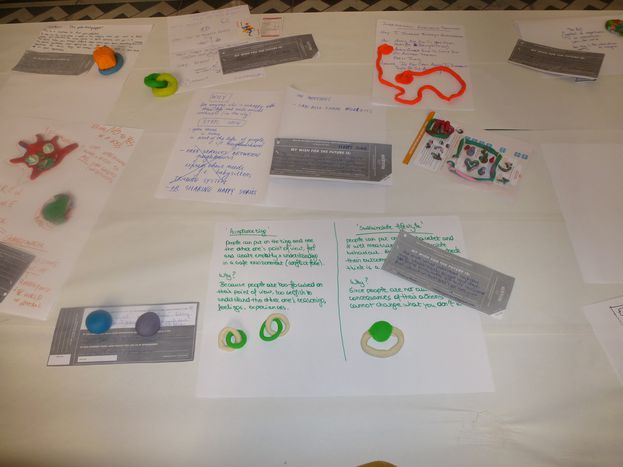 How to make the world a better place? The answer is simple: Learn. Do. Share.
Published on
Have you ever thought of combating social problems (poverty, (un)employment, ageing)  with the help of innovation, creativity and digital applications?  Yes, it is possible! And it works!
HOW IT ALL STARTED?
The idea of  creating do-it-yourself days (DIYdays) came to Europe (Ghent!) for the first time on November, 6th 2012  thanks to the initiative of the iDrops digital innovation agency active in the social and cultural sector. The company was set up by a Fleming by origin- Nathalie Goethals in 2010. Innovation and social change were two main areas which Ms Goethals wanted to develop on a larger scale: "Digital tools are extremely powerful weapons to fight social and cultural problems. (...) Each person has a small but essential part of knowledge or expertise of the solution to solve a particular problem. We just have to bring them all together and stimulate them in the right direction". This is how the company found its place in a small Flemish city.
DIY INITIATIVE
iDrops organises interdisciplinary and innovative LABS, serving as a platform for sharing experiences. During the events, experts from the IT/digital sector, specialists in social welfare area, designers, developers gather together in order to find solutions to various community problems. One of such an idea is a do-it-yourself global event of which second edition took place on 26 November, 2013 in Ghent. Diydays differ from place to place regarding the theme of the meeting and the tools used in order to convey the message. Whereas its original concept focuses on the use of audivisual materials, this year's edition in Ghent added a social character to it, believing in co-creation, crossover and the power of creativity combined with digital aspect in making change in society. The gathering brought 120 people who, by means of dialogue and mutual understanding during a series of conferences and afternoon workshops tried to answer one of the most pressing questions of today: How can creativity and digitalisation reduce unemployment?
EXAMPLES OF BEST PRACTICE
The morning series of conferences was a good opportunity for speakers to present their projects and share the ideas with the public. Here is the selection of actions happening across the world:
1. Reboot Stories & Wish for the future (US)
Reboot Stories is "using a story-telling as a way of empathy, as a way of touching the core", says Lance Weiler, the co-founder of the initiative that was born a year ago in. Through story-telling, technology and design a group of entrepreneurs is trying to contribute to cross-generational learning and social good in the world. Community-based projects teach entrepreneurial skills and their activities range from: photography to sustainable farming to magazine production to chocolate making. Reboot Stories are supported by the UN, the World Economic Forum & Columbia University and they have been named by the Mashable media as "one of the top five social good/educational start-ups to watch".
Wish for the future (One wish, one hundred years) is a creative experience where imagination plays the main role. Every participant shares their idea of their perfect future expressed through a written story, a piece of a song or a short video. As a final product, the wishes are placed in time capsules and buried for 100 years.
Lance Weiler- film director, story-teller, entrepreneur. Referred to as "one of 25 people helping to re-invent entertainment and change the face of Hollywood". Lecturer at Columbia University in art, craft and business of storytelling in the 21st century.
2. My sky is falling (US)
My sky is falling is a sci-fi based project based on experiences American foster children face before they leave the foster care system. During her experiment, Atley Loughridge, the creative director of the design action used body sensor data to study empathy to measure social impact and to drive engagement. The project, similarly to the ones described above, uses the technique of purposeful storytelling. As foster care alumni often fall into the depths of youth unemployment, the main goal of the scheme is to assist foster care kids in finding employment. The issue of American foster care is serious, bearing in mind that: "Every year, 30,000 youth age out of foster care, typically when they turn 18. Within a two-year period, up to 70 percent will experience homelessness. More than 70 percent of those in prison report having spent time in foster care or homeless shelters as children. (...) Foster youth experience high rates of domestic violence, sexual trafficking and early death, often by suicide. You can't put a number on the societal impact of this devastating loss of human potential", explains co-founder of Orange Duffel Bag Initiative Echo Garrett, partner of My sky is falling project.
Atley Loughridge- a co-founder, writer and a creative director for Reboot Stories. She is also a creative director of My sky is falling project, entrepreneur and producer.
3. Stanford Peace Innovation Lab (US)
The Peace Innovation Lab aims at exploring "how good humans can be to each other". "Use digital technology to change people's behaviour"-recommends Mark Nelson, co-director of the project. Persuasive technology is the key to improving personal relations, says Mr Nelson. He has identified innovative ways to measure peace at both local (neighbourhood) and a global level.
Mark Nelson- Former investment banker and a social entrepreneur, a researcher and practitioner at Stanford Persuasive Technology Lab.
4. Digital Social Innovation (EU)
Digital Social Innovation is an European Union-funded research project prepared to build a map of organisations using digital technologies for social innovation. The data of all associations will be made public and open to everyone. Thanks to this initiative, it will be possible to build a community of digital social innovators across Europe, understand emerging technology trends and the potential opportunities to support them better and give policy recommendations to the European Commission.
Fabrizio Sestini- Senior Scientific Officer at the European Commission DG INFSO. He is interested in innovative research ideas and multidisciplinary approaches regarding new internet technologies which facilitate better understanding of the co-relation the interrelation between technological developments and socio-economic impacts of the Internet.
5. Community Catalysts (UK)
Community Catalysts is an organisation working in 25 different areas of the UK which seeks creative solutions to social problems and care needs for older and disabled people. The goal of the association is to help create good conditions for community entrepreneurs to set up their own companies that will support others. "Community Catalysts strongly believe in social innovation"- according to its Director, Angela Catley.
Angela Catley- staff training, development and a project manager in care and support services. Director of Operations at Community Catalysts.  
6. BongoHive (Africa)
BongoHive is Lusaka's Technology and Innovation Hub. Innovation, creativity and sustainability are three words that describe best the founding of the lab. The whole initiative works as an open space in encouraging conversation about: technology, innovation, entrepreneurship and bringing innovative solutions in the areas of: economics, business, health, education etc.
Silumesii Abel Maboshe- a co-founder of BongoHive and the founder of Pencil Case Studios, a web development and a photography studio in Zambia. After having finished his education in Wales and Canada, he returned to his native country in order to contribute to development of the information technology sector.
IDEAS FOR FUTURE
2013 sessions of DIYdays opened its door for: Gothenburg, NYC, Ghent, Toronto and Los Angeles.The participation in the event is free and open to all. The future story of the events will welcome 10 cities in 2014 (confirmed for now: Paris, London, Istanbul, Warsaw, Madrid, Perth and Sydney) and the current idea for the main topic includes "Societal change and ambitions" with the slogan : digital technology and creativity making a difference for a better future. Healthcare, education, ecology, sustainability, urban development and poverty will be brought to attention during DIYdays 2014.