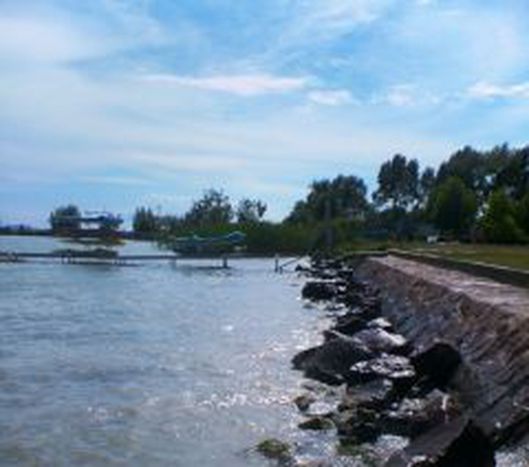 How to have a peaceful holiday by Lake Balaton
Published on
By Judit Révész If you would like to visit Lake Balaton, the largest lake of Hungary and whole Central Europe, but you prefer calmness and silence and have the shiver from and the crowded night life of Siófok or Keszthely, you should spend your holiday in Fövenyes, a nice little resort village on the northern shore of the lake.
Actually, it is not an independent village; it belongs to Balatonudvari, although the two places haven't grown together. A tree lined lane, now part of the cycle path running around the lake, leads from one to the other. Fövenyes is easily accessible with train, car and long-distance bus as well.
Image: The shore of Lake Balaton at Fövenyes
You have many alternatives, how to spend your time here. You can simply lie down on the beach – which is free to enter – and relax, go fishing or sit on the shore and watch the landscape. Of course, if the weather is warm enough, you can also bath, swim and rent a canoe or a pedal boat. There are swings, a slide and a sand pit for children and a beach volleyball court. Near the beach you can find the village's own landing place. Unfortunately, ships ply from Fövenyes only in the high season (4th July-23rd August), but then you can go for a one hour long pleasure boat trip (1400 HUF for adults, 600 HUF for children under 14) or sail to Tihany, famous for the Benedictine Abbey, established in 1055, which's deed of foundation is the first document, survived in its original form, that includes Hungarian words – mostly geographical names.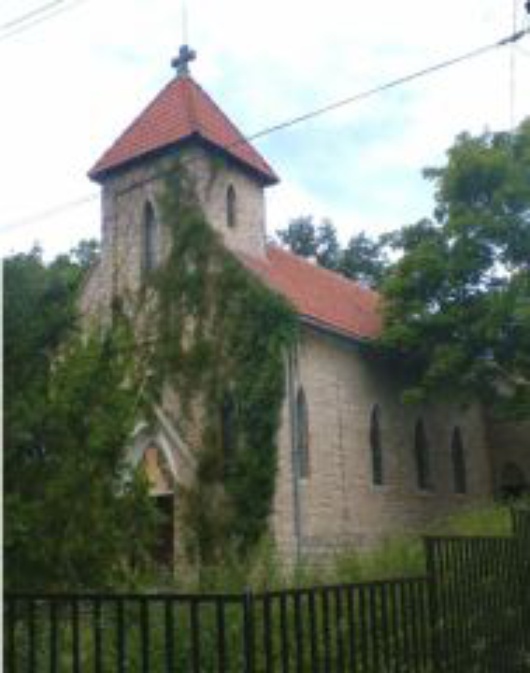 Image: The little church of Fövenyes, where sometimes concerts are held
For those who really like cycling, I can prpose to make a trip to Balatonfüred. It takes about 3 hours there and back, but when you reach Füred, you can have a rest at a well on the edge of the city and refresh yourself with spring water before turning back. If you find this too exhausting, don't go further than Örvényes, where you can visit the water mill museum, and pause at the graveyard of Udvari to watch the heart-shaped tomb stones carved in the 19th century. If you prefer walking and hiking to riding the bicycle, go up the lane leading from Udvari to Vászoly. Halfway do not miss to enter my favourite restaurant Laci Pince Csárda, where you can have lunch, if you became hungry. Or travel half an hour with train in the direction of Tapolca to Révfülöp and climb up to the lookout tower – you will enjoy the view.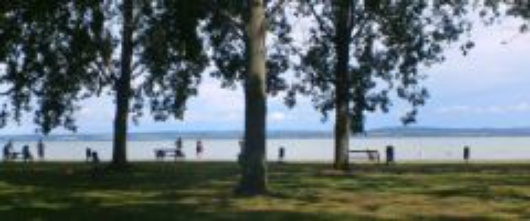 Tapolca itself is worth to see. I would highly recommend you to visit the Cave Lake and boat on the crystal-clear bluish-green water – it makes fun and the air of the cave is very healthy. Walk around the Mill Pond, have a look at the protestant church, visit the School Museum and have lunch in Dream Team Café restaurant and pizzeria.
The resident population of Udvari and Fövenyes together is less than 370, but there are accomodation possibilities, mainly camps and holiday homes (some of them for rent). In Camp-Oh Camping there are motel rooms, wooden houses and caravans, but if you rent a tent or have an own, you can also camp out. The beach and the railway station are about 300 meters away. The camping offers many sporting possibilities: it has a football field, a basketball and a volleyball court, and you can rent a bicycle too. Prices starts from 2880 HUF/person/night, but you can have some discount when you stay for more nights. The Ezüst Nyár Üdülő (Silver Summer resort hotel) is more expensive, but it is even closer to the beach and in the high season (27th June-22nd August) the guests can use its own swimming pool. Here you can sleep in a hotel room, an apartment or a wooden house. There, you can have one night in a wooden house from 3280 HUF/person/night, while for an apartment for 4 persons you have to pay 6280 HUF/person/night in the 2009 summer season.
So if you want to run away from a loud and crowded city, if you need a calm place to hide, go to Fövenyes, where only the passing by trains can disturb your peace – but after a while, you won't even notice them.