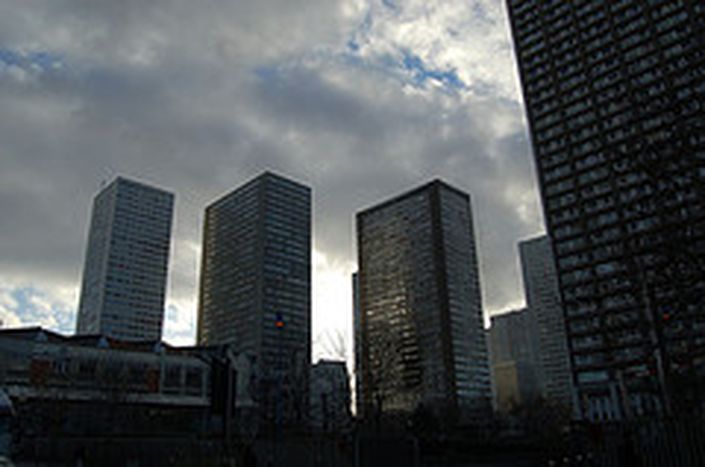 Homeless in Paris
Published on
High rents, fierce competition - just a couple of difficulties that 100, 000 people in Paris face when looking for accommodation
Olivier has been looking for a room to rent in the French capital for two months. 'Enough flats are available in Paris,' says the 29-year-old. 'But you find yourself up against around twenty people competing for them.'
Liza, 24, finds that young people often simply do not qualify for a flat. 'You need to have a job, a decent income and money from parents,' she says, and she knows; she lived with her parents just outside Paris during her studies at the Sorbonne university. 'Young people can't afford all that.'
Banking on 700 euros rent per month
Like any other metropoles, Paris attracts people from all over France, Europe and the world. According to the municipality, the price of one square meter has doubled within the past ten years. Current rents reach up to 700 euros per month. The capital's tight urban area of 2723km2 has proved too small for further construction. Pierre Mansat, the deputy adviser to the mayor of Paris, admits that new houses or flats have become ever rarer.
Meanwhile, the Paris municipality has only recently started to realise that young people are good for the city and its social composition. 'Five years ago we only had 1, 500 student rooms; today we have 3, 000,' argues Catherine Mangeot, head of the student division of Crous, a state owned association for student housing. 'There are 35, 000 students with grants in Paris. If Crous can provide accommodation instead of it being arranged privately, we'd aim to have a target of 30% by 2012.'
Picky owners
Paris real estate agencies agree that the housing market is driven by owners, as these are the people who have files of potential tenants in front of them. A common disadvantage amongst a vast number of landlords is their incomprehension with foreigners. 'Many students who come to Paris are from Africa, especially the Maghreb states. They speak fluent French, but it is very difficult for them to settle in because of racism,' Mangeot reveals.
Flatseeker Olivier agrees. 'I believe some people think that black people party a lot, listen to loud music, and have lots of friend over all the time. Owners seem to be afraid of that.'
The fuss about foreigners applies to both French and foreign landlords. Jean Claude Flores, the manager of real estate company FNAIM AJC in Paris' 10th arrondissement, remembers an Asian owner who refused to rent out his flat to Arabs and Africans. 'We still chose a black person, contrary to what the owner had stated. The tenant was neat and it happened that everything went very well. We managed to change the mindset of the owner,' says Flores. He finds that people with racist attitudes in the end will not be able to rent out their property, as Paris is getting ever more multicultural.
Of course, not all owners are as picky. A middle-aged hairdresser says that he does not have any preconditions for potential tenants, as an agency takes care of the conditions of his house. He is happy, as long as he receives the money.
Squatting
The circa 20, 000 empty premises in Paris are often subject to lengthy inheritance disputes.
But the state actually has an obligation to intervene in the market and help find accommodation should some find themselves in a critical situation. 'Yet the government has not used that right for more than ten years,' Pierre Mansat reveals.
Conditions got so drastic that in the summer of 2007 in Paris, the 'Ministry of Housing Crisis', a French self-proclaimed NGO, invited desperate students to squat in empty buildings and built flats for them. Mansat agrees with squatting - as long as it concerns buildings owned by the state or institutions. 'Remeber that about 100, 000 people suffer from housing crises in Paris,' he says. 'It needs sorting out. And this kind of demonstration helps get things moving.'
Homeless in Paris
Real estate manager Jean Claude Flores feels that the huge amount of empty buildings in Paris is a political problem. 'These structures have money to deal with homelessness. Why leave apartments empty when there is a need for somewhere to live?'
As for the exact number of homeless people in Paris, no-one is sure. According to Didier Cusserne, the deputy general of Emmaus, a French charity offering the homeless a roof, 25% of homeless people are those without official papers. As well as French people, there are foreigners and foreign workers in the streets, many also coming from eastern Europe, he notes.
Perhaps one should regard homelessness as a part of the bohemian legend of Paris. Young artists come here in search of inspiration and have not thought about the money and accommodation. Cusserne agrees with that theory to some extent. 'A lot of people think that it is better in Paris, but they are soon forced to change their minds. Maybe it's better to be homeless here than in a railway station in Warsaw.'
Check out our photo gallery on "living on the street" in Paris
(In-text photo: fotologic/ Flickr)