Hitch-hiking to Romania
Published on
A French association offers the chance to explore a country through hitch-hiking. Each summer it offers its members a new destination, usually European, sometimes beyond the Schengen zone. Road-trip
For twenty-three years, Trans euro Stop has given a group of twenty youths the opportunity to travel differently - from the Arctic circle to Morocco, by way of Greece, Ireland, and Austria, to name just a few. Those participating travel to the country of choice in pairs. The trip is designed with pre-planned stops, but each traveller has the freedom to roam as they wish. Once they have arrived, planned stops allow them to discover the country's culture.
Thumb out for Romania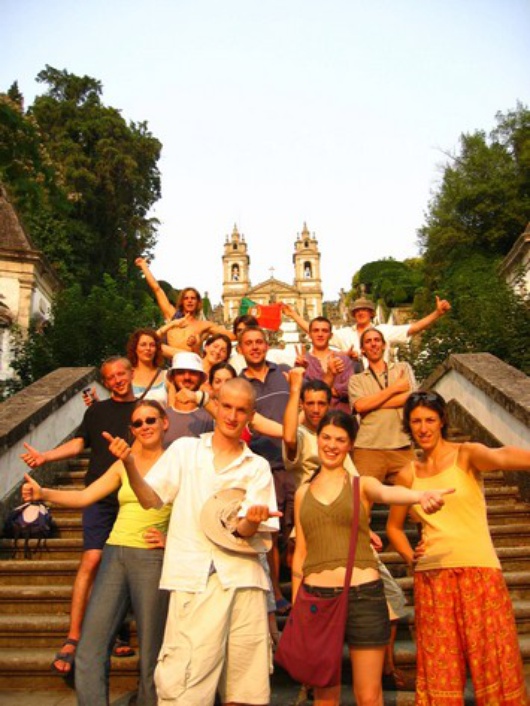 This year, 'Romania' is written on the big cardboard thumbs that serve as the association's log books. Thomas, a 24-year-old from Nantes, set off for the east with his thumb out. 'Leaving your friends behind to go on an adventure by yourself allows you to open up to others, and really discover the country and the culture of Romania,' he says. Beside him is Fabien, another Frenchman. 'Hasn't hitch-hiking gone out of style?' a stunned Polish driver asked them. The two adventurers had no problems travelling across France and Germany, but each country necessitated a different approach: 'At the service areas on the German motorways, we approached drivers directly and asked them to take us. You need to have a little nerve!'
There is a certain magic that hitch-hiking brings to travelling, whether it be dining with a family in their home or travelling a stretch of road with a journeyman (aka the Compagnons du Tour de France). 'One stationmaster even asked Fabien to marry his daughter,' Thomas recalls. And when there is a language barrier, gestures can go a long way. 'One of the reasons that drivers stop is to break up their trip with a little conversation. So when we're asleep, hitch-hiking loses a little of its interest.' A few legs of the journey take place by train in order to get back to the group on time and see Prague and Slovakia.
Like in Tony Gatlif films
Eight days after they set off, they are in Dracula's country. To the east, the roads are worthy of a Tony Gatlif film. Horse-drawn carts and new BMWs pass each other on pothole-strewn roads. On the roadside are blueberry sellers. Here, the European and Romanian flags are placed side by side, never the one without the other. There is a warm welcome that is characteristic of the country. 'When we arrived in Romania, a music teacher gave a piece of paper with something scribbled on it to a taxi driver, who took us to a village. There, a theatre teacher put us up. Her daughter spoke French and showed us around the area.'
For seasonal adventurers, what could be more original, and more comforting, than travelling across Europe with this association? 'Many young Europeans that we met on the road or in youth hostels are interested in the concept of the association,' says Thomas. Based locally, this road trip seems to be set to expand to the European level.
Translated from Au bout du pouce, la Roumanie