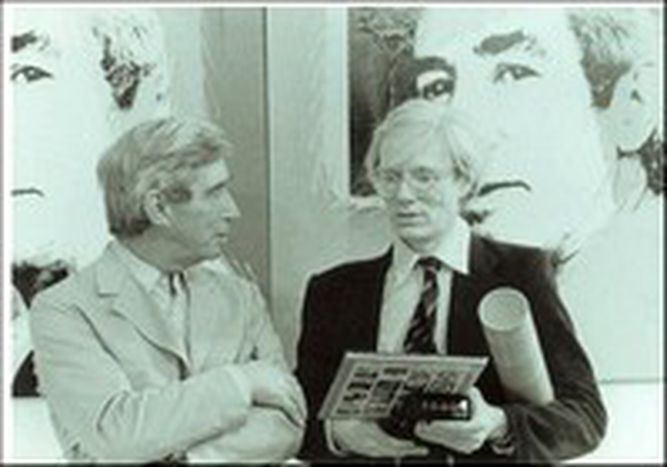 Hergé at 100: man without a quiff
Published on
May 22 marks the 100th birthday of Hergé, 'father' and creator of comic boy-hero Tintin. Events have been organised around the globe to celebrate a man who has been somewhat eclipsed by his creation
As a young child, Georges Remi was a mediocre student - he didn't get very good marks in subjects like art, a topic which was later to get him noticed.
Born in Brussels in 1907, the non-academic was politically influenced by his employer at the daily Catholic newspaper Vingtième Siècle, Nobert Wallez, who was a strongly opinionated priest. Georges Remi became known more widely as 'Hergé', (his pen name, which was the inversion of his initials in French). The character duo Tintin and his pet terrier Snowy were born in 1929, when Hergé was asked to create a children's supplement for the paper, 'Le Petit Vingtieme'. 'Tintin in the Land of the Soviets' was one of his first comic adventures to be serialised, which was also published as a black-and-white album.
Artistic revolution
Tintin was revolutionary for the the comic world. Hergé invented the 'clear line' (ligne claire) style, epitomised by strong black lines and an absence of shade and shadow. If colour was used, it was strong and in block. It sparked a series of imitators and followers in Belgium and beyond. Through Tintin's journalistic journeys, Hergé travelled the world (in his imagination). Some of his works were famously polemic, being set in the Congo, America, China and Egypt amongst others. However his earlier works are not entirely factually accurate – for 'Tintin in the Congo', Hergé unoriginally copied the visions of Africa portrayed in the African Museum in Brussels.
This changed when he met Zhang Chongren, a Chinese art student (and later friend and mentor), who pressed Hergé to do more research and not to use such stereotypes, which could be seen by some as racist. This was particularly apt as China had been invaded by Japan at this time and Zhang felt that Hergé could unwittingly start a diplomatic war. Zhang is immortalised today in 'The Blue Lotus' as Chang Chong-Chen.
Hergé brought other 'parentless' characters, such as Quick and Flupke, two little rascals from Brussels, to life. There was also Jo, Zette and Jocko, a boy and girl with their monkey. These appeared in the French comic 'Valiant Hearts' ('Coeurs Vaillants').
Wartime controversy
When Le Vingtième Siecle was forced to close during the Second World War, Hergé courted controversy by continuing to produce Tintin for the French-language Belgian paper Le Soir, which had been taken over by the occupying Germans. Due to the paper shortage during the war, Hergé learned to make short, succinct stories, influencing his later work. It was not until 1946 that he started publishing again, (having been accused of collaborating with the enemy). Tintin Magazine, published with Raymond Leblanc, was a roaring success, as did the Tintin albums with well-known Belgian publisher Casterman.
The 'Hergé Studios' followed in 1950. From then on, the comics became a collaboration between a large group of artists, story writers, colourists and publicists. But Hergé maintained that he was the only one who could really bring the characters to life. In 1977, Hergé married long-term lover and studios colourist, Fanny Vlamynck. Vlamyck keeps Hergé's legacy alive long after his death in 1983. She created the Hergé Foundation with her current husband three years after her famous ex-husband passed away.
'More than 2 million copies of the Tintin albums are sold each year', says Etienne Pollet of Casterman. 'In May 2007, the Tintin albums will have been published in 77 national and regional languages. An astonishing fact is that more copies have been sold since Hergé's death than while he was alive.' To date, over 200 million albums have been sold worldwide - and they show no sign of slowing.
Honoured worldwide
To mark Hergé's would be centenary, a number of events have been organised. The main event organised by the Hergé Foundation is an exhibition at the Pompidou Centre in Paris until February 19. But it's a move which the Belgians may find somewhat controversial. It has been reported in the Belgian press that they feel 'passed over' in favour of the bigger pull of the French capital.
What else is on the map?
Belgium: Visit the Huge Tintin fresco at the Gare du Midi. You can also visit Tournai, home of the Casterman publishers in southern Belgium, who have published the Tintin albums in more affordable mini-versions. It's also where 'Place Hergé' is due to be inaugurated on Hergé's birthday. July sees a 'Tintin' themed flea market at 'Place du Jeu de Balle', a market which famously featured in the comic strip itself. SN Brussels will decorate a 'Tintin' plane, and Tintin and Hergé stamps will be published.
France: Visit the Angoulême International Comic Festival from February 25 - 28 in western France, or the Pompidou Centre in Paris until February 19. The latter show details Hergés life, how his comics were produced and all the original plates from 'The Blue Lotus', plus original covers of 'Le Petit Vingtième'. In the museum shop copies of Hergés other works and the Tintin albums in their original format of black and white, longer versions are available.
Sweden: 'Tintin's Adventures at Sea' is showing at the Stockholm Maritime Museum from June 2007 to February 2008.
Spain: The Barcelona Motor Show house an exhibition in May 2007.
...and if you are across the seas...
Quebec: 'In Peru With Tintin' is showing at the Musée de la Civilisation until January 2008 in Quebec.
For more information on all of the above events and more, click here