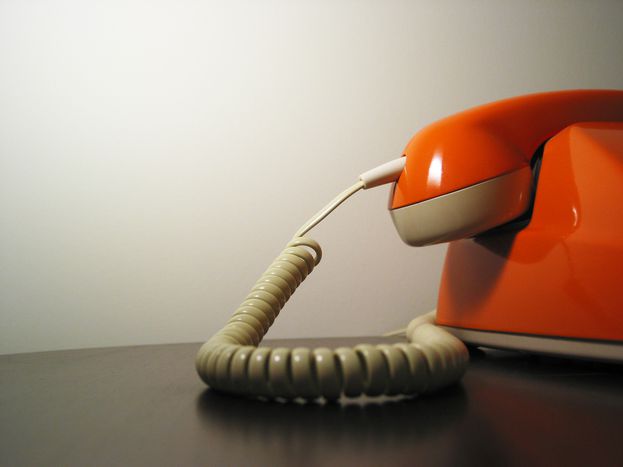 "Hello? I want to die." Working for a mental health helpline
Published on
Translation by:
Zofia de Rooij
Emilia likes travel books and fruit-flavoured beers. She's 26 years old and has curly hair, which she usually dyes red. For a year she worked for a Polish mental health helpline, convincing children and teenagers that a break-up is not the end of the world, and that it's possible to do something about an abusive father.
When we finish discussing the formalities of the interview and move onto the subject of her work, Emilia begins to speak in full, fluent sentences. The more difficult the questions become, the more eloquent her answers become. Names of diseases, disorders and methods of conduct get mentioned. Words flow more slowly, chosen with care. Even from the very first question, caution is key.
"The exact location of the office is a secret. The basis of the helpline is anonymity, both for the people who get in contact with us and the volunteers who answer their calls and emails." Why? Wouldn't it be easier to confide in someone who is not anonymous? "Young people shouldn't get used to talking about their problems with a stranger who is far away. That sort of bond is something they should seek out themselves, closer to home. We don't run therapy sessions, but only help to decide what to do next. The helpline is emergency assistance."
Children and teenagers from across Poland can call the number of the helpline (116 111) from Monday to Sunday between 12pm and 10pm. They can even send an email at any time, day or night, and no message goes unanswered. Getting through on the phone, though, is more difficult.
"The telephone rings continuously from opening to closing time, so it difficult to say when we're most busy. On the other hand, the subjects of the conversations often change according to the time of the year. At the end of the school semester, problems with assessments and studying increase. In August, the hotline is flooded with phone calls from high school students who are about to graduate and don't know what's coming next. Children often feel alone during the holidays. Regardless of the season, there are always a lot of calls regarding problems of love or violence."
A training ground for future psychologists
Emilia studied clinical child psychology, and admitted that nothing will prepare her for work in this profession as much as the helpline. The internship lasted the whole year and was extremely time-consuming. Few people can handle such intense work, and the number of applications is rather low. Despite this, the recruitment process is long and demanding. Sending in CVs, recruitment forms, a conversation, then familiarising yourself with working the phone, a month-long trial period, reading the indicated literature, training calls and answering emails - of the 15 people who got recruited alongside Emilia, only seven completed the internship. Some passed the recruitment process, but immediately crumbled when the real conversations started.
It is hard to say what the attributes of an ideal volunteer are. "Certainly openness, the ability to establish a conversation with ease. You have to be aware of shortcomings and what you need to learn, for example overcoming embarrassment when talking about sex. For me, it was difficult to name emotions at the beginning. Talking about feelings is problematic. People are angry or happy. Sometimes sad. That's it. On a day-to-day basis we don't really show other emotions. In my profession you need to be good at recognising them, but for me, the ability is acquired and not innate."
Shifts last three hours and take place a few times a week. There is a 30-minute period before and after each shift when volunteers can talk about what's happening, both at work and in their own lives. "We talk about the difficult conversations but also about our moods, how we're doing. At any given time during the shift we can also ask for a break or help."
Constant substantive care of experienced professionals is one thing, but nowhere else will you find such a diversity of issues. "Kids talk about everything: from quarrels with a friend and relationship problems to peer violence and violence at home. They won't go to their teachers - it's just a lot easier to pick up the phone. For someone who wants to work with children and teenagers, it is one of the most valuable professional experiences you could have."
Hanging up is always a bad sign
Where did the desire to work with children come from? Emilia can't find an answer for a long moment. "I don't know. I don't have patience with adults, but with a child I can easily repeat something over and over again. I like teenagers at a so-called 'difficult age', around 14 or 15: it's so satisfying to know that I've done something to help them. Children often simply don't know how to deal with a problem. When you give them the solution, they do it. Adults are less brave - they often know that it is wrong and what needs to change, and still they don't do it."
Is it maybe the sense of power? When you spend all day telling kids how to fix their lives, you can see yourself in a very different light? Emilia reacts with a laugh. "I don't think so. I feel satisfaction from the fact that teenagers trust me. It's nice that I'm 'cool'. But when I start to feel like the saviour, it usually means I didn't really help and that I only suggested a temporary solution, because at that given moment nothing more could be done."
Does she often feel helpless? "There are some situations which can't be fixed over the phone. There's is no quick way to get a child out of violent environment. Or to help with eating disorders. Or suicidal thoughts.
"The first conversation with someone who wants to commit suicide is terrible. It's like with doctors - the loss of the first patient is the worst. First there is surprise. People so often say that they are depressed or that they want to kill themselves, so it's disarming to suddenly talk to someone who really doesn't want to live. It's not just the usual melancholy: it feels like they've already made up their mind. You can't help them. In life- threatening situations you can manage the intervention, but then the only thing that you can do is wait with the caller for the ambulance. In the meantime you have to make sure they don't hang up."
Who helps the helpers?
The helpline is a real teaching experience. First and foremost it teaches how to have a conversation - the ones we have in 'real' life don't differ that much from the ones being held over the phone. It also teaches us to listen and that giving a ready-made solution never makes any sense.
But what about the volunteers' problems? "In this job you feel compelled to take care of yourself. You can't not do something just because it is difficult and yet expect a child to take charge of their life."
Emilia doesn't believe in pure altruism. "We do good things because we feel good afterwards. But here it doesn't matter - the effect is the same. For us all that matters is that we're helping someone."
After two hours of stories from the 'psychological front-line', it is hard to deny the effectiveness of this strange mix of pragmatism and idealism. 
Translated from "Halo, chcę się zabić" – o stażu w telefonie zaufania