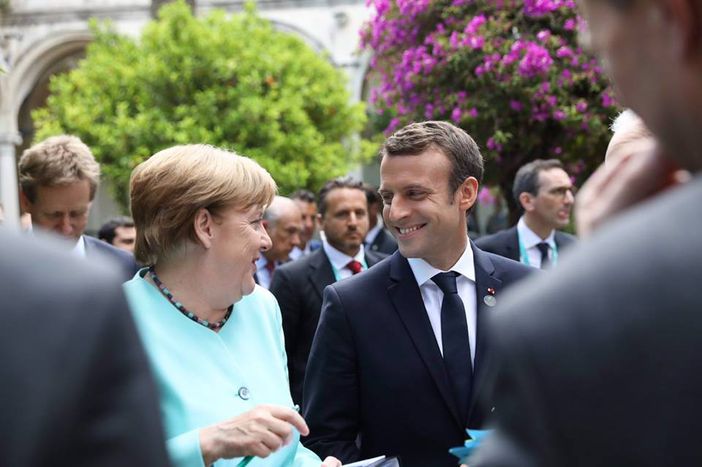 Has the EU turned a corner?
Published on
"As a solution, not a problem": this is how the EU is now perceived again according to European Council President Donald Tusk. The participants at the EU's summer summit in Brussels have made a show of unity and resolved to tighten cooperation on counter-terrorism and defence. While some media rejoice, others remain sceptical.
Brussels benefiting from Macron effect - La Stampa, Italy
The fact that President Macron is now a member of the club is clearly good for the EU, La Stampa writes in delight:
"Quick, concrete, and compact. Yesterday's meeting of the European Council demonstrated qualities the EU has long been lacking. No doubt that's thanks to the Macron effect, because the new French president making his debut at this meeting of heads of state and government was the star of the show. And this summer summit has indeed brought concrete results in the areas of defence and the fight against terror. What's more, without the usual differences of opinion which so often get out of hand and hamper the discussions. And without the usual delays. Yesterday's round even ended an hour before it was scheduled to." (23/06/2017)
The coming of the saviour? - De Volkskrant, the Netherlands
Whether all the praise for Macron is justified remains to be seen, de Volkskrant comments:
"The French president looks relaxed but poised as he strides across the red carpet. A man who knows what he wants - in France and in Europe. It's clear: the saviour has arrived. … Whether or not Macron will be successful in Europe will depend on what he does in France. Germany wants him to break the rigid structures there, reform the labour market and reduce public debt. If he doesn't manage this Angela's embrace could turn into a stranglehold and the mood in Europe could quickly turn against him." (23/06/2017) 
Europe less afraid than before - Tvnet, Latvia
A year after the Brexit the EU has calmed down, the Russian-language website Tvnet comments:
"The EU has never experienced a panic like the one that broke out a year ago. It started with the Brexit referendum, grew from month to month, and reached its climax with Donald Trump's victory. But now, after a month and a half's break, it has receded. Have we recovered what we lost? ... Was it just a passing mood that subsided after a few months? ... Perhaps the overall situation has changed less than the Europeans' attitude towards it. After all, it's no secret that it's easier to win when you're not afraid. Today Europe is no longer afraid." (21/06/2017) 
Still a vast construction site - Die Presse, Austria
Brussels' newfound confidence is exaggerated, Die Presse believes:
"Anyone who's walked away from an accident unharmed knows how people in Brussels are now feeling: an all-engulfing sense of relief. Paradoxically the situation the EU now finds itself in isn't like an accident but more like a vast construction site. Migration, terror, euro crisis, trade policy, budget discipline, compliance with the rule of law in the east of the EU, refugee distribution - everywhere you look there are tasks that urgently need to be tackled. ... Right now Europe is living in the conditional tense, intoxicated by the possibilities offered by the Brexit, Macron's election victory in France and Angela Merkel's increasingly likely re-election in Germany. Whether these opportunities will be grasped is another thing altogether." (23/06/2017)
---
30 Countries, 300 Media Outlets, one press review. euro|topics presents the issues affecting Europe and reflects the continent's diverse opinions, ideas and moods.
Translated from Ist die EU über den Berg?