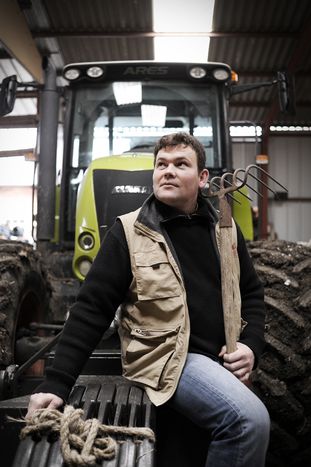 HandiCAP: freedom-hunting French farmers, as European as Parisians
Published on
Young farmers in the region of Auvergne worry about their future, which is being over-organised by a too liberal Europe. They want to give vent to their anger at the upcoming European elections in June 2009
Sabine Tholoniat is chirpy. At 5.30am sharp she stands amongst her farm's milking equipment, with a baby phone in her right hand jacket pocket, on hand in case her son cries over in the house. Her long hair is tied back in a tight plait. The 26-year-old disinfects her dairy cows' udders entirely mechanically with a neon green liquid. Then it's on to the milking machine – routine!
Regional advert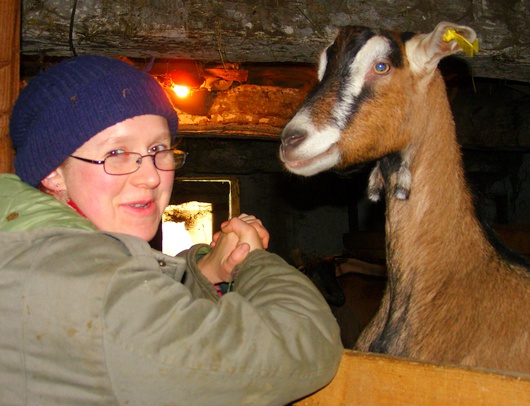 Eighty cows march through the equipment every day here in the hamlet of Les Granges, not far from the little town of Tiers, in central France. Yet Sabine is content. Freedom was important to her 'to do what we wanted, when we wanted.' Far removed from the city noise of Clermont-Ferrand 50km away, which shimmers on the horizon far away from the Massif Central, she has built up a small family business together with her partner Raphaël, also 26, and her parents. Sabine is a dedicated farmer. She works in one of the 22, 309 farming businesses in Auvergne in a sector which accounts for 8.8% of the working population according to the regional council. As a dairy farmer she supplies the surrounding dairy factories and produces cheese which is sold in wholesalers' or in the region's small markets.
Cheese specialities, like Cantal or Bleu d'Auvergne, are an agricultural advert for the region, which annually organises France's second biggest agricultural fair. Sabine's specialities are above all original looking sheep cheeses. The business is doing well – or would be, were it not for the irksome EU milk quotas. The calves Déese, Drusila and Dalida, whose names this year are all classified beginning with 'D' - need to get a grip on themselves. Milk from happy cows is all well and good – at least to an extent, otherwise there are hefty sanctions from Brussels. 'We are anxious,' says Raphaël with regards to the future. He used to want to be a rugby player.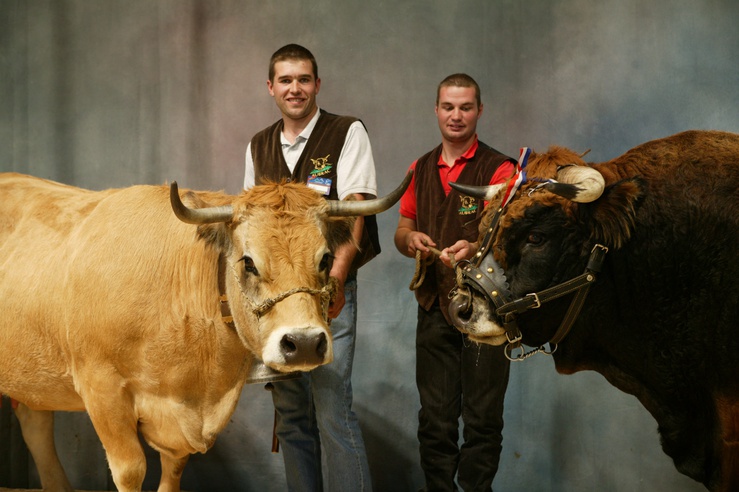 HandiCAP?
2013 is the next deadline for farmers in the EU, for the rural idyll is deceptive. Under the French presidency of the European Union, which ran from June to December 2008, the EU agricultural ministers said yes and Amen to the so-called health check of the Common Agricultural Policy (EU agricultural reforms, known as CAP). 'Modernise, simplify and streamline' are the 'healthier' reforms of the day – you can look them up on the internet. From 2013, all things considered, there will be 10% fewer direct payments and the milk quota will be increased step by step until it is completely abolished in 2015. In plain language, hiding behind the CAP modernisation is the phased destruction of a joint project, which once promised so much success to the advantage of a free market.
CAP was introduced by the European Economic Community (ECC) in 1958 to guarantee Europe's ability to produce food independently after the war. But today it has become an impenetrable construct. 'Complex, unfairly yielding but necessary,' is how Elisabeth Thévenon-Durantin, vice-president of the regional council and head of the agricultural sector, describes HandiCAP. Representing 46.7% of the EU budget, CAP forms a solid base of the European structure. What is going wrong when agricultural policy slowly but surely dissolves into thin air?
9 million euros (£8.01 million) flow annually into French agricultural businesses. To make distribution fairer in the future, Thévenon-Durantin wants to bring in a similar system to those of Germany and Italy – the regionalisation of CAP. Farmers' lobbies are going on the warpath and trade unionists are protesting. 'We're afraid that in 2013, a break with the little bit of Europe that finally exists will be accompanied by the renationalisation of certain aspects,' criticises cattle breeder Gilles Amat, president of the young farmers' union in Auvergne.
'The problem is that they don't want to accept that things are going to change in 2013. We now need to plan ahead.' Mariann Fischer-Boel, the EU's agriculture and rural development commissioner spoke of the 'end of a model' in her last visit to Clermont-Ferrand in September 2008. With the end of the milk quotas there will be no more regulation and the simple farmer will 'no longer be able to get rid of his milk'. So isn't 2013 going to create a mess for dairy farmers? 'Exactement,' responds Thévenon-Durantin.
Rule rage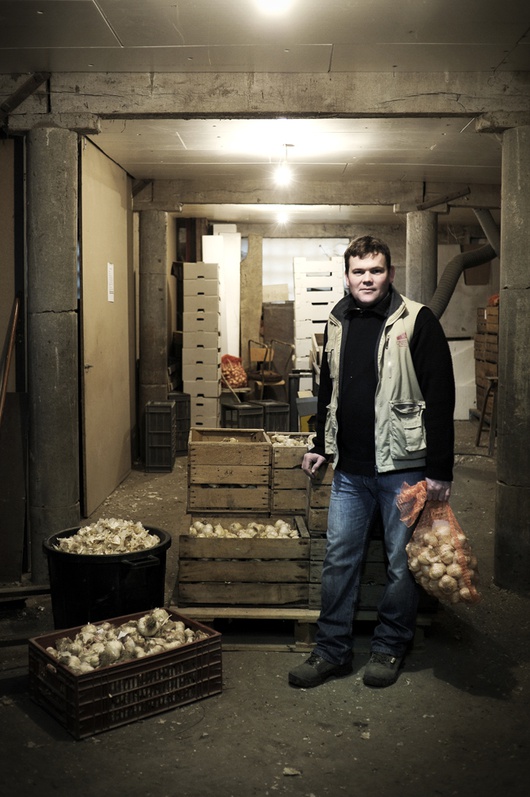 Sébastien Vidal's family also had cows until 1983, when the milk quotas were introduced. His grandfather began his career owning just two animals. Today, Olivier grows mainly cereals and pink garlic (the little rose of Auvergne) on his 85 hectares of land in Ceyssat, another village 20 km north-west of Clermont. But the 32-year-old farmer and bailiff wants to finish with the bulb soon – producing three tonnes, rather than eight as previously because of EU pesticide regulations, is not profitable any more.
Sébastien sells his garlic for two euros (£1.78) per kilo – then it finally sells for 10 -15 euros (£8.87 to £13.35) at the vegetable counter in the supermarket. A fall in price which goes against the grain for the farmer. 'It's the same with bread. When the price of cereal goes up, you also pay for that at the baker's. Now the price of cereal has fallen by half but the price of bread remains stable. At some point that just goes too far. For me it is theft! We live in a country in which the simplest product is no longer respected.'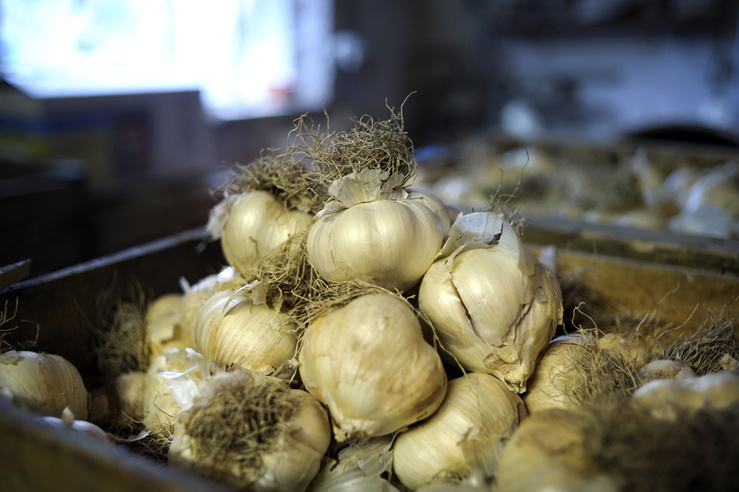 Europeans against their wills
Sabine and Raphaël are finished with the milking for today. They too would like to be more independent, would prefer to sell their own products. They would quite happily give up on Europe. For despite EU cash injections there is not much left over at the end of the month. The farmers earn between 900 and 1000 euros (£801 - £886). 'But there have also been years when I haven't earned anything at all above the breadline,' says Sébastien. One of his neighbours in Ceyssat, 32-year-old Frédéric Dutheil, has to regularly take on extra jobs in order to get by. He still lives with his parents.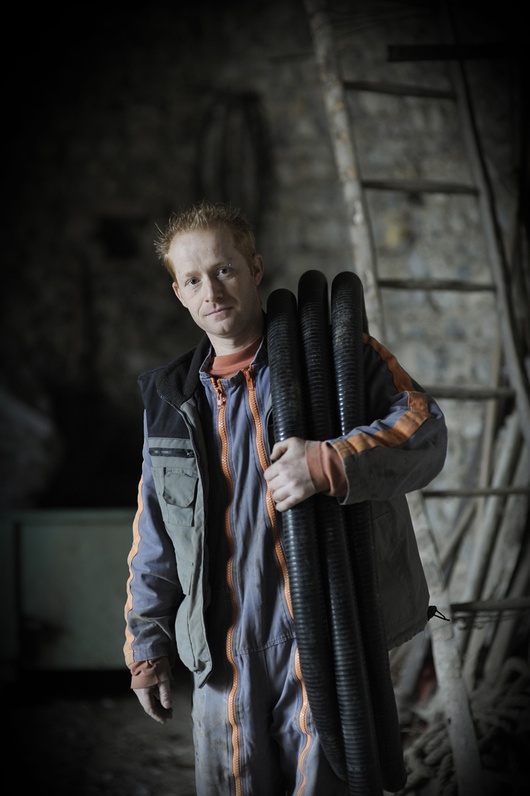 No, they are Europeans less and less, explains Sébastien as he calls back his dog Bill. 'I'm telling you truthfully; I still don't know how I'll vote at the European elections in June – for or against Europe, it boils down to that.' Sabine too will be voting she says, as one of the goats snaps at her hair. For the young farmers participation in the elections is decisive.'We are entrepreneurs – so let us enterprise!' After all, Sébastien corrects himself, they are – if sometimes against their wills – still more European than the average Parisian. The future is at stake for European farmers: 'We haven't always grasped in Europe that agricultural is strategically important: a force for food. A country that suffers from hunger cannot be stable.'
Many thanks to Nicolas Trufféry
Translated from HandiGAP: Bauer sucht Freiheit