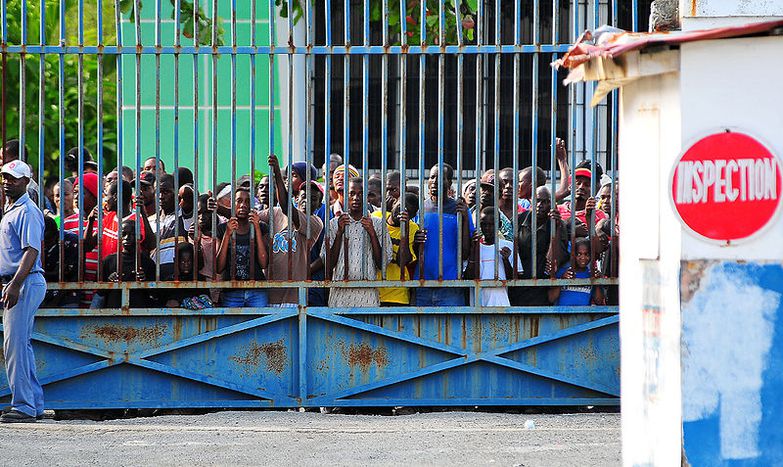 Haiti earthquake survivors land in Paris
Published on
The first wave of survivors from Port au Prince landed at  Paris Orly airport on 18 January, while hundreds of other flights are expected over the next few days.
The earthquake that has destroyed Haiti's capital has exacerbated the already appalling economic and political conditions that have marked the island over the past years - from the riotous overthrow of president Aristide in 2004 to the collapse of the government, lack of healthcare, string of hurricanes, and the enduring, rampant poverty
According to the French foreign ministry, there are approximately 50, 000 Haitians living in France, despite president Nicolas Sarkozy's strict immigration laws that expelled 29, 000 illegal immigrants just last year. Today, the Haitian community is anxious, distressed and with an overarching feeling of impotence after Haiti's devastating earthquake; poor communication lines make it difficult for them to contact friends and family. 'There was nothing to drink, we couldn't find water or food to eat. It was inhuman. Really, Haiti is finished,' says one survivor in Paris. In view of the earthquake, French immigration minister Eric Besson has halted the repatriation of undocumented Haitians and announced the implementation of a 'temporary' measure that will allow those affected in Haiti to enter France.
The earthquake's catastrophic toll is largely the product of a lack of infrastructure - the failure to provide safer housing or avert shoddy constructions on rickety areas. Indeed, the sprawling wreckage is allowing only a trickle of aid to reach the country. The US has pledged over $100 million in aid. Sarkozy has donated a large sum along with new search teams and a water treatment centre. The World Food Programme has been rushing supplies, food, and water to Port-au-Prince, while the staff from Medecins Sans Frontiers have been treating thousands of injured people with impromptu clinics set in tents as their own medical facilities have been destroyed.  Haiti will require an unremitting, long-term international effort to get its frail government and institutions operating. For now though, it is essential to focus on the survivors and scramble as much aid and supplies as possible.