Guy Verhofstadt: "I always wanted to become an actor"
Published on
Before he became Prime Minister of Belgium, a young Guy Verhofstadt had dreams of being a performer. These days he walks the boards of a different kind of stage: the European Parliament. We caught up with the now MEP to talk about his hopes for Europe, his beloved bicycle, and his message for the youth of the world.
cafébabel: The modern world can be complex for some people. How would you describe to a child what you do?
Guy Verhofstadt: Imagine a class of 28 pupils. Every one of them has their own ideas, advantages and difficulties. The idea is that all of them work together and create a union that supports and strengthens its members. Only by working together will the time they spend learning be at its best. In this class my job would be to propose measures and systems to further improve and boost this union; to make sure it stays safe, that it has a future and that everyone can improve to face upcoming challenges.
cafébabel: We can all be heroes, just for one day. What's one other thing you've always dreamed of doing?
Guy Verhofstadt: I always wanted to become an actor. But my parents thought it was a better idea to first study law. So I did and I became a politician.
cafébabel: For most people, Europe can be a bit of a drag. How do you think we could make it sexier?
Guy Verhofstadt: I don't see why it isn't sexy to be able to travel where you like, to study or work abroad, to set up a business in another country and know that you are protected by a legal system that is familiar to the one you have at home. What is clearly not sexy is not having freedom of speech, closed borders, violations of our civil liberties and fundamental rights...
cafébabel: What's the thing that outrages you most about today's world?
Guy Verhofstadt: The way Europe is handling the refugee crisis. The lack of political will to implement a European solution, and also the absence of humanity. It is appalling to see how fast some leaders tend to forget that this continent lived through two horrible wars that devastated Europe and caused many Europeans to flee. Many Europeans were themselves refugees not that long ago.
It is time Europe takes responsibility for its own problems, instead of constantly trying to outsource the crisis to third party countries. The only way to change this is by taking concrete decisions – such as speeding up the establishment of a European border and coast guard. We need to im­pro­ve the li­ving con­di­ti­ons of re­fu­gee cen­tres in Tur­key and Eu­ro­pe, but we should also look bey­ond the emer­gen­cy si­tua­ti­on and tack­le its root cau­ses.
cafébabel: Our world demands perfection, but what's the one fault you're most tolerant of?
Guy Verhofstadt: Impatience. In politics, things often move too slowly. Being impatient help us move forwards, so we could use more impatience in our profession.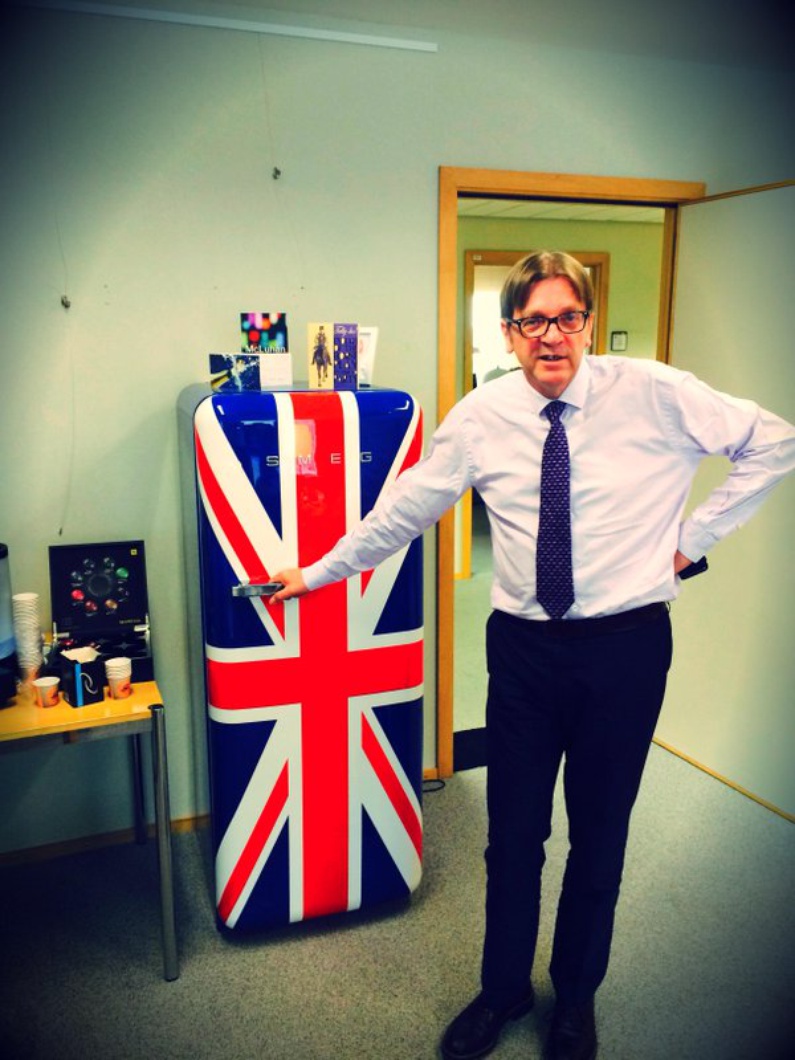 cafébabel: So it seems the Internet knows everything, but what's one thing Google doesn't know about you?
Guy Verhofstadt: Google probably does know that I'm a big fan of cycling. What it doesn't know is that I go mountain biking in winter, regardless of the meteorological conditions...
cafébabel: Congratulations! You have been chosen as the major representative for the youth of the world. What was your campaign slogan?
Guy Verhofstadt: "Get involved." Nowadays, I see that young people want to have a say on everything and that should be the way forward. We are all influenced by many things happening at different levels. That's especially true for young people, who will inherit this world. To some extent, everything depends on them. They should get involved.
cafébabel: What's the first thing you do in the morning, no matter what?
Guy Verhofstadt: The world never sleeps, so the first thing I do every morning is check my phone to see what I've missed and what I'll have ahead of me during the day.
cafébabel: If you could invent one thing that hasn't yet been created, what would it be? 
Guy Verhofstadt: Teletransportation. Or a flying bike to avoid traffic.
cafébabel: What would be your principal message to the young generation after the Brussels attacks?
Guy Verhofstadt: First of all, I want to express how appalled I am by the terrorist threat we face and by the cowardly bombings in Brussels last week. My thoughts are with the victims and their families. Terrorism must never prevail.
My message to the European youth: "It's time that Europe unites." We should not live in fear, but work together and unite to fight this terror. It's clear we are facing a European challenge. If we are to defeat those who wish to harm us, we need more than rallies and calls for solidarity – we need collective European action to improve security.
One pillar of this European action should be the mandatory exchange of operational intelligence. In fact, I believe there should be a European intelligence service that will collect data and set up operations in all 28 Member States. Our youth is very pro-European – much more pro-European than many of our leaders. They have to help me convince EU leaders that their reluctance to reach European solutions has to stop. We will only defeat terrorism by working together.
---
There are plenty of Big Fish in Europe's not-so-small pond. Introducing our new series of interviews delving deeper into the lives of some of the continent's biggest names.