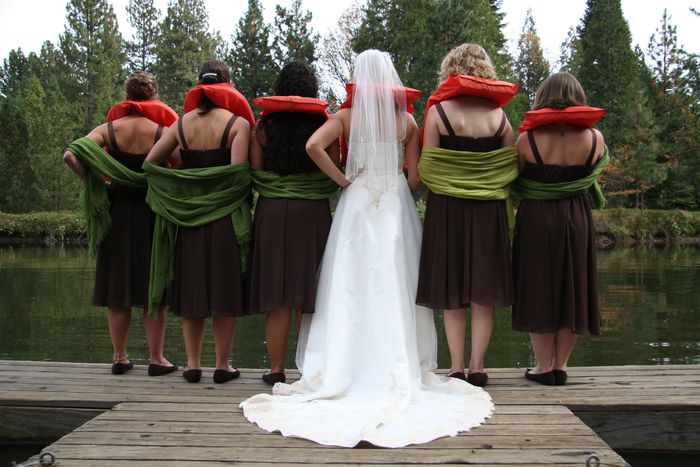 'Green' weddings – a Strasbourg myth?
Published on
It's meant to be the best day of your life, but this is hardly the case for the environment - just take into account the mountains of waste produced. However, the American trend of 'green weddings', where importance is placed on organic and ecological products from clothes through to food and hairdos, has now reached Europe.
Strasbourg-based Caroline Lindenlaub, an ethical wedding dress designer, is a pioneer of the movement
Caroline Lindenlaub receives me in her flat, which doubles as a workshop, in the Strasbourg suburb of Souffelweyersheim. The place is idyllic: the sun is shining, there is green everywhere and no car is to be seen. It was here in 2006 that the thirty-something year old designer came up with the idea of creating her own brand, Aranel, to produce ecological and ethical wedding dresses.
Ecological what?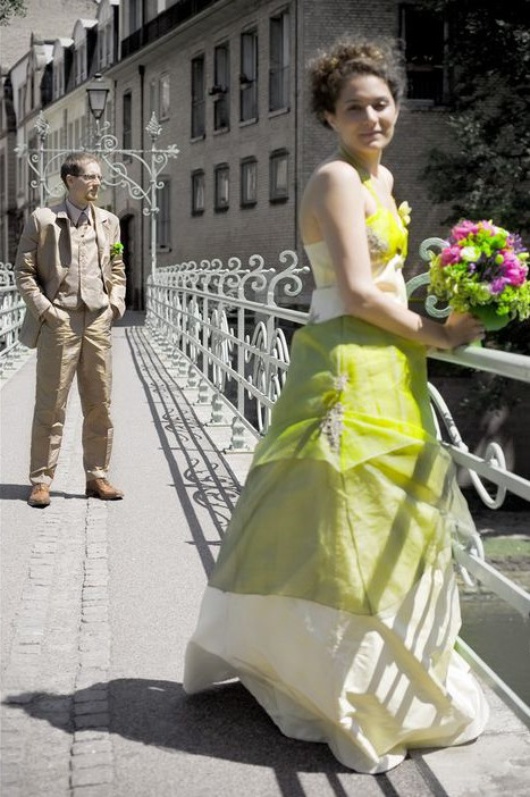 These wedding dresses are produced using environmentally friendly methods and fair trade products. The designer uses natural materials, recycles as much as possible and buys her silk from a fair trade cooperative. The concept matches her personality. 'I make wedding dresses because I'm a dreamer, and ecological wedding dresses because I'm also a dreamer in everyday life,' she explains. Lindenlaub currently receives around twenty commissions a year, including (albeit rarely) commissions for the couple's children and the bridegroom. Her fame was very much boosted by the wave of enthusiasm for eco-weddings as there 'weren't many of us at that time'. Yet even today green wedding fashion seems rare; her customers come not only from Strasbourg but rather mainly from the conurbation of Paris. Once Lindenlaub even travelled to Rome. Is it a mental escape from the city? 'Perhaps,' she smiles.
The first thing I learn from our conversation is that you have to search long and hard for completely green weddings – even in France's 'eco-capital', Strasbourg. After Lindenlaub's 'No' in answer to my question of whether her customers organise environmentally friendly celebrations, I check out all the different green services on offer in Strasbourg's picturesque alleys. Organic caterers, organic hairdressers and organic manicurists take it in turn to give me the same answer: Non! There is one small glimmer of hope - according to Lindenlaub many of her ecologically-minded customers do make use of one or two other green wedding services. This is also the case for one 'very environmentally aware' lady I speak to, who particularly wants a green wedding meal. Ergo: dark green weddings – lacking; pastel green weddings – sometimes.
What is a green wedding?
The simplest reason for the rareness of green weddings is that many people just don't know what green options are available. Lindenlaub's customer also only came across Aranel 'accidentally'. And even those providing green services look at me in surprise when I suggest the concept. But how would it be if instead of a limousine the bridal pair used a Strasbourg 'Eco'Pouss', a battery-driven bike that seats three? The service has already been used for weddings!
More on cafebabel.com: How do you say tree-huggers in your language?
A further reason for the lack of eco-weddings is that real eco-warriors are also rare. Couples who opt for a green wedding service are often far from green-orientated; often the green aspect of the service is even merely an afterthought. 'My ecological-ethical principle is often a plus point, but not the real reason,' agrees Caroline. The 'real reason', she goes on, is that the customer is not satisfied with the commercially available options, whilst Lindenlaub's creations are unusual and tailor-made. I hear the same thing at the hairdressers, restaurant and beauty parlour; wedding customers come here because they generally need these services. That these are also available organically is something that they often only learn later.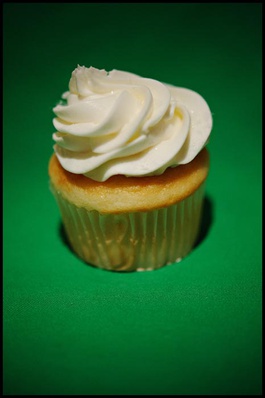 Another factor is the assumption that green services are horrendously expensive. Surprisingly this isn't always the case; both Lindenlaub's dresses, as well as the organic wedding hairdos and make-up, cost the same as their non-green equivalents. However, this isn't because green itself is cheaper. Lindenlaub explains that her current prices relate to neither her work nor to the more expensive materials but instead are necessary because her target customers (still) have 'very slim wallets'. She has to have a second job in order to make ends meet. Bruno Alberto from the elegant hairdressing salon D'Alberto on Place Kléber, the city's main square, offers a different explanation; he uses few products for weddings, and craft and knowledge is more important. Popular expectation is only confirmed when it comes to food; both the caterers Yoan Abitbol from the restaurant Poêles de Carottes and Arnaud Neyton from the organic shop La Marmotte increase the price by 20 to 30% for a 100% organic buffet.
How green can green be?
On the search for the perfect eco-wedding, I begin to doubt the central concept more and more: every wedding service consists of so many facets, is an entirely green wedding actually possible? 'You can make a dress which damages the environment as little as possible,' Lindenlaub answers evasively. One negative aspect regarding her dresses is the fact that silkworms have to die to produce the silk. Luckily there are alternatives, which Lindenlaub is currently researching, namely 'environmentally friendly silk', for which the animals are not killed, as well as silk from plants. Thus every green profession has its own un-green problems to struggle with. Even Alberto admits sheepishly that other than henna there is no organic colouring. For many services there still isn't even a green version. The florists that I visit laugh at me: fair trade flowers? We don't sell them, that would be way too expensive. And in the travel agencies that line the endlessly long Rue du 22 Novembre I am looked at with wide eyes: Green honeymoons? Not something we offer!
Every green profession has its own un-green problems to struggle with
I leave Strasbourg with mixed feelings. On the one hand, the green wedding market does seem to be developing. According to Lindenlaub there are 'more and more brands offering clothes which are a bit more respectful than normal'. On the other hand many of the new services are probably commercially motivated. In Lindenlaub's words, 'There are quite a few brands which are buying into the trend without being convinced of it.' Maybe that's why I can't find any eco-weddings, because it's a marketing thing. Couples who really envision green weddings don't need organic designers, hairdressers or caterers. They buy a second hand wedding dress, do their own hair and cook themselves. But maybe the green wedding wave can still stimulate our green consciousness. After all, it doesn't have to be dark green straight away – pastel green would be a start.
This article is part of cafebabel.com's 2010-2011 feature focus on Green Europe; read the full set of city special editions
Images: main (cc) corypina/ Flickr; Sarah and Peter ©Aranel; Cupcake (cc) coreyann/ Flickr
Translated from "Grün" heiraten – ein Straßburger Märchen?