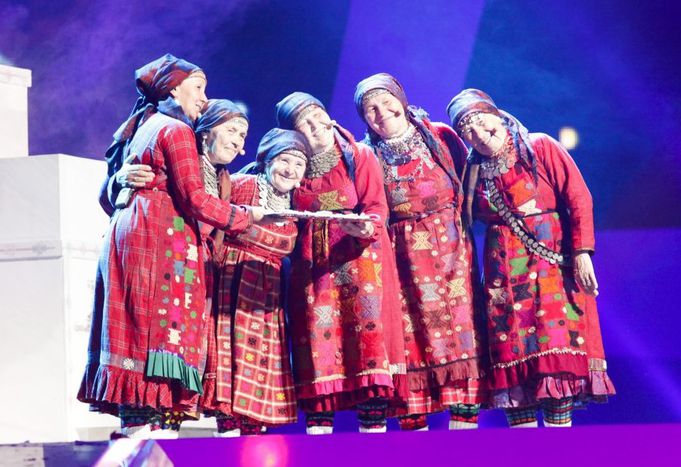 Granny musical firestarters from Poland, Germany, Russia and UK
Published on
Europe's pensioners are rocking eurovision and euro 2012. Instead of warbling tunes in the old people's home, they opened the song contest in Azerbaijan on 22 May, are gangster rappers in Germany and were even picked by the Polish people to sing the national football team's official anthem this summer
'Party for everybody,' warble the six Russian grandmas Buranovskije Babushki ('Grannies from Buranovo'). They lead by example. With a proud average age of 66, they are rocking the stage at the Eurovision song contest 2012 in Baku, their easy-to-imitate choreography and a chorus that you can still sing along to after slipping in a sleeping tablet: 'Come on and dance'. Despite the festive atmosphere, the groovy grannies have a religious mission: they want to raise money to build a church in their village.
Jarzebina, Poland
In a no less traditional manner, a group of eight exuberant Polish ladies is getting stuck in for euro 2012. Going by the name Jarzebina ('rowan berries'), they give the event a strong local flavour, wearing Mother Theresa-style outfits made up of white headscarves and red, blue and green skirts. The anachronism amused the Polish, who jokingly chose the countrywomen's tune at a song competition to be the official anthem of the Polish national team.
Enkelschreck, Germany
Meanwhile the German female rapper Enkelschreck ('Shock the Grandchildren'), billed as 'Germany's oldest rapper' on her website, appears anything but nice. The 80-year-old whipped up a furore with her song Acid on Wheels on youtube in 2011. Her lyrics are, as befits a gangster rapper, heavy and nasty. In lines like 'If you want to go up in the world, take my stairlift' or 'Between dissing and dialysis I write thousands of tight tracks and shred small fry', she makes it clear to the youth of her country that they cannot match her. However, Enkelschreck was only to release this song. She is an invention of the advertiser for public television in Germany, whose viewers typically reign in at an average age of over 60. And you thought manufactured bands were for pop moguls only.
The Zimmers, UK
'Don't write me off 'cos I'm ninety' is a lyric by the forty-strong senior citizen band The Zimmers from the UK. Despite walking sticks and zimmer frames, missing teeth and grey hair, the British pensioners are still pretty fit – and have one thing above all in life: fun. It can be heard in their song My Generation, a cover of the rock classic of the same name by the band The Who. The hit made it into the charts in several countries, so The Zimmers have made more covers. Their success, however, did not come by chance. The pensioner band was formed as a result of auditions in bingo halls, choirs and old people's homes. The aim of the band was to combat the exclusion of older people.
Image: © Thomas Hanses/ EBU/ videos: (cc) eurovision; Sporttvppl; Enkelschreck; wateroftyne/ youtube
Translated from Partygeile Omis: Europas Rentner rocken den Eurovision und die Fußball-EM 2012