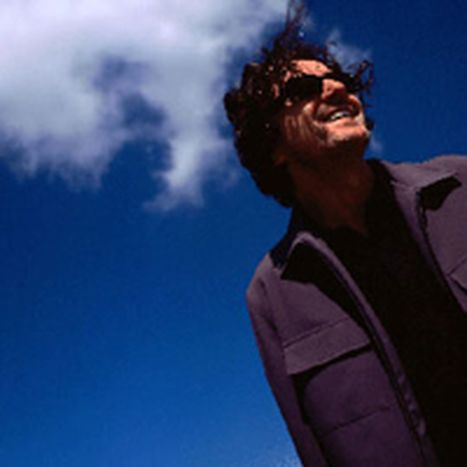 Goran Bregovic, a European tempo
Published on
Translation by:
kate stansfield
With violin and accordion slung over his shoulder, Goran Bregovic, Serbo-Croatian composer and former rockstar, known for his cinematographic collaborations with Emir Kusturica, travels the four corners of Europe. A gypsy rhythm with European harmonies.
He is undoubtedly the key figure of the Balkan cultural tapestry. My meeting with the eclectic artist takes place in the intimate surroundings of a dressing room of the 'Cabaret Sauvage' in Paris, where his gypsy opera, 'Karmen with a Happy Ending' has played throughout December. His face is framed by tousled, black hair, his laughing eyes still filled with the magic of the show he has just presented to a full house. Over a glass of whisky, Bregovic recalls his early years in Sarajevo, where he was born. "I learnt my first musical notes on a violin, but back then the girls preferred the guitar. So at 16, I started my career as a guitarist in strip bars".
His career path may have been eclectic but it is no less impressive for that. Born to a Serbian mother and Croatian father, he believed his generation "would escape a war. I was wrong." His father was a colonel, his grandfather too. "In every family there was an officer, those countries really needed soldiers", my guest explains. In 1991, as the first conflicts were breaking out in Yugoslavia, Bregovic composed the music for the film 'Arizona Dream', shot partly in Paris. He decided to settle there, in a small apartment in the Marais purchased in his youth. "I was the biggest rock and roll star in my country for 15 years, and all of a sudden I lost it all. It is strange to start from square one, to be a novice all over again. I panicked, and at the beginning I had to work very hard." He racked up twenty films in the space of three years, not to mention adverts for margarine and perfume. "I am lucky not to have been trapped in Sarajevo, but to live in Paris, a city with a centuries-old tradition of welcoming artists, be they Russian and Scandinavian writers or Spanish painters. Yugoslavs, in other places, can be thieves or labourers, but never artists. Except here."
A brilliant success.
In perfect French, tinged with subtle Slavonic intonation, he humbly describes how he found success for a second time, skilfully steering his career from the stage towards music for films. He now composes the original soundtracks for films by prestigious directors such as Emir Kusturica, Patrice Chéreau or the Romanian Radu Mihaileanu… and confesses to having composed the music for 'Time of the Gypsies' (which in France earned him a gold disc) 'out of friendship' for his eternal partner in crime, Emir Kusturica. "I'm not great at composing music for films, I find it boring to simply illustrate. My music is also too aggressive. I've just been lucky to work with directors who do not need real composers."
The voice of multiculturalism, he welcomes the challenge of working with musicians as diverse as the American Iggy Pop, Israeli Ofra Haza or the Cape Verdean Césaria Evora, blending together all nationalities and religions. Married to a Bosnian, he describes himself as "a composer who comes from a very eclectic place, from a land dominated by Turks for five centuries, the only direct border between orthodox Catholics and Muslims."
This cultural melting pot inspires his gypsy opera, the protagonist of which is a Slavonic Karmen, with a 'K' and a Balkan accent. When creating the story of this gypsy heroine, he started from "a true story: those girls from the East who are drawn to Europe by promises and end up on the streets selling their bodies to line someone else's pockets." He proudly states that he had high hopes that this creation would find its way into the repertoire of gypsy orchestras. Because "opera is a luxury but people are just as keen to hear a poor man's opera that you can play at weddings and funerals." The gamble paid off. His show has since toured the world, from Argentina to Russia and from Germany to Israel via Japan.
Wild Balkans
Undisputed ambassador of Balkan music, Goran Bregovic has been playing the stages of the continent for over a decade with his famous Orchestra of the Weddings and Funerals. A connoisseur of gypsy cultures, he deplores the rejection and discrimination of gypsies in France and England, as well as in Central and Eastern European countries. He would also like to see them receive more attention in Europe. For his nomadic peoples who have "offered so much, Django Reinhardt, flamenco, undeniable influences on the musical culture of the Old World", Bregovic demands both recognition and respect.
On the tenth anniversary of the Dayton Agreements, he remains confident about the situation of Eastern countries. "When you look at history, you see an attitude that sways between enthusiasm and despair. It is always the same type of war between religions and ethnicities, with Bosnia and Kosovo under an ineffective European protectorate. Today, we live in a more optimistic time, because it seems like Europe has a realistic plan for us." For him, "the future of the European continent will inevitably be played out in the Balkans. It would be a problem for Europe, which surrounds us, to have 'wild' countries at its centre: Greece to the south, Bulgaria to the north and soon Romania…" Between his whisky, guitar and accordion, Goran Bregovic admits to being more than optimistic: "it is in the EU's best interests to integrate the 'wild ones' like us," he concludes with a smile.
Translated from Goran Bregovic, tempo européen