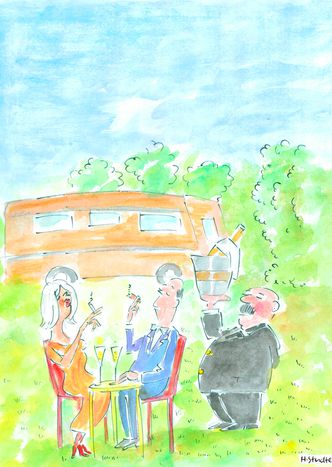 'Glamping' with Europe's happy campers
Published on
The Spanish wake up with tent poles, the French use sardines to hold their tents up, the Italians camp 'abusively' and the English invented caravans and coined 'glamorous camping' - aka glamping. What does it come to? Expressions of the week
Ah, life is good if you're a happy camper on a big screen. At least it is for the French character of Patrick Chirac (played by comedian Franck Dubosc), who has just come back in the sequel Camping 2 as an unemployed guy from Dijon. Foreigners, it's not hard to retain him in your memory – he sports skin tight swimming briefs, a pink vest and flip-flops, and oozes tanning oil. The cliches that he most popularly promotes are nudity, stinginess and white-socked squares. The French cinema industry certainly promotes a cheesy image of human camping holidays...
However, not all campers are famed nudists like the Germans on the Polish border. Nor do they zip around carefully placing a gardening gnome in front of their caravans in the south of France. After Germans, the Dutch and the Belgians have the worst campi-tations on the old continent. They're reputed for halting motorway traffic with their Campers, Camping Cars or Camping Wagens in German, and Roulottes in France and Italy. Tourists from the Benelux (Belgium, the Netherlands and Luxembourg) are similarly painted as caravan stingies: they even bring their own pots of food to reheat on the camping site (respectively in German: Zeltplatz, Italian: campeggio and Polish: kemping).
Meanwhile, summer events like Glastonbury, Bestival, Sudoeste (Portugal) and Sziget (Hungary) amongst others champion camping for festival entertainment. It makes sense, as the word itself comes from the Latin campus, which means field. It's hard to put European camper cliches aside when it comes to the English, who were the veritable inventors of the caravan in 1880; the English media has coined the word glamping (glamour camping), which is becoming more and more choicy amongst those convoys tired of portaloos and communal shower spaces.
Glamping runs against the spirit of a budget holiday though. More and more people are going wild camping in tents for free (called camping sauvage in French, Campen in freier Wildnis in German and the imaginatively titled campeggio abusive in Italian). It's a legal activity in Scandinavia, where accessing nature is a right everyone deserves. Italians call their tents tenda canadese (Canadian tent), whilst the Spanish define it as a tienda de campaña (country tent) or, more exotically, an an iglù (igloo). A German will get their tent pegs or herrings out (Hering), which the French call sardines! The variants of sleeping under the stars differ from the practical Poles, who sleep under the naked sky (spać pod gołym niebem), to the French, who more romantically sleep under the beautiful star (dormir à la belle étoile). If we're talking romance here, we'll leave the last word to the Spaniards, the men in particular. They wake up with a tent every morning (despertarse con la tienda de campaña). Don't ask us to elaborate on what that means - we're just Iberian camper amateurs.
Translated from Camping-Glamping - nicht nur für Spießer