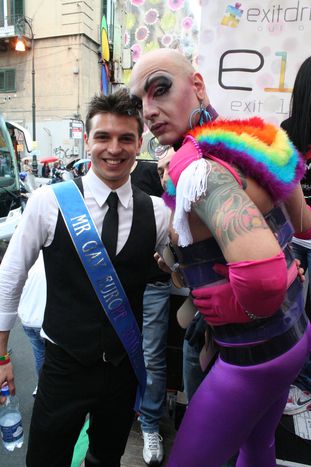 Giulio Spatola, Mr Gay Europe 2011: 'People like me don't create a spectacle'
Published on
The 26-year-old from Palermo, Italy, was crowned the dubious title at the fifth edition of the five-day event in Romania in April. The filmmaker and hotel manager says it's about more than what is branded a 'beauty contest for the gay community'
First he won the fourteenth edition of Mr Gay Italy, and then he became Mr Gay Europe. The category is not in the same league as Miss Universe or Miss World. With his blue eyes, huge smile and sculpted pectoral muscles, Italy's prince insists that he is more than just one of the continent's most beautiful people. The most important thing about a competition of this kind is to have a figure of reference in the homosexual world. Inflating his chest, Giulio Spatola thus concludes: 'I am Prince Gay XIV'.
Don't even call me 'Mr'
'I was even against the prefix 'Mister',' explains Spatola, about becoming 'Mr Gay Europe' on 18 April this year. 'It seemed restrictive, as if this were a way of awarding the most beautiful of the contestants, which is what happens with things like Miss Italy, for example. Becoming Mister Gay is not just about your physique; the competition does not just end there. It's about picking a candidate who will be able to take on a social engagement.'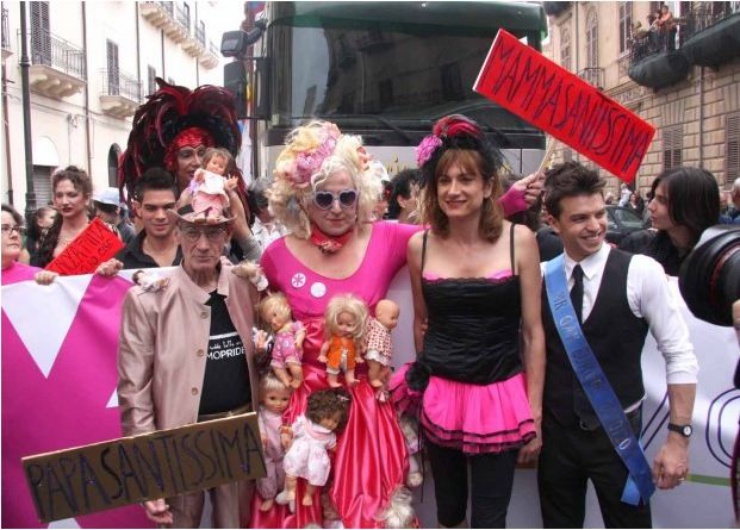 Spatola is also emphatic about how a 'gay mister Europe' is expected to act. 'A gay person behaving 'in excess' is really a product imposed by the media,' he explains, with his 'masculine' touch. 'I have been on television twice, but I have never been invited back, and I am sure it was because I was too serious. Gay people like me don't create a spectacle. Nor do I want to go into politics. That would be unfair. I'd feel like I had to justify a tradition which wants you to have be attractive, never mind your competences, and this would be the only way that you could govern. Of course, if it was about sending home our old phallo-centric governing class who instrumentalise us homosexuals, using the rhetoric of propaganda – if it was about avoiding giving in to your enemies – then I would make use of my face!' We probably shouldn't exclude that possibility. Spatola was a natural when he posed with Italian transsexual politician Vladimir Luxuria at the gay pride in Palermo, for example. Of course, Italy is a country which is currently considering even electing their first gay prime minister, the opposition leader Nichi Vendola of the leftist SEL party.
Not just a simple carnaval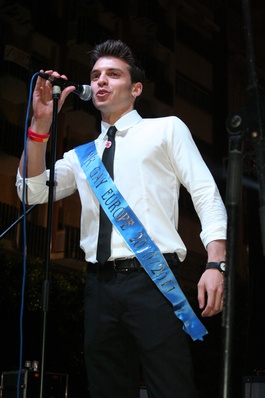 I am talking to Spatola over Skype, recording the convictions he delivers with the confidence of a prime minister at an official press conference, whilst trying not to notice the fact that he is half naked, caressing his shoulder as we move on to subjects such as gay prostitution. 'I won't give any moral lessons,' he says firmly. 'I can only say that I understand if you have come out or your family has kicked you out of the home. You are young, you don't have money or a job or anywhere to go…the choice to prostitute yourself almost becomes an obligation. Many associations dedicate themselves to this problematic, but, once again, there would need to be an intervention in social political terms.' Giulio says that organising europride in Rome in June was a way of inviting gay people to enjoy an event 'with intelligence. We have to stop making a carnival out of gay people, and offer them the weight of a moment of reflection on our condition.'
For example, Spatola dedicated his April win to David Kato, a gay rights activist killed in Uganda in January, and mentioned it after the festivities were over in Rome. 'I got on stage and asked everyone: 'What if we find ourselves in a country like Uganda tomorrow?' Even in Europe we have to keep a watchful eye out. It's not only in the numerous countries on this Old Continent where we don't have rights.' The order of the day after Rome's gay pride was sequins and Lady Gaga, who was the final act of the event. Still, Spatola rues the fact that there was not much media coverage. Giulio believes that a wave of homophobia is on the rise, even in Rome. 'In Europe, I'd say Barcelona was the most gay-friendly capital,' he reflects. 'Once I saw two old men walking hand in hand there. It felt beautiful to be part of such a spontaneous scene, which was so far from the limitations of such and such a prejudice. Homophobia is a cultural fact: newer generations will learn to respect the difference.'
Famous me
Mr Gay Europe is now looking for celebrities from other countries to join its cause. 'We need more VIPs to come out so that our existence can be better accepted,' he explains. In practice, the LGBT (lesbian, gay, bisexual and transsexual) world is not looking for icons as it was doing a few years ago, but more 'godparent'-type roles from more famous people. That's the direction that the United States seems to be moving in with younger actors coming out earlier and earlier in their careers, and with their newspapers which launch appeals against bullying at school, especially for a gay-oriented few.
'Gay people who appear on Italian television suddenly 'become' heterosexual because they are afraid of losing the public's sympathy'
'It's the completely opposite trend in Italy,' finishes Spatola. 'The gay people who appear on television deny their identity and suddenly 'become' heterosexual because they are afraid of losing the public's sympathy. Where does this need to label each other come from anyway? Being a citizen is about defending our diversity. That shouldn't be limited to what we get up to under the covers. The day that we don't need to worry about who's sharing your bed and who's sharing mine, and where we don't have to repeat 'I am gay' to justify the fact that we have just kissed a boy and not a girl, well that's when we will have killed those labels. For the moment we keep them happily, because those are the labels which allows us to identity ourselves.' Every prince has his kingdom, as well as his spectre.
Images courtesy of © Giulio Spatola
Translated from Giulio Spatola, Principe Gay XIV: non chiamatemi mister