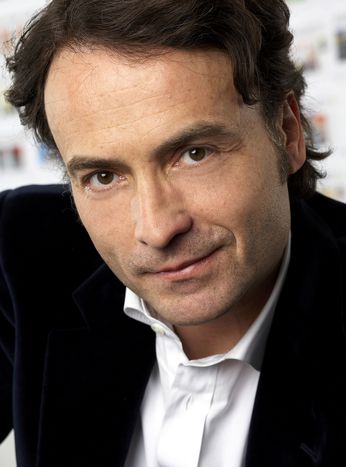 Giovanni di Lorenzo: 'the values which inspired the creation of the EU are pathetic today'
Published on
We  speak to an Italian born in Sweden, raised in Rome, who moved to Hannover aged eleven, speaking little German. Today he is the director of German weekly Die Zeit, co-editor of Der Tagesspiegel, author of a bestseller and a TV presenter.
We meet in Berlin to discuss the crisis of a marriage of 27 countries on the eve of the European elections between 4 – 7 June 2009: the passion is dead and not enough economic gains to hold it together
Does a European identity really exist? On which values is it based, if it does?
Europe had an identity which was based on the values our grandparents had when the European Union was founded: the freedom of movement, wellbeing and peace. They are very important values, but they're little more than pathetic for people today. They're not enough to maintain a common identity. The EU's fundamental error was its fast-paced enlargement. If we don't know what the situations are like in other countries, how can we identify with them?
The EU's fundamental error was its fast-paced enlargement
However, there is another identity which is boomeranging on the Europe of the institutions. The problem of these European elections in June - which will have a very low turnout by the way - is that nobody replies to the questions like 'I'm against the ban on old lightbulbs. Which party should I vote for to avoid that type of thing?' No-one is able to reply. And if you don't know how to reply to something like that, you've got a serious problem.
Which values are making a revival to resuscitate the EU?
Self-knowledge. The awareness of a world which has come out onto the right path. The knowledge that no European country alone could be a counter-power to superpowers like the US or China. I'm not just talking about Machtpolitik (power politics), but also about problems like climate change which are essential to humanity. Imagine in a case like that; the situation would be worse were there no Europe. We have to base ourselves not only on passions, but on rational rapports like friendship to have a new construction of Europe. It's more long-term – it's the difference between passionate love and a successful marriage.
Speaking of marriage, is there a risk of divorce, of the disintegration of the EU?
There is a risk, if we stick together purely because of economic issues, like in marriage. If there was only the convenience element to it, the marriage wouldn't work. You have to add the consciousness of being a political power, of having a cultural identity and - sorry of using such an old-fashioned word - but even of having morals.
Translated from Giovanni di Lorenzo: «L'Europa unita rischia il divorzio»