Getting down and dirty on Sziget
Published on
This time we went on-the-ground – literally Let there be no mistake – camping is the best way to completely enjoy all one music festival has to offer, especially if it's integrated with other venues, as is the case on the Sziget. And this year we couldn't have asked for a better weather.
It was dry and sunny, yet not too hot, which was probably the perfect present to the organizers for the 20th jubilee of Hungary's biggest music festival.
But (yup, here comes the infamous 'but'), the 380.000 people that roamed through the Hajógyári Island during the festival helped to create the large cloud of dust. It didn't help that the dirt paths were occasionaly watered in order to prevent further dust pollution. By the end of the week, quite a number of visitors were protecting their faces with masks or bandanas.
While the dust covered all the tents with an "extra layer", it also unveiled one huge oversight organizers made – inadequate shower facilities.
"It  took us  two hours on Thursday to get into a shower cabin. That's longer than any concert on the Sziget lasted and even longer than it would've taken us to go to Budapest downtown and back again to the island", says Maria from Serbia.
Marija and her friend went to the showers in the auto-camp area in the south part of the island because it was the one closest to their tents and which had only five cabins for females. It was the next day that they discovered more showering cabins where there was practically no waiting line. But those showers were that far from their camping point that they got dirty all over again by the time they would get back to their tents. Later look on the map showed them that there were total of three showering points in the entire island, one which had only five cabins.
Of course, that is if you don't count the two showers installed by one deodorant brand where gorgeous girls were scrubbing back of anyone who wasn't too shy to take a shower in public.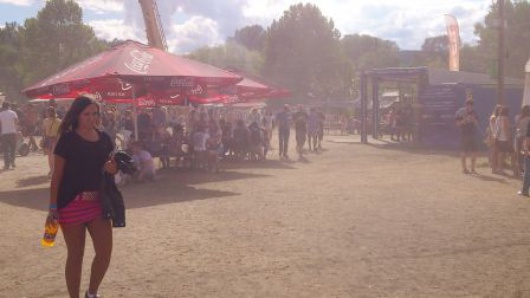 On the other side, Nadia from Germany had an insightful comment saying that she could smell the bypassers who were camping immediatly as she would cross the Sziget entrance bridge.
Even the Sziget pollmap, an ortophoto of the Hajógyári Island that was installed this year, showed that people were unsatisfied with the showering conditions. Visitors were encouraged to mark points that they thought had the best parties or required more facilities. Shower stickers were the most used ones and were largely placed in the southern part of the island, next to the auto-camp.
Hopefully the festival organizers didn't place that map just for fun and will draw some conclusions for it, so that in the future, otherwise perfectly good festival, could be spotless.
By Senka Korac from Cafebabel Belgrade