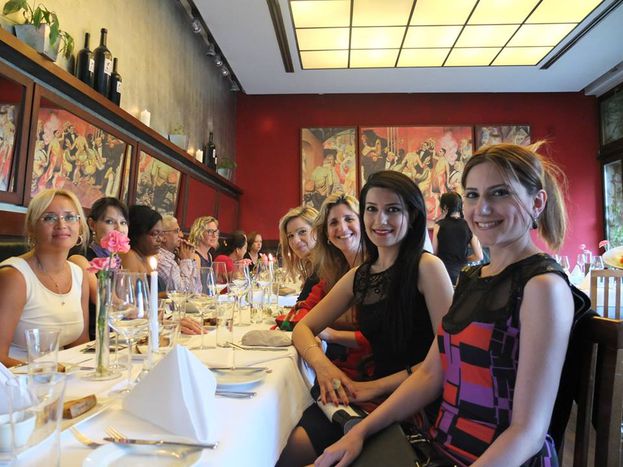 Germany: Starving for female entrepreneurship
Published on
translation by Katerina Nikita
'Women now drive the world economy'… as consumers! [1]
Germany, Europe's most powerful economy and one of the leading economies in the world, has a serious reason to worry. In order to maintain its economic power and further prosperity as the world's second biggest exporting country in the years to come, it is going to need to import a couple millions scientifically skilled workers or to provide the existing, local and potentially productive social groups -like women- with incentives.
In this context, it is easy to understand why female entrepreneurship is not simply another topic in the feministic agenda; on the contrary, it constitutes the economic reality of the most densely populated European country, which has earned the reputation of the most 'disciplined' one, as well.
This is not the whole story, though.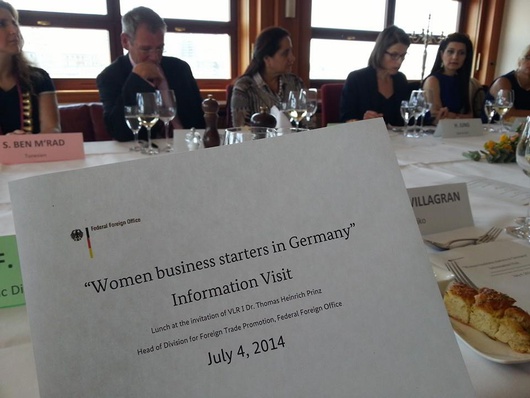 Germany, prompted by its own problematic situation and its possible solutions, can now function as a round table for the discussion about female empowerment all over the world. The German Federal Foreign Office organized an information tour on women as company founders and women in leading positions, which was attended by feisty ladies from four continents[3]: Journalists and businesswomen from South Africa, Mexico, Uzbekistan, the first female President of Bombay Chamber of Commerce and Industry, CEOs and agency directors from the Caribbean, Canada, El Salvador, Brazil, Azerbaijan, South Korea, Algeria, and many more. Do Canada and India have something in common in regard to women's daily lives and the policy on female entrepreneurship? The answer is most likely no, since they are two very different societies. However, the most interesting part of the trip was the exchange of views and the discussion on life experiences between the women who participated in this symposium.
               'All great things begin with a vision.'
                                                                 -  Estee Lauder
For Claudia Neusüss, the formidable co-founder of WeiberWirtschaft, which is most likely the first collaborative workplace in Europe, this issue held and still holds political undertones. Her story began shortly after the fall of the Berlin Wall, when she, together with several other women from Berlin, decided they wanted to create their own business place, a kind of collective property. They were looking for a deserted factory, which could ideally be turned into an alternative economic enterprise.
'It all began in 1986, when we had no money and no support from the politicians. We kept hearing that there wasn't enough money for special cases', says Neusüss. According to her, women-oriented entrepreneurship brought new ethics and morals to an era, in which women were disappointed with the perception, the organization and the stance of economy within the society. 'As always, when the politicians are not active, it's the activists' turn to act', adds the German entrepreneur.
Little by little they managed to set aside some money, yet new problems started to arise. After the fall of the Berlin Wall, real estate prices skyrocketed and, as a result, they realized that the money they had saved so far would not suffice for anything whatsoever. A bank loan was the only solution. They found an old cosmetics factory in East Berlin. They had to bargain with 20 different banks for a loan before they were finally granted one. 'The loan was so large; its interest rate was way too high! One day before signing, I realized what we were about to do and I felt like doing something crazy, like skydiving or bungee jumping, but they were both too expensive, so I just went to the local swimming pool and jumped off the 10m diving board!'
An old German proverb says, 'Begin to knit, and God will show you the pattern and give you the yarn.' The same rule applies to Claudia's case, as well: The innovative project of this group gradually attracted the support of the press and, as she says, 'publicity helps at mobilizing people to come up with solutions. Had we failed, it would be a political failure. We caught a lot of attention and, at that point, also had the politicians' support.'
    'We are an alternative economic enterprise.'
In 1989 came into existence the collaborative workspace WeiberWirtschaft, which is now the biggest collaborative workspace for women in Europe. It has 1.744 members and the site offers space to 60-70 businesses headed by women. Each one of them owns at least one company share (each share costs EUR 103). In 2013 they started granting small loans to women's start-ups. Men are able to buy shares, yet they cannot participate in the administration procedures, a condition which WeiberWirtschaft is willing to reconsider.
As far as the name WeiberWirtschaft is concerned, according to the founders it has a ironic undertone, since this expression is rather ambiguous in German: Weiber means 'wives' or 'older women', whereas the word Wirtschaft has a double meaning; it means 'economy', but it is also an outdated word for a pub. As a result, when women read this phrase they think of businesswomen who rule the economy, whereas men associate it with 'a bar, where they can meet women.' Their path was long and troubled, but, as Claudia puts it, 'we have become masters at overcoming obstacles. Persistence and commitment is all it takes.'
'Our enterprise is the story of investing in a political idea. We did not have an alternative plan in case everything went wrong. Even nowadays we refuse to focus on drawbacks, because we have a goal that comes before everything else. Not knowing everything at the beginning was actually good. It was the best education I could imagine. There's nothing I regret', she says and stomps her feet under the table, full of determination and energy.
According to the tall, attractive blonde businesswoman, female entrepreneurship faces some inherent social issues:
1.      There is a lack of role models.
2.     Women encounter more obstacles when it comes to finding resources.
3.     They have less time (also a necessary resource) at their disposal.
4.     The typical entrepreneur role model is usually male.
5.     Women are more afraid of failure than men.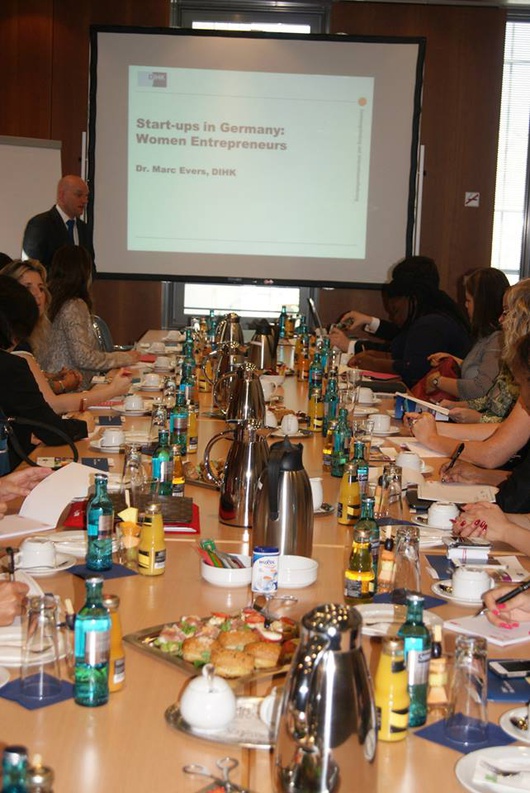 Are women 'poorer' entrepreneurs? 'It's the family, stupid!'
35% of all start-ups are run by women
In the German Chamber of Commerce and Industry (CCI), Dr. Marc Evers, the director of the department about start-up businesses, is pretty straightforward: 'Entrepreneurial spirit always played an important role in Germany. Unlike your country, we do not have diamonds, nor other underground sources of wealth, therefore our only asset is the entrepreneurial spirit of German people', he says, only to add a little later: 'Nowadays, though, young people do not seem interested in founding companies. Germany is one of the few countries where the young prefer a job position to becoming businessmen and businesswomen.'
What can we learn about the female business acumen from this German example? Germany is a very interesting case, since its economy has achieved a healthy balance between capitalism and social state, and includes a significant number of immigrants who are either self-employed or owners of small or large businesses. As far as the state is regarded, help is provided when necessary and the society is as progressive as one would expect of a western society. How do women perceive this situation, though? 'Men and women are equally creative and innovative, but women usually see business activities as a secondary task, as a sideline to their main occupation. They prefer part-time employment, even though profit margins are narrower and layoff chances are higher.
'Moreover, they stop working earlier and, just like everything in life, there is also the psychological factor: Women underestimate their entrepreneurial abilities', notes Dr. Evers. Women are as good in business as men are, but, as he says characteristically, family 'business' comes first. 'The German government is trying to encourage female entrepreneurship through special programs, such as "twin" => together, 2 womenwin.' The federal state of Berlin is supporting female business through awards, exhibitions, conferences, seminars, projects, orientation events about funding, counseling with mentors, and, of course, networking.
Men and women are, more or less, facing the same problems. One very frequent and common issue start-up companies deal with is the fact that most of the time the founders cannot put their idea into words. However, businesswomen seem to have different chances to develop…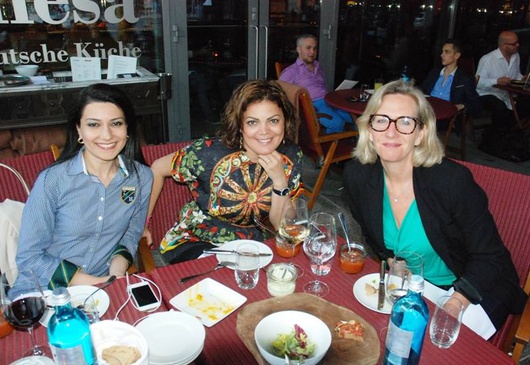 'When a woman does not understand something, is because you expect from her to understand something wrong.'
Far away from Europe, Neera Saggi, the current President of the Bombay Chamber of Commerce and Industry (BCCI), saw the issue of empowerment of female entrepreneurship as a given. 'One of the first things that I thought of when I become President of the Chamber of Commerce was to create a platform for women to communicate and grow together. Men around can communicate, but their communication revolves around different areas. Men have different communication among themselves and with women.'
'A woman should discover her own strengths and should adhere to her own behaviour norms, and should not be under constant pressure to adapt in a mens' world in accordance with the accepted success factor behaviour norms. As in work place mostly men dominate in number and position, the recognised behaviour patterns are almost always masculine.When a woman does not accept something, the reaction fairly often is that is is not the right way of looking at businesses and is therefore wrong.'
According to Neera, the issue of female entrepreneurship requires a change of mindset within the society; therefore, it should be encouraged by official bodies. 
Strictly business-related problems seem to be the very same in West and East. 'Banks do not have trust in younger women for financing activities. This is not true for a man. He would be treated differently, because general impression about women is that they do not understand numbers and also that they are likely to shift priority from business as they all are waiting to start a family.' 
Is this a lie? It is not the whole truth that is for sure. 'For the woman the fulfillment is not one-dimensional', adds the benign Indian.
Beware! The women mentioned in this article are not fighting for equality, similitude, or other similar feminist issues. Their request is different. Even though their position in the workforce is now given, they ask not to become pseudo-masculins.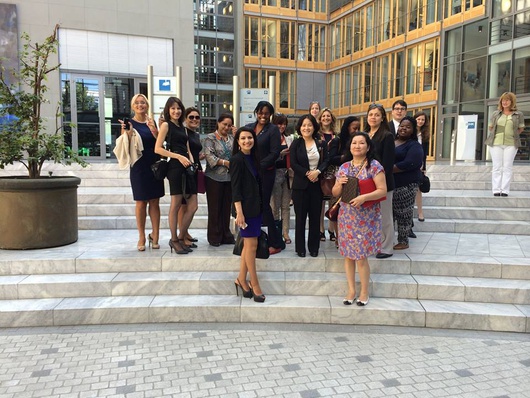 It is striking that the female entrepreneurs we met – in contrast to their male counterparts, when asked about what is important to them, they do not mention abstract ideas, such as the ideal circumstances, the economy, etc. Instead, they talk about their personal life, their family, and their partner's support. Most of the time, their family is also their most ardent supporter.
Barbara Jaeschke, director of the German Language School in Berlin and nowadays a successful businesswoman, was born to farmer parents. As she says, 'my father expected me to become a teacher and marry a farmer, so as to have a steady income but also enough free time in the summer, in order to help with the agricultural activities. But I traveled and caught the bug all young globetrotters catch, I was exposed to new ideas, and I longed for different things.' Her vision was to create a campus, a university city, where students could enjoy a life of living together. 32 years ago she founded GLS Campus Berlin, the first school in Germany that has its own campus. Nowadays, it has students of 35 different nationalities.
'You have to make decisions and take risks in order to become a businesswoman; you have to envisage everything in your head.' This is the reason why she is so skeptical about the money the government gives to the unemployed. Her husband supported her not only financially but emotionally, as well. 'Listen carefully to other people and your employees. You have to be able to depend on your personnel and you have to stay alert at all times. Make the decisions you need to make, take the responsibility for them and act; banks are going to finance the concept of a business, not the building!'
Another country that faces the same problem as Germany, the lack of academically qualified workforce, is Canada. According to Vicki Saunders, Canadian entrepreneur and writer of the book Think Like a ShEO, female entrepreneurship should not be treated as an issue of the sexism's social impact, but as a matter of strictly financial interest. 'We address female entrepreneurship as a "cause", whereas women constitute a force in the field of economy.'
In Germany she was confounded by the fact that there is confusion between leadership and entrepreneurship, 'since we are not asking for more women in management boards. We should not confuse the quest for stability with entrepreneurial spirit. An entrepreneur is trying to cause a shift, to create history, not to ensure stability.'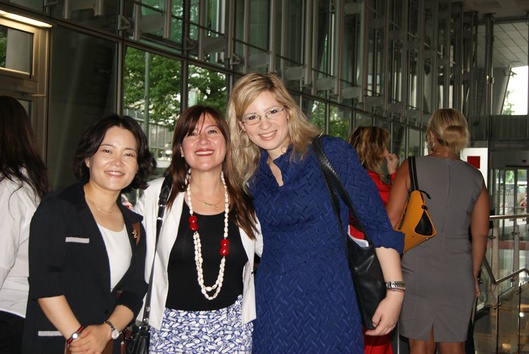 [1]«The female economy», Harvard Business Review, Michael J. Silverstein and Kate Sayre, september 2009, «Women now drive the world economy»…
[2]http://www.diw.de/en/diw_01.c.434984.en/press/diw_roundup/debating_the_shortage_of_skilled_workers.html
[3] Elina Makri was the only participant from Europe.