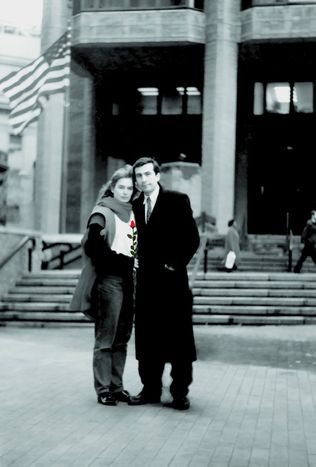 Georgia's ex-first lady "Saying yes I will"
Published on
On November 17th, the day  Giorgi Margvelashvili  was sworn in as Georgia's new President, Sandra  Elizabeth Roelofs -wife of the 3rd president of Georgia Mikheil Saakashvili - said farewell to the Georgian people. On her Facebook page, Sandra posted a little piece of poetry called "Saying yes I will" which laconically and succinctly described her experience as Saakashvili's wife and the First Lady of Georgia throughout the past 20 years. Her farewell can be divided into 3 parts: Twenty years ago, ten years ago and now.
"Twenty years ago
On November 17
I said to Misha: "Yes, I will" 
a regular day,
in regular clothes
and in my hand I held one rose"
Sandra and Mikheil met each other in Strasburg in 1993 while she was attending a course on human rights. Soon thereafter they moved to New York.  In her autobiographical book "The story of an idealist" Roelofs reminisces about how she and Saakashvili  took a picture in front of the NYC's City hall entrance after their marriage. Both wore black and white clothes and she was holding a red rose. In 1996 the couple moved to Georgia and Sandra began to work for the International Committee of the Red Cross and the Consulate of the Kingdom of the Netherlands in Tbilisi. From 1997-2004 she was also a correspondent for the Dutch radio covering Georgian politics and the country's socio-economic landscape.
Mikheil   Saakashvili wanted to make it big in Georgia.  and In 2001 he founded the United National Movement. In 2003 Saakashvili became the leader of massive demonstrations -now known as the Rose Revolution- that forced President Eduard Shevardnadze to resign. In 2004, with more than 96% of the votes cast in his favor, Saakashvili won the presidential elections. He became the youngest president in Europe and Sandra, "an ordinary young woman" from the Netherlands, became the first lady of Georgia. She loved Georgia and the country's people reciprocated-they fell in love with her too.
 "Ten years ago
November 2003
I said to GEORGIA: "Yes, I will"'
an ordinary young woman
next to an extraordinary man
and wherever I went
I got roses "
Sandra made medicine her top priority. She founded the charity foundation "SOCO", which at its inception focused on supporting low-income families. However, in 2007 the charity's scope widened and the "SOCO" foundation also began to work in the fields of reproductive health and neonatal care. To this day the charity provides free medical consultations for socially vulnerable populations, supports multi-children families through material assistance and scholarships, promotes a healthy lifestyle, and educates and trains medical personnel in reproductive health.
In the spring of 2008 Mrs. Roelofs finished a three-year nursing course in Tbilisi with honors and often volunteered as a nurse in maternity hospitals. She was also in charge of the Georgian Ministry of Health and Social Affairs' Reproductive Health Council and began to promote culture by establishing in 2004 a 24-hour classical music radio station known as "MUZA" – the very first classical music station in Georgia. During this time she worked as a presenter on the radio.
 The First lady overcame many struggles with the Georgian people. President Mikheil Saakashvili achieved a lot during the democratic transition in Georgia, but with the good times also came difficulties.
In 2007, Georgia faced the worst crisis since the Rose Revolution. A series of anti-government demonstration were sparked.
The war between Russia and Georgia in 2008 was also a gloomy period for the country. Russia occupied Georgian territory, and Georgia lost control of parts of Abkhazia and South Ossetia. In 2008 Saakashvili was re-elected, but he soon faced widespread demonstrations by the opposition.
In 2012 a video taken inside the Tbilisi prison Gldani #8 was made public. The video, which showed prisoners being brutally beaten and sodomized, decreased the popularity of Mikheil Saakashvili's party. Following this event the United National Movement lost both parliamentary and presidential elections. Billionaire Bidzina Ivanishvili's coalition the Georgian Dream took power, and in 2013 the Georgian Dream's candidate Giorgi Margvelashvili became president.
Sandra Elizabeth Roelofs ends her poetry and her time as First Lady with those verses:
"Today
November 17, 2013
Our twentieth wedding day
isn't one of roses,
but one of thorns and tears
Looking up to me, our little boy asks
if we soon go home
and again, full of hope and trust
I say to NIkusha: Yes, we will…"