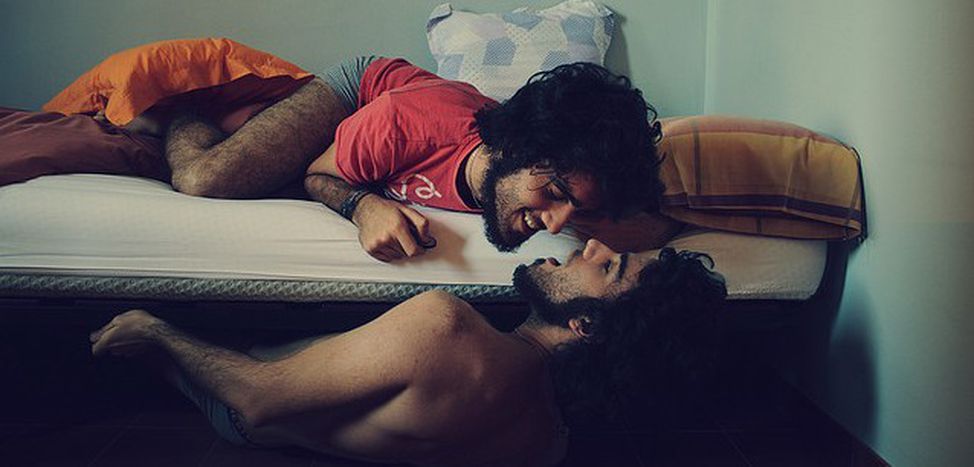 'Gay-friendly' Budapest: 'Aids is the real taboo'
Published on
The situation of the LGBT community in Budapest appears to be growing more fragile by the day, with the extreme right party jobbik submitting a bill to punish public displays of homosexuality. Amidst violence at underground parties and gay pride events - the next taking place between 1-8 July - the real threat is about Aids
The Airbus 380 heading to Budapest is full, and I find myself a seat next to the emergency door. For the duration of the flight, the lives of almost 300 passengers may depend on me, the flight attendants are keen to remind me, and I stay alert enough to notice that my neighbours are a French gay couple on holiday. 'We know that the situation is quite strained, but we are going without prejudices,' says Olivier. 'We'll go wherever we want to go, without any fear.'
PDAs? Keep them personal
I try to warn them that the situation seems not just strained, but high-risk. In early April jobbik (the ultra-right party with 45 MPs in parliament - 11.7% of the total 386 - ed). submitted a bill to make all public displays of homosexuality punishable either by a fine or up to eight years in prison. The gay pride festival was initially cancelled by the police, a decision countered by the prefecture. However, for the last five years the parade has been subjected to violent attacks by extremists. The latest edition takes place between 1-8 July 2012, during the 2012 eurogames ('the European gay & lesbian championships') hosted by Budapest.
'At the moment, public displays of homosexuality can be perceived as a provocation,' admits Richard Zahoranschi, head of Radio Pink, Hungary's only gay online radio station, which broadcasts pop and dance music and news every day. The station is staffed by 28 volunteers, around a third of whom are 'sympathisers', and until last week had never received any threats. 'They published a 'memorandum for a homosexual holocaust' on our site,' says Richard, who I interrupt from his microphone for a news report with a young colleague, a fashion student. 'All of this is paradoxical: if they hate gays, why are they listening to us? In any case, our major problem isn't threats, it's funding. Businesses don't want to be associated with a station like ours, for fear of losing customers.'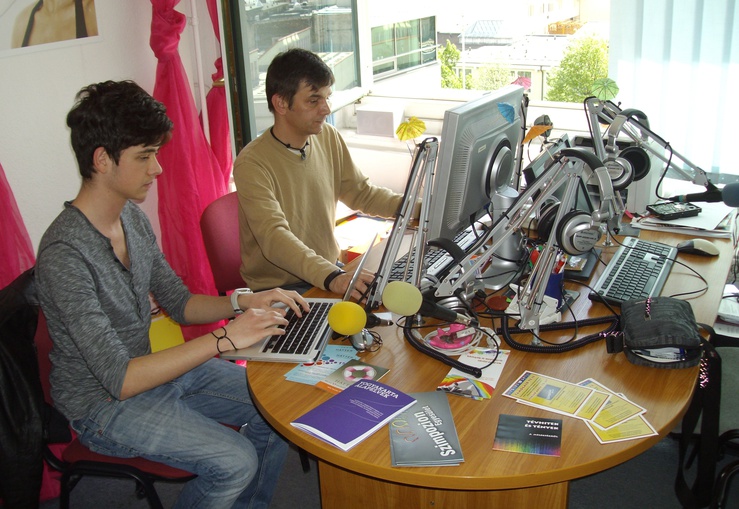 Not just cruising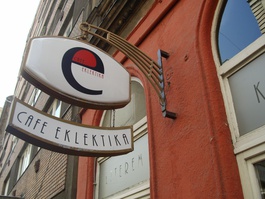 Eklektika, a 100-capacity restaurant located on Nagymezo utca (where Budapest's opera house is - ed), was one of the first to declare itself as gay-friendly. The suspicion that the situation of homosexuals in Budapest does not necessarily reflect the news reports circulating in western Europe is confirmed by one of the waiters, who is straight: 'During the violence at the last gay pride march, some well-known jobbik activists came to us for lunch, and sat amongst our gay clients without giving us any trouble.'  Tamás, a 23-year-old Hungarian, agrees: 'I'm scared to take part in gay pride, it's a real fight here. Young people accept us without any problems, they go to our bars. My sister and my friends know that I'm gay, but I can't tell my parents. Older people are convinced that we spend our nights at Nèpliget as prostitutes.' Nèpliget, a park in the south-east of Budapest, is the capital's hotspot for cruising at all hours of the day. But tonight, Tamás has something different in mind.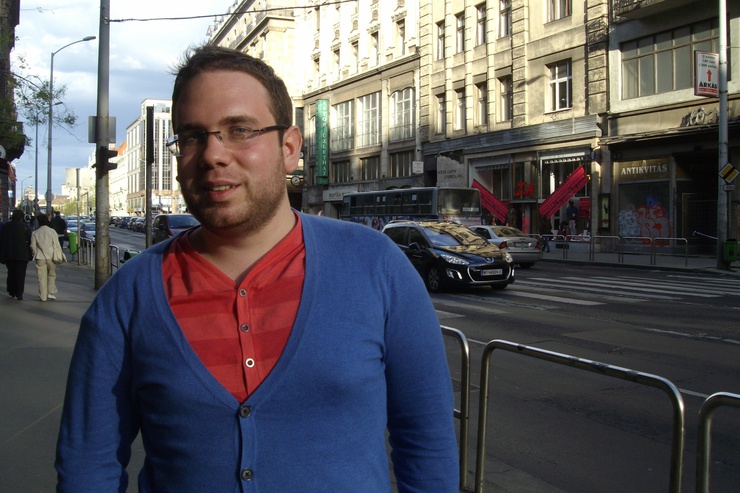 I follow Tamás to the Puskin cinema for a debate on 'coming out', where the special guest is a psychologist. The Hungarian journalist who is accompanying me acts as an interpreter for a young man, Bálint Török. The 24-year-old will be working as a volunteer at the eurogames at the end of June. 'In Hungary, there is a myth that people's private and public lives should stay separate,' he explains. 'I'm not afraid. I work for an international company and have, with due care, already come out.' As I steal other young people away from the psychologist to garner more comments, I realise that I am looking for the wrong thing. The gay community in Budapest doesn't pay much attention to the latest moves by jobbik, a party which 'by its nature just puts it together with all minorities', as Richard had warned me. 
Real extent of Aids problem
Budapest has a rich gay scene, and the nightlife is not restricted to the bars listed in gay guides, such as Alter Ego and Cappella. All I have to do is head into the basement of Fabrik, a bar in the nightspot of Gozdu Udvar, to find myself in a sea of hugs and sweaty shirts moving to the rhythm of techno music. Amongst the sea on tonight's 'gay night' are just two or three girls ignored by everyone. 'The first area of discrimination in Hungary is the political environment,' says Támas Dombos the next morning. His NGO Háttér has focused on homosexual rights in Hungary for two decades. 'Any politicians who have come out as gay in the past have gone on to lose their jobs.' Full social acceptance is still just a dream, with just '17% of people coming out at work'. By contrast, old legislative breakthroughs remain intact: gay de facto couples have existed since 1996, and since 2009 same-sex couples can enter into registered partnerships.
Read 'The gay community of Budapest still stays hidden' on the official cafebabel.com Budapest blog
'The real taboo in Hungary is still Aids,' explains a colleague of Támas, Andras. 'The last government prevention campaign was over ten years ago, and the only hospital equipped to provide treatment for the disease is Szent László, in Budapest, with only three doctors.' Háttér has set up a special phoneline for prevention. '90% of calls are to heterosexuals who have been completely misinformed. A man who was HIV-positive went to hospital accompanied by his wife and nearly died, because nobody thought that a straight person could be infected.'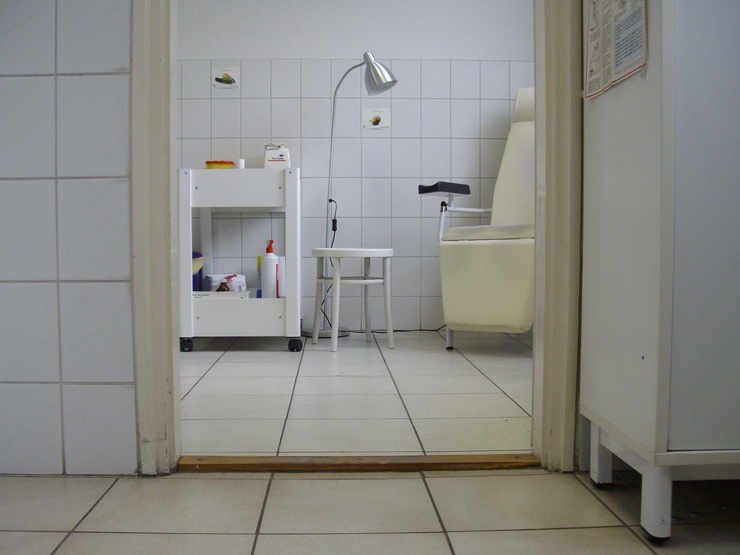 The idea of Aids as the 'gay disease' is a prejudice which has proved difficult to overturn in Hungary. The majority of those who wish to be tested do so at Anonym Aids, in a bleak suburb to the west of Buda. 'From when the disease appeared in 1985, only 2, 115 cases have been reported,' a member of staff explains, being careful to lock the door so as not to allow anybody in during the interview. 'According to the most optimistic estimates, the number of cases is at least four times higher than that, even among the straight population. Budapest is most affected, but there's no specialised centre in the country.' We speak there for a long time with the door closed, as if fearful of crossing a dangerous threshold. 'Here we try to create a friendly atmosphere. Four weeks after they had unprotected intercourse, the patient can go to a doctor to get tested.'
I meet Olivier and his partner again at the duty free section in the airport. All has gone well, they have done their shopping, and they are embracing tenderly. The captain of the aeroplane gives us a last look, from above, at Budapest, a city of spas and sensuality for all tastes, which pulls together the two cities on either side of the Danube, as if to consume it whole.
Many thanks to cafebabel.com Budapest, in particular Vivien Szalai-Krausz and Linda Krajcsò
This article is part of cafebabel.com's 2011-2012 feature focus on the Balkans, Orient Express Reporter 2, a project co-funded by the European Commission and with the support of Allianz Kulturstiftung.
Images: main (cc) jiuck/flickr; in-text © Jacopo Franchi for Orient Express Reporter II, Budapest 2012
Translated from Budapest è ancora una città gay friendly? "Non siamo noi il vero tabù, ma l'Aids"