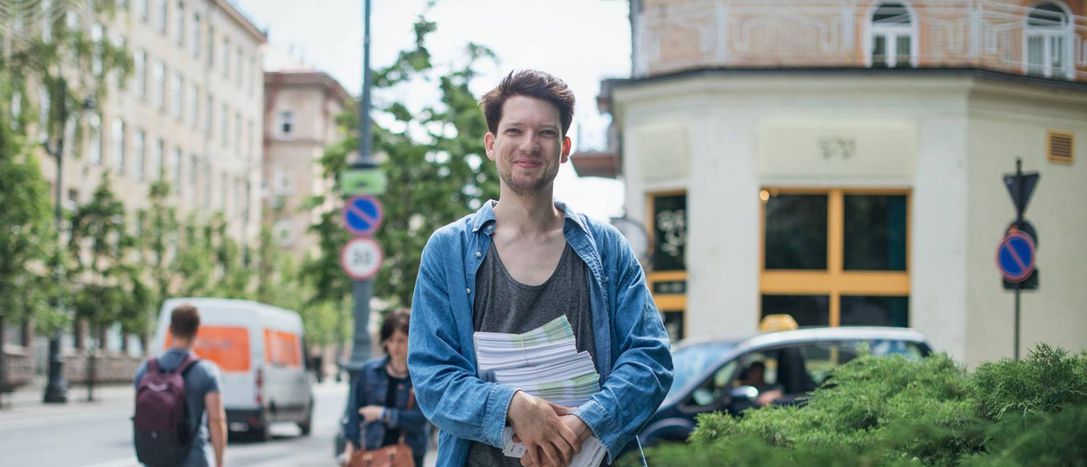 Friendly Vilnius Map: Don't fight the rainbow
Published on
While Lithuania is often criticised for homophobic prejudices, its main cities have come together to work towards a more inclusive society. The LGBTQ-friendly map FriendlyVilnius has finally been officially recognised by the city. We spoke to its creator Romas Zabarauskas, a gay filmmaker, about the project and his ambitions. Next stop: Kaunas. 
Cafébabel: Latvia, Lithuania and Poland are said to be the three worst countries in which to be homosexual in Europe. What's it like to be gay in Lithuania in 2017?
Romas Zabarauskas: It's complicated. I consider myself both lucky and privileged. I have a tolerant family and colleagues, I don't really face homophobia on a daily scale and I feel safe when holding hands with my boyfriend walking in the city center. I've heard many different stories. I know a gay teenager who was beaten and thrown out of his house by his parents for being gay. And I know a few lesbian couples who are raising a child together. Life is never black and white, but we need to change the legislation and educational system so that everyone can have equal opportunities.
Cafébabel: Vilnius has just endorsed the FriendlyVilnius map you came out with. What changes did you experience within the city's LGBTQ community over the past five years?
Romas Zabarauskas: I always say that, in Lithuania, things are changing for better and for worse at the same time. Better, because we have more and more visibility and support, and that's truly awesome. Worse, because we still have homophobic and transphobic laws, lack of education, and that doesn't seem to change. Being recognised by the city was great, and I think it truly represents the values of Vilnius. 
Cafébabel: When you first went to ask businesses in the city if they would accept rainbow stickers, what were their reactions?
Romas Zabarauskas: One hip coffee chain was so afraid of the sticker that they made one of their own (which they had for a week), saying they are friendly to everyone. But if you are so friendly, why be afraid of a rainbow? At the same time, we received a lot of support from businesses who were ready to make a statement for the LGBT+ community. I discovered that many small business owners were progressive people who were happy to contribute, and willing to change our society for the better.
Cafébabel: FriendlyVilnius doesn't only recommend LGBTQ-friendly spots, but wheelchair-accessible, vegan and pet-friendly ones too. Why the mix?
Romas Zabarauskas: We thought that the project would be more meaningful that way. After all, every business in Lithuania must be 'LGBTQ friendly' by law... We wanted to include more categories, so that we could educate the businesses with the help of our social partners, and encourage them to be more accessible and accomodate different diets as well.
Cafébabel: You're quoted everywhere as an "openly gay" filmmaker. Does your openness harm you?
Romas Zabarauskas: I guess, because it brought a lot of attention and scrutiny to my artistic work. When I came out in Lithuania, there weren't that many openly gay people. I took part in different TV shows and gave interviews about my personal story. Now there are a lot more people who can take these roles, so I can focus more on my art.
Romas Zabarauskas' latest movie YOU CAN'T ESCAPE LITHUANIA was just released on DVD/VOD in US, Canada, UK, Ireland, France, Switzerland and Belgium.
Cafébabel: Estonia has approved same-sex unions in the recent years, do you see it happening soon for Lithuania?
Romas Zabarauskas: Unfortunately no, because Lithuanian politicians are mostly either homophobic, or hypocritical cowards.
Cafébabel: What are the crucial issues Lithuania has to solve according to you?
Romas Zabarauskas: Legalising gay marriage and adoption, fixing legislation for transgender people, securing rational sexual education in schools, changing the law that "protects minors", and ensuring that hate crime laws work well (and not just on paper).
Cafébabel: Has the law ever interfered with your work?
Romas Zabarauskas: I feel like my queer-themed work was never censored because they're afraid of how much attention I would get. Unfortunately, not everyone is so lucky. It's a shame that a children's book including same-sex love stories, Amber Heart, needed to stop its distribution because of this law [NB. the "anti-propaganda" law]. It's truly shameful that such law can exist in the European Union.
__
Here are Romas' top five friendly places in Vilnius
------