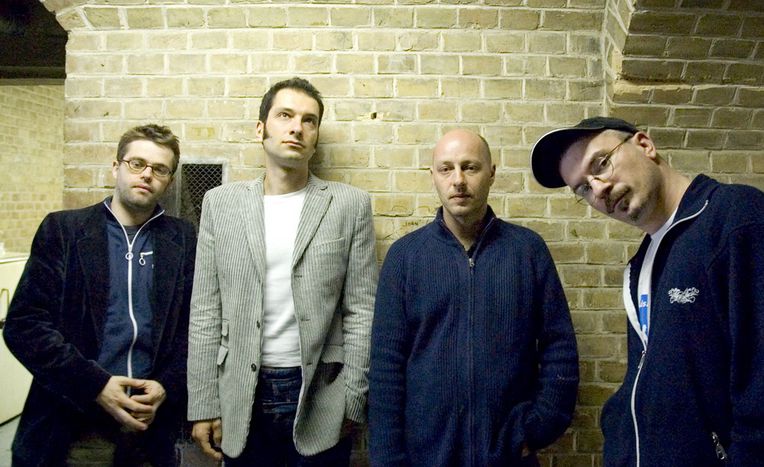 French band 'Zakarya' play Klezmer in Saint Petersburg
Published on
Translation by:
francesca reinhardt
Think you need a clarinet and melancholy yiddish tunes to play Jewish folk music? Then you've yet to hear the French quartet. As their Russian concert winds down, accordionist Yves Weyh discusses the audience's strength of imagination, 'imaginary' film scores and avant-garde Klezmer
The biggest auditorium in the St. Petersburg music hall looks more like a dusty, soviet-era cinema than a venue for stars of the international music scene. A musty smell emanates from the peach-coloured fold-up chairs, the auditorium lights flicker uncontrollably every two minutes, and within a few minutes, the concert-goers start fidgeting nervously in their chairs. Has someone switched off the heating? Still they wait valiantly, for it is not everyday that a French Klezmer band comes to Russia's most northern city. Zakarya was invited to the city on the banks of the Neva river via the Strasbourg festival Les Nuits européennes ('European Nights'), which for many years has had a partnership with St. Petersburg. The four musicians take to the stage accordingly under an over-sized French national flag.
This is Klezmer?
Over the next hour and a half, an onslaught of strange and unusual sounds wrenches the auditorium from its winter slumber. Breakaway melodies reminiscent of eastern European folk music blend with experimental sound clusters, rock phrases connect with virtuoso accordion solos and fast bass lines. Some members of the audience flip through the programme notes in confusion. Is this really Klezmer? But Zakarya has still more surprises in store. The band, which was founded in 1999 and is produced by New York label Tzadik under renowned avant-garde musician John Zorn, is part of the radical Jewish culture series. As such, it is full of surprises. Yves Weyh, the musical head of the band, is inspired by all kinds of musical traditions. 'I don't really like the concept of 'experimental music,' but perhaps there's a bit of it hidden in Zakarya,' he says. 'But then of course, there's also John Cage, a bit of rock, and the melodies and rhythms that come from Klezmer culture. We are basically making Jewish music that is experimental and avant-garde.' 
'We are basically making Jewish music that is experimental and avant-garde'
The name 'Zakarya' evokes biblical references. Is it an allusion to the music's Jewish roots? Yves is not certain, as the name was more of an accident. 'At the time we wanted to play a concert, and we still had no name for the group. The organiser asked me on the phone what we were actually called, and I just came out with Zakarya.' The name has proved perfect in retrospect; it sticks in the listener's mind. Indeed, the audience is of the utmost importance to Zakarya. 'Sometimes it happens, that someone comes up to me after a concert and tells me what images flash before the mind's eye when they are listening. Usually it has nothing to do with my associations, but that's not a bad thing. We're not trying to tell an exclusive story with our music.' Everyone in the audience can imagine their own little stories and let their fantasies play out.
Of imaginary films and fantastical stories
When Yves Weyh talks about music, he always goes back to films. Is the cinema-esque auditorium really an accident? The band's last and fourth album, The True Story Concerning Martin Behaim (2008) - which tells the story of the 15th century German geographer who is thought to have invented the globe - is the soundtrack of an 'imaginary' film. 'I wanted to write the music for a film about Martin Behaim, even though the film doesn't exist. I don't know exactly where the idea came from, you can't really explain it analytically.' The film score is nonetheless not his first engagement with other art forms. In fact, he has already written the soundtrack for a 1927 silent American film, The Unknown, by Tod Browning, and collaborated on several projects bringing together poetry and music. So where does this affinity for film come from? 'Many people tell us that our music tells them a story. They see all kinds of images when they are listening. Maybe this interest in visual interpretation simply comes from our audience.'
The compositions that Zakarya's musicians unfurl this evening in St.Petersburg bear redolant names such as Manual Labour, Polka, or The Hole. The four musicians play with obvious joy; bassist Vincent Posty springs freely from foot to foot, sometimes clinging onto his bass-line alone. Guitarist Alexandre Wimmer plays his solos oblivious to the world, blasts his amplifier, unaware of the the laughing accordianist. Finally, for the last song the drummer Pascal Gully unpacks a bunch of children's toys and delights the audience with a short dramatic interlude, from which naturally corresponding rhythms emerge. However when a piece such as From Pinsk to Minsk fails to end on a keynote, the listeners spring into action and fill in the right note all together. Yves and his comrades are ecstatic. 'If we could come back and play more concerts, we would do it in an instant.'
Catch Zakarya at the Festival Jazz d'Or in Strasbourg on 12 November and L' Arrosoir in Chalon sur Saône on 13 November, France
Translated from Zakarya: Wo Klezmer auf Rock und John Cage auf Polka trifft