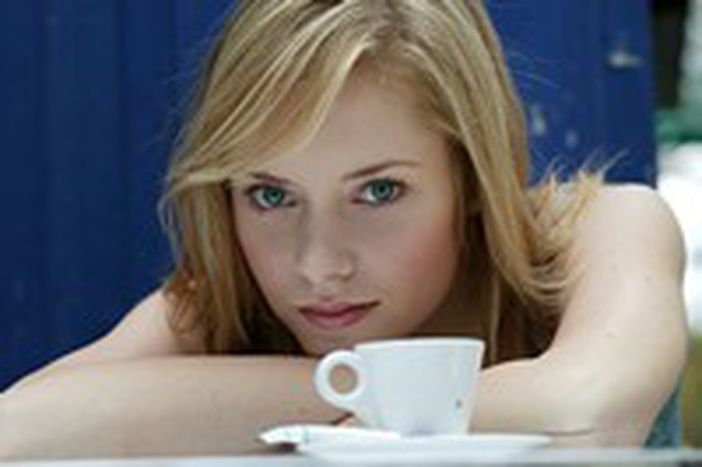 Fredrika Stahl, jazz star
Published on
Translation by:
veronica newington
Underneath Fredrika Stahl's Lolita-like demeanour is a steely will. The 21 year-old performer has made Paris her home and has been able to surround herself with the greatest artists to enliven her jazz-pop world
Paris' Pigalle area is lit up by late-afternoon sun. The scorching beam beats down on the shop fronts and excited crowds scurry along the pavements. I have a 5 o'clock appointment with a real cutie, here in the red light district. Fredrika Stahl is just over 20 years old. She is blond and her delicate features complement her china white skin. She is waiting for me, flanked by her producer, her PR person and her mum. She has met with great success since she released her first album, A Fraction of You, last March to critical acclaim. Her record easily topped Virgin's jazz chart, ahead of Norah Jones' last opus. Stahl's mellifluous and mature voice quickly belies her fragile appearance. She explains to me, in perfect French, how "your voice must come from your stomach not your throat, it's important to make the sound move down." She may have had no singing lessons, and only the basics of piano and music theory but she has an undeniably musical ear. Her artistic method is unorthodox; "First of all I write the lyrics in English and then find the pitch and rhythm according to the song's message."
Peaceful exile
This pretty Swedish artist learnt English through attending international schools. When she was four her family moved to France, settling in a chic Parisian suburb Saint-Germain-en-Laye. Eight years later they headed back to Sweden. Stahl sees this mobility as an advantage, "even if", she recognises, "during my childhood, I felt uprooted and an outsider everywhere". She thinks that the French "get more pleasure out of life than the Swedes, even if it's often chaotic." Stahl thinks of her fellow Swedes as "very approachable and kind underneath apparent coldness."
Her heart is still divided between "the music in Paris and the family in Sweden." Having adopted Paris as her home, Stahl has become an enthusiastic cosmopolitan. She comments, "New York or Spain… there's nowhere I don't want to go. There is so much to discover in every place." Once she had completed her baccalaureate she decided to take a year out "to do what she liked: speaking French again and throwing herself into artistic pursuits." At that time dance meant everything to her, though singing has since gained ground. She explains, "dance is above all performance. I had a desire to create."
Persistent and clear-sighted
At first Bohemia had a bitter taste. Stahl worked in a bar in the evenings to earn a bit of money and to compose a few songs. To keep herself going she would repeat a lucky mantra to herself: "the worst case scenario is this doesn't work out but there's no way I'm going to miss out on a chance to do what I love." These lean times were, however, conducive to inspiration. "I had left my family, I didn't know anyone, and I felt very alone…it was an introspective time." She smiles a melancholy smile which stretches up towards her pale eyes. Behind this northern siren's sensitivity (encouraged by her mother, a painter), lies a determination as steely as her name (Stahl means steel in German). When asked whether she had a hard time Stahl quickly replies "I was lucky to meet my producer very fast but we worked full time on this album for four years." Clearly success didn't just miraculously fall into her lap. "Of course I had no idea how it would work out" she adds, "I just really didn't want to end my days as a waitress."
Jazz fairy godmothers
Her lucky break came in 2004 when Tom McClung, Archie Shepp's piano player and a current American jazz legend came upon one of her samples. He fell in love with her folk-pop sound and offered to do some arrangements to her music. Very soon she found herself surrounded by renowned musicians – including Dee Dee Bridwater's saxophonist – to record her first album. Her memories of this time are of being nervous and…stressed. "What is recorded in one take in a studio is there for all time. I had to learn to relax." The album was produced independently and then it was a question of selling it to the big labels to get it distributed. It was difficult to get a foot in the door. "It was always a 'yes but…' from the record labels" recalls Stahl. So what was the problem? "The impossibility of labelling this album, which is such a mix of different musical styles." In the end she signed with Sony BMG, a sign of international recognition. She describes her first experiences on stage, including the prestigious New Morning cabaret in Paris. "When the audience is really into it and applauds you understand that you are not doing it all for nothing. It's really important to get something back from your work. This particular exile feels that no-one is a prophet in his own land. "It's easier to try your luck far from home" she says. "What's the point of leaving to become unknown when you are surrounded by people who appreciate you?" Of course Stahl realises how lucky she was to have "met the right people very fast" and stresses "the importance of having stable people around you and a healthy relationship with yourself. The key thing is to know exactly what you want before you throw yourself into an adventure." She is aiming for the stars but has her feet on the ground.
A fraction of you, Stahl's new album, is now No. 1 in the FNAC jazz classification.
Translated from Fredrika Stahl, baby jazz