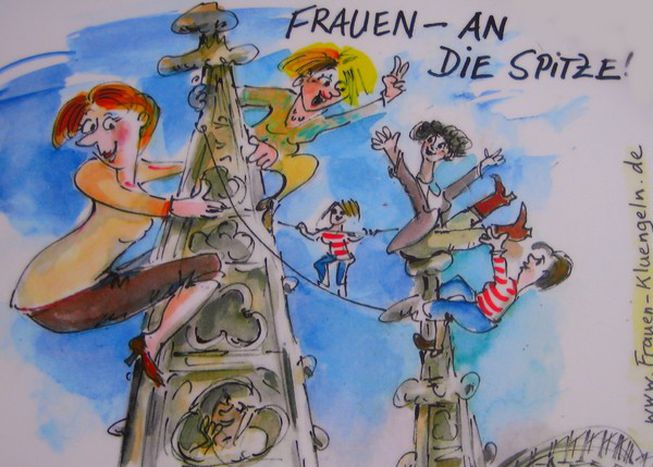 FrauTV, Emma: women top the media tower in Cologne
Published on
Over a third of German national TV programmes are produced in Cologne. Alongside the eight channels based on the banks of the Rhine, in 'media city', are the offices of the young, resolutely feminist FrauTV and the militant magazine Emma
'Women's media' – does the concept ring a bell? Magazines full of sample sachets of new shower gels? Saturated with ads? Celebrity rumours? Quizzes about your relationship? If that's what the women's press boils down to in your eyes, that's because you haven't discovered two German alternatives, FrauTV and Emma. They bring female issues to the fore, but through frank discussions between the sexes, or from an explicitly feminist perspective. As an antidote to ditsy, superficial and conventional women's weeklies, a trip to Cologne, where their offices are based, does the world of good.
No more tapestry!
'Welcome to our show for young embroidery enthusiasts, vixens, angels of vengeance, goddesses, mums, grannies, married women, lesbians, tomboys, singletons, cows, witches, teenagers, walking clothes-horses, virgins, nice old ladies… and men, of course.' FrauTV's trailer sets the tone for the show. While the approach might be as youth-orientated as a copy of Closer, with an audience just as diverse as Marie Claire's readership, presenter Lisa Ortgies and her team stay away from beauty obsessions and make sure their viewers are getting some intellectual nourishment. Because on FrauTV, the subjects range from abortion and diets through to Jehovah's witnesses and sex addiction. It's a 'modern, female, magazine show that doesn't need to be confrontational, but stays open-minded and clear-sighted about issues that affect women, covering them with journalistic rigour and, occasionally, a fair amount of charm and humour,' explain the creators. 'FrauTV isn't one of these programmes that are only interesting to women. Increasingly, it's also a show for men.'
Emma handles female topics differently. Its team of editors are assembled in Cologne under the leadership of the monthly's founder, Alice Schwarzer, and often tackle political subjects with a combative, provocative, belligerent tone. The importance of vulva symbols across different cultures, a debate about possible misogynistic motives behind the Winnenden shooting, the campaign for abortion rights in Germany is a flavour of what appears in the July/ August issue of Emma. Sold around the German-speaking world, Emma is read just as much by young women as by older women, its readers' letters page would suggest. The magazine benefits from the popularity of Schwarzer, icon of the German feminist movement, whose views are not always shared by the younger generation, however. The publication is imbued with a militant, revolutionary spirit which, for many, is no longer as appropriate to the times.
The tower is in women's hands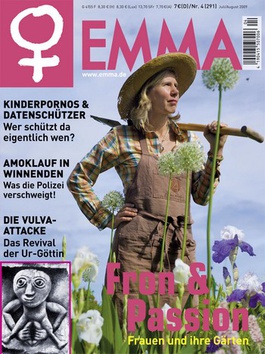 Schwarzer, the journalist who once campaigned alongside Simone de Beauvoir and the MLF (women's liberation movement), can be found behind Cologne's 'Frauenmediaturm' (women's media tower), a medieval tower housing a feminist library and archive. Shelves are lined with books featuring the faces and names of famous women and female artists: Louise Bourgeois, Maria Lassnig, Cindy Sherman and Nike de St Phalle, the writer Elfriede Jelinek and even German chancellor Angela Merkel… You might also stumble upon the lesbian magazine Krampfader ('Varicose Vein') – it's a far cry from the alluring, sexy titles of Cosmopolitan, Glamour et al.
Apart from its offer of women-centred literature, the Frauenmediaturm is also very proud of its feminist thesaurus. This work aims to fight sexism in language and verbal images by transforming our vocabulary – a sort of political correctness manual which is also a useful tool for 'gender studies'. Establishing this centre in a tower of considerable historical importance for Cologne was a hard-won battle. Alice Schwarzer effectively conquered the 'Bayenturm' that, according to local legend, transfers power to whoever possesses it. Gisela Manderla, representative of the Cologne women's union, confirms as much: 'Today, the fact that this symbolic tower should be in the hands of women is accepted by everyone.'
Many thanks to Yvonne Poppelbaum and the cafebabel.com hub in Cologne
Translated from Cologne: les femmes à la pointe