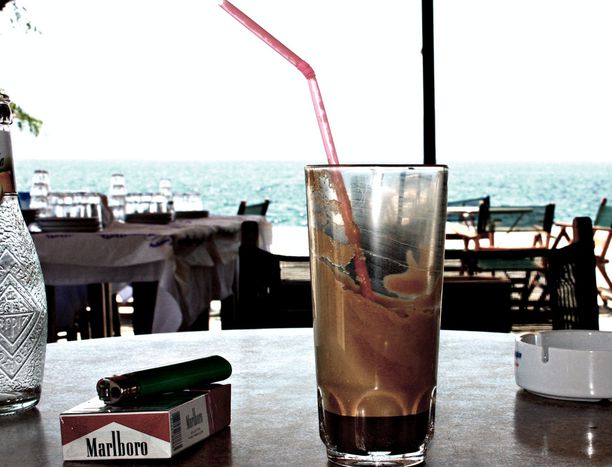 Frappé, cult official beverage of Greek economic crisis
Published on
Having an obligatory iced coffee in the Greek capital is a heady mix of the crisis, anarchic events and corruption at all levels with the wisest and healthiest farniente (pleasant idleness). Only those much-condemned across Europe could own such a flavoursome melange
Ordering a coffee is not so simple in the Greek capital. The Athenian waiter eyes me with an annoyed look as I gesture for a cafe, an expresso... Everyone around me is enjoying a brown-coloured drink in a long, thin glass, aided by a straw from which they sip every half an hour. I swallow mine in a gulp and hesitate. I'm thirsty. I could have another. The neighbourhood of Exarchia is a purported anarchist-communist-drug addict quarter, but I can only see backgammon players,  bookworms and gossips populating the sunny terrace of the square. Time seems to have stopped around this strange brew, as if people have nothing else to drink during the day.
I take my leave for an appointment, heading through the old town. As he leans on his bike, a street vendor sips the same brown liquid in a plastic cup. Further on by Monastiraki Square in the old part of Athens, fruit vendors take a break around the same drink. It's an invasion, a drug; it must be a drug, in a country so badly hit by the crisis! The poor Greeks have succumbed to despair and have found their salvation in this strange beverage that probably has an opium effect, what with the lack of economic prospects in sight.
On Rizari Street, a chic area dotted with a posh Hilton Hotel, I meet Sudha Nair Iliades at the magazine headquarters of Athens Insider. The editor puts to bed ruminations that Athenians feel the crisis on a daily basis. 'The Greeks are not the type to lock themselves up at home and sink into depression when the economy goes adrift,' she explains. 'You've seen that the terraces are full. What you don't realise is that people spend the entire day sitting around one iced coffee, because it's the only one they can afford. You know, this drink is the best way to continue living despite the crisis.' A dose of coffee plunged into ice with some milk on top and enjoyed with a straw. It's easy as pie and there are no drugs behind it all – it's just relaxation, a symbol of Hellenic life and an anthem for the Greek good mood. Without a doubt, this is the best drink in European hard times.
Recipe: iced coffee
Plunge an expresso, complete with sugar and water, into a huge glass. Throw in ice cubes. Froth some cold milk, add a straw. Enjoy!
*This article was first published on cafebabel.com on 12 July 2010
Read frappébabel, the official blog brought to you by the cafebabel.com team in Athens
Images: ©lapaola/ Flickr/ videoBazarTV/ Youtube
Translated from A Athènes, la crise noyée dans un café frappé