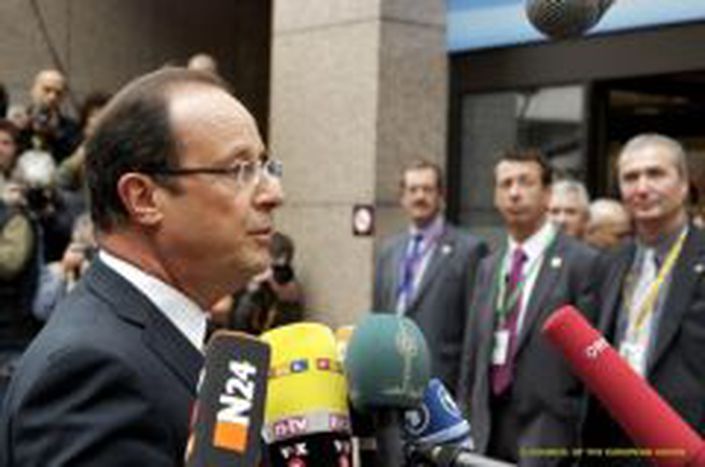 François Hollande Press Conference: The Worst is Over!
Published on
By Jeanne Heuré (live at the Summit) Translated by Danica Jorden What was proposed in June has today been "confirmed and clarified": the European Banking Union is born. The new union's legislative framework will be put in place as of 1 st January 2013, thereby promoting the ECB to banking supervisory status over member states and boosting confidence in the financial markets.What we heard!
ECOFIN will specify k, which will then and could be adopted at December's European Council. The legal framework would then go into effect on but the ECB will directly manage practical provisions concerning the banking union over the course of next year. The "banking union mechanism" will therefore not go into effect until the months following 1 January. According to the French president, the with regard to the last Council's announcement, where the banking union was planned for the end of 2012, with François Hollande pleased to note that on 18 October a definitive and specific agreement had been reached. He even affirmed that, in his opinion, If the European Council effectively puts the banking union's legislative framework into place in December, if Greece continues to improve its economic performance (as it has already demonstrated at the current summit) and Spain stabilises to a certain degree, aided by the European Structural Fund as planned, "we'll be done with what's weighing down the Euro Zone's markets. "
the legal frameworbe submitted to the European Parliament for advisement1st January 2013EU will take the leadthe problems "paralysing the Euro Zone are being worked out."The worst is over.
Inevitable Question: A 'Win' for France over Germany?
The French head of state in no way flatters himself to have claimed a victory over Germany. On the contrary, he underlined taken by both countries in their willingness to introduce the banking union's legislative framework as quickly as possible, and their mutual position on the same side during negotiations with non-Euro Zone member countries. According to the President, the victory resides in effect in the fact that the 27 member states have successfully agreed to implement the banking union, even though they are all not part of the Euro Zone and that they don't necessarily care to be supervised by the ECB. Germany even managed to obtain a national supervisor in charge of overseeing certain local banks, while remaining under the aegis of a European central supervisor. It must be said, however, that : despite the project's implementation , as she had desired, her idea of creating a super European commissioner to assure the post of European supervisor was not even discussed. According to President Hollande, "there are already sufficient procedures" to oversee and regulate the banking u nion: no need to create more.

the common step the German Chancellor was not able to play all her cardsin stages

Finally, in reaction to a question about the Nobel Peace Prize, François Hollande explained that the only prize European heads of state and government should seek is a way out of the crisis – and apparently, they're on their way.(Photo credit @ European Council)