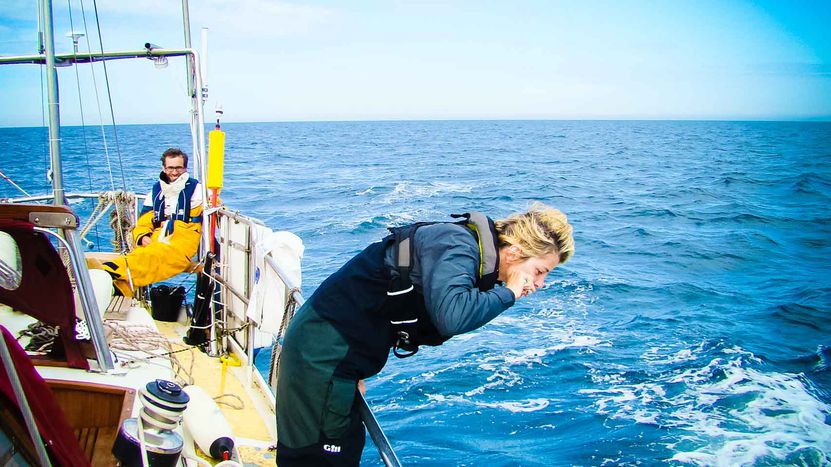 Franco-Norwegian couple: life on a houseboat in Germany
Published on
No trade barriers in the European Union means anonymous EU-registered boats can swan in and out of European waterways. Houseboats are proving the new accommodation trend. One woman shares her story
Estelle and Espen are based in a north-western German province near the city of Oldenburg. Espen is a quality surveyor currently building German AIDA ships in Papenburg, whilst Estelle does odd jobs and spends most of her day working on their house-boat, high tech steel boat AURYN, though they also have a small house. Their romantic adaption of The NeverEnding Story will come true in May 2011, when they will sail back to southern Norway (Espen is from Vestfold) along the English Channel, and then down to the Canary Islands via France (Estelle is from Les Hauts de Seine), Portugal and Morocco. After cruising the Caribbean, they plan to stay in the Pacific Islands. Interview
cafebabel.com: Estelle, have you always been in the water industry?
Estelle: We met during our studies in Southampton, where we graduated in marine geography and naval architecture. We moved to the French Atlantic coast to work on the building of the Queen Mary 2. This opened a career for Espen in the cruiseship building industry - only four countries in Europe have yards that can accommodate cruiseships (Saint-Nazaire in France, Papenburg in Germany, Helsinki in Finland and three others in Italy). He was offered a job on the German yard and as we needed money, we moved. We would never have considered it otherwise.
cafebabel.com: What's so special about a house-boat?
Estelle: A home on a boat is freedom. If you don't like your neighbours you can move. If you're fed up of a country you can move. We will not have bills to tie us down. If there is an electrical or plumbing problem and so on, we'll fix it. It's our own investment - sweat, tears and laughs. Living on a boat makes you feel small and vulnerable. You're prone to the wrath of the elements, the sea, the wind, the current and it helps you put your life into perspective. After all we're just tiny particles in a big universe.
cafebabel.com: Where did you learn the art of sailing?
Estelle: Norwegians learn how to sail before they wear nappies. We both finished our D5LA exam with the Northern Course Norwegian sailing school in July 2010. It's the equivalent of the British yacht masters. Espen already had the basic Norwegian sailing license, and we took the RYA day skipper course a few years ago. But we decided to stay in the Norwegian system, which has one captain onboard and a first mate. I am the first mate; the captain defines jobs.
cafebabel.com: What do you recommend psychology-wise for people who wish to live off-land?
Estelle: Mentally, you will have breakdowns. Money will run short; it will take you so much more time to do any tasks than planned. When you fall short of meeting your expectations, don't beat yourself up. Grab an inspirational book written by those who went before you, like the English sailor Robert Knox-Johnston. Visualise yourself already on your travels. If you don't really want it, don't do it. Socially, if people don't understand why you want to do this and don't support you, ditch them. Sailing is one of the most social 'sports' you could do.
'Mentally, you will have breakdowns. Money will run short. Grab an inspirational book'
You will make new friends in any harbours you go. It's a lot harder to talk to your neighbours when living in a fifteen-floor building than it is at a dock. With satellite phones and VHF radios enable you to stay connected to other boats and to family and friends. The world is full of people that are blocking their social instinct. From my experience, people on the water have not been infected by the social decay.
cafebabel.com: Don't you feel disconnected?
Estelle: My personal environment is the boat so I'd feel very connected to it. If you mean the local communities and environment, there will be a certain distance from which you can learn by being uninfluenced. I will definitely not regret what I leave behind. This world of globalisation and materialism is the opposite of what living on a boat stands for: simplicity.
cafebabel.com: What does an ordinary day look like?
Estelle: There is no ordinary day! They are focused on photography and learning how to set up a business before our departure in May 2011. Over the next three months I have to translate a 120-page long technical document for a map software company. In exchange we'll get free digital maps and software for our entire trip. Otherwise the boat takes up most of my time.I'm hoping for dry spells so we can finish all the outdoor jobs before winter - sanding and painting the deck, wood varnishing and oiling, maintaining the wind vane and the mast, making the bathtub and gasholder out of fiberglass, winterising the heating system and the engine, finding a supplier for steel and hard-wearing floor surfaces. We're also deciding if we'll use the boat commercially or not. There are so many little jobs that it's a never-ending list. You cannot think about it until you have to, but you must think about it before you have to.
Houseboats in Europe: three basic points
The Netherlands leads in houseboat lifestyles. There are around 10, 000, with 2, 400in Amsterdam, which even houses the only houseboat museum in Europe
According to the residential boat owners association, around 15, 000 lived on the rivers, canals and estuaries of the UK in 2009. A houseboat licence is issued by the British waterways board and you have to pay council tax. The most expensive houseboat in the UK was bought in France and currently costs 1 million in London
EU laws dictate that a new boat must be built in accordance with their recreational craft directive (RCD) to meet safety standards. You can bring boats to the EU, but you need a CE marking to resell them.