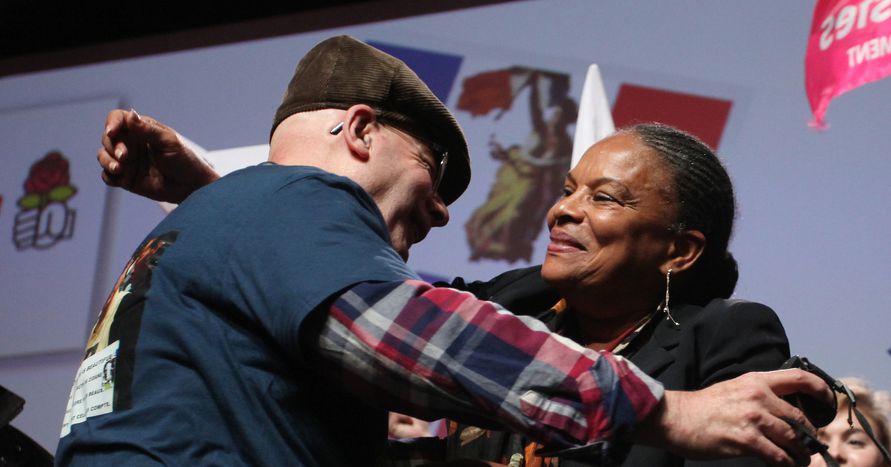 France: Nobody wins after Justice Minister's resignation
Published on
The French Minister of Justice Christiane Taubira has resigned, in part in opposition to the controversial déchéance de nationalité citizenship bill, which would see dual citizens found guilty of terrorist acts stripped of their French nationality. Though a welcomed message for some, her departure is an open wound for the politically left flank in France.
"For once, I did not ask her to resign," Jean-François Copé wrote on Twitter. The Républicain politician and one time rival of former President Nicolas Sarkozy refers to the multiple times he personally went after Christiane Taubira in the French lower house, the Assemblé Nationale.
Taubira has held the position of Minister of Justice under President François Hollande's cabinet since 2012. An outsider since the early days of her public service, Taubira's resignation is a continuing signal of her ideological character.
Taubira was not only controversial to the far-right, many centrist and even socialist politicians disagreed with her on topics such as same sex marriage, immigration and the rights of citizenship. Her decision to resign arose from a disagreement surrounding a new bill that would allow the stripping of French nationality from terror suspects and associates. She wrote on Twitter: "Sometimes resisting means staying, and sometimes resisting means leaving."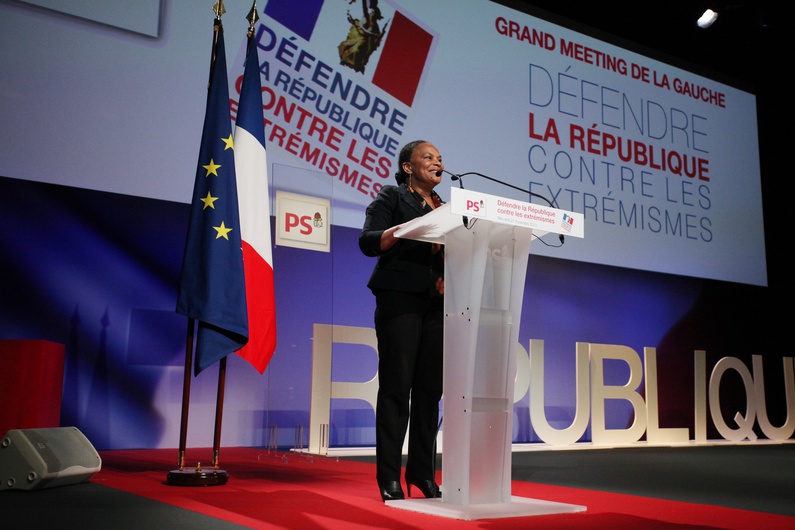 Taubira was often the strongest supporter of Hollande's left-leaning policies, as much as she was often the last left defending them. Her loss will likely lead to a substantial shift in the political structure of his cabinet, as well as French parliament.
Emblematic of the French left, Taubira remained a personal target for far-right groups and politicians. One such episode of verbal violence involved her being called "une guenon" (a female monkey) by an ex-Front Nationale candidate, who received jail time following the use of the racist insult. There have also been multiple "casse-toi Taubira" (Taubira get out) rallies and graffiti tags around Paris. Yet the minister always kept up her strict discourse, cementing her infamy in the history of French politics.
The French daily newspaper Le Monde reported that Manuel Valls, currently French Prime Minister, called Taubira a "cautionary reminder from the left" on the morning of her announcement. It remains unclear what his ministers will do without this occasional  reminder. The paper also speculates as to whether her resignation will open up the road for another player to take over from François Hollande as the Parti Socialiste candidate at the 2017 presidential elections. Yet, there are doubts that an otherwise rather uncharismatic cabinet will be able to display the same larger-than-life character that Taubira portrayed in their place.
Her departure will also impact the nature of the blame-game being played within parliament, the brunt of which had until recently been directed towards Taubira. Often opposing Valls and other members of her own party, Taubira represented the antagonistic left for anyone from Sarkozy to Marine Le Pen.
The instrumentalisation of Taubira as both ideologically "good" and "evil" has now come to an abrupt political end. Her career is far from over, but the immediate future of French parliament will be affected by her actions. The question of whether the left will be able to fill the void she leaves in their ministry – and of who will become the right's new nemesis – is going to be an important development in French politics.
---
This article was amended post publication.