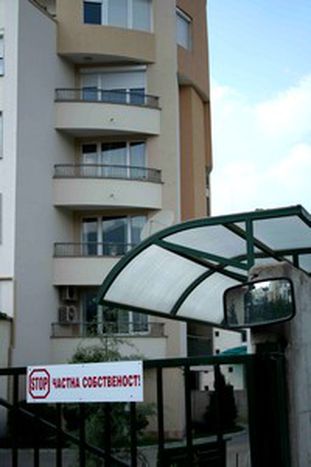 Fortress Bulgaria: gated communities
Published on
Wealthy families in Bulgaria are using gated communities to protect themselves from the poor majority
'Word gets around quickly if there's a Western foreigner living anywhere,' says Dieter Lehne, a German bureaucrat. When he worked in Bulgaria's capital Sofia for a year, he moved into a so-called 'gated community' out of fear of burglary. The protection afforded by a closed residential site, as found incidentally throughout the countries of the former Warsaw pact, gave Dieter Lehne a feeling of security. The site had walls on all sides, replete with cameras, and a security guard positioned at the front gate.
1500 Euros per square metre
But for a long time now, it hasn't just been foreigners living in such compounds. Bulgarians who have enough in their pockets are also increasingly choosing to live in gated communities. According to the property agency 'Address', there are more than 50 projects in Sofia alone, which are at various stages of planning and development. They have reassuring sounding names like 'Comfort Inn' or 'Embassy Suites'. The price per square metre, depending on location and decoration, is between 650 and 1500 Euros.
The outer districts on the south-east of Sofia are being eyed up by property investors. Here, around seven kilometres from the city centre, there are ample sites for development. The immediate area is the natural playground of the Vitoscha Mountains. In summer it's good for hiking, and in winter, for skiing.
In socialist Bulgaria, only high party functionaries lived in isolated and well guarded sites. Since 1989, a new trend for 'isolated living' has set in. However today it's not party membership that will decide whether you get a luxurious home, but the greens. 'Wanting to get away from the crowds is easy enough to understand,' says Dieter Lehne. 'The social divide causes tensions.'
In actual fact, there is a gaping difference in incomes. The minimum wage in Bulgaria at the moment is 160 Leva – around 80 Euros a month. Whilst a grammar school teacher earns 150 Euros, a software expert in a private firm can make up to ten times as much.
Comfort, peace, seclusion
High earning Bulgarians don't just want a nice flat – it has to be in the right location with the right kind of people. Protection from crime is the biggest plus of the secure settlements, says Katja Zenova, director of Address. In the traffic clogged capital even a private parking space is a good enough reason to move to a 'complex'. And while public green spaces are neglected, in the gated communities there is a gardener who looks after the community property.
'Overpopulation in the area, polluted air and stress are the main reasons people choose this kind of design. It guarantees them comfort, peace and seclusion,' Zenova explains.
In the wake of the building boom in Sofia, larger sites for development are becoming scarce. For this reason there is a noticeable 'extension of the city zone' towards the south-east, says Mladen Mitov, manager of property agency Yavlena. Villages in a radius of about 30km are likewise now attractive locations for new gated communities.
Left on the porch
In other parts of the country the same thing is happening. In the central northern Bulgarian town of Veliko Tarnovo, which has become a Mecca for British property buyers in recent years, the Israeli Tidhar Group has built a 60, 000 square metre secure 'satellite town', complete with a nursery and shopping centre.
Likewise, in ski resorts like Bansko or on the Black Sea, there are more and more developments with walls. The buyers of these holiday properties are for the most part foreigners – either they want to let properties outside of the peak season, or sell later for a profit.
One problem remains: access to secure private residences. This is often full of obstacles. The street network is in bad condition, says Zenova. 'In many cases, access to beautiful modern buildings is difficult to say the least.'
Since January 1, 2007, Romania and Bulgaria are the newest European Union members. cafebabel.com is presenting a series of articles over the following weeks to welcome them in. Look out for 'Romania: the rich and the poor', which we are publishing on Thursday January 18.
All these contributions are written by members of the German network of correspondents,
. N-ost was founded in December 2005 in Berlin, with a network of journalists frm over 20 countries. They aim to act as mediator between Eastern and Western Europe. Their engagement is to support democracy, the liberty of press and the integration of the European Union
(Micro photo: moyix/ Flickr)
Translated from Bulgarien: Geschlossene Gesellschaft