Five shades of Belgian chocolate
Published on
The annual chocolate fair held in Brussels gathered more than 130 chocolate producers, confectioners, designers and experts in its 8,000 m3 of exhibition, open for the crowd. Cafébabel Brussels found five ways to experience chocolate you had never imagined!
Think about the only thing better than entering a chocolate shop: going to a huge chocolate festival! Cafébabel Brussels went to investigate if there is life beyond those delicious Leonidas that you can buy everywhere: and indeed!
1. Wear it
18 schools created their best fashion designs… made of chocolate! Four fashion shows went on during the two days of exhibition. Brands like Belvas, Neuhaus and Leonidas provided the precious commodity for the dresses.
2. Print it
Smart Gastronomy Lab is a startup created a month ago. They are using 3D printers to create unique chocolate products. But not every kind is suitable for the process: "some have better reaction than others but it wouldn't be possible to make? these figures with any other technique", explains Gaëtan Richard, Scientific Manager. They can print customised chocolate bars for gifts, business meetings and, also, for your Valentine's.
3. Help eradicate cocaine production
Chocolero is a project that wants to transform coca leaf crops in Peru into cocoa plantations. You can contribute buying a bag of chocolate pills, totally drugs free. You can find their products in Färm, an ecologic food chain in Brussels.
This was their stand at the chocolate fair –full of allowed and healthy pleasures.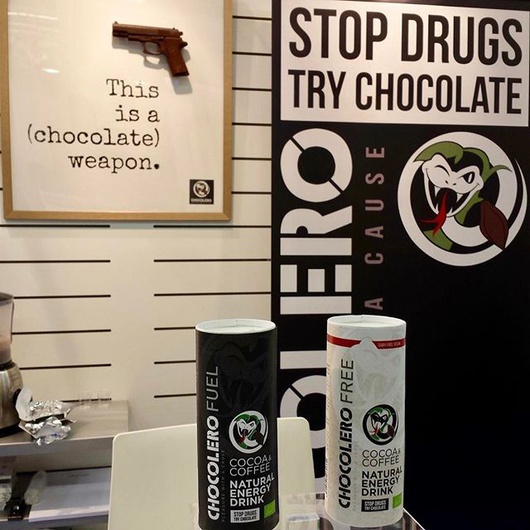 4. Prepare it with your hands
This is less obvious, but, apparently there aren't many artisanal chocolatiers anymore. We heard there are only around twenty in Belgium. Kevin Flener is one of them. He can teach you how to prepare a great heart-shaped cassis-filled praliné –if you were to have a machine for producing chocolate at home.
In a special mould, he first puts a fine layer of chocolate, letting it set for around fifteen minutes. Then, he adds a second layer.
After filling the chocolate-covered mould with the cassis cream, he gives another chocolate bath, and… there you have great hand-made pralines! We can certify they were delicious. If this explanation wasn't detailed enough for starting your new chocolate-production hobby, you can take one of the courses given by L'alchimie du chocolat.
5. Take a chocolate #selfie
Stomach-ache after so much chocolate? It's time for some 'cheeese'. Selfie spots at the salon included an Asterix stand placed by Leonidas for launching a new kind of napolitains (Belgian mini chocolate bars) inspired by the indomitable Gauls; and this two-meters-tall Eiffel tower made of… chocolate!