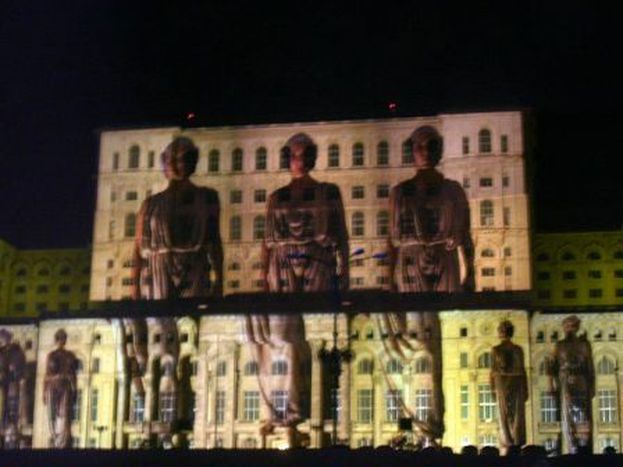 First White Night in Bucharest
Published on
All the magic happened in the Constitution Square, where thousand of people gathered, as if they were summoned by one creed: Tonight no one sleeps! And indeed no one could sleep, not when all the city attractions were opened and fitted all ages and tastes: museums and art galleries with extended program, theatres presenting their most interesting show, the Metropolitan library inviting readers in.
Even the Romanian president, Traian Basescu made time in his agenda and passed by.
The event started at 2pm with a graffiti demonstration, when 17 artists from Germany, Bulgaria, Hungary and Romania offered us a perspective of their talent. Something really interesting has been the Urban Art – huge projections on the House of Parliament. I was all woooow's and ohhhh's at images with white doves, Egyptian people, big hearts combined with skulls, or distorted picks à la Dali.
The more adventurous ones had their share of happiness in the Izvor Park – about 500 m from the Constitution Sq. – where they could choose between bungee jumping and a circuit of tyrolean and rappel. There where a lot of brave ones who dared to challenge their selves and jump from 80 metres in the cheers of a crowdie bunch and on a background of house music. My part of adventure meant a ride with an ATV. Unfortunately, I ended up in the back seat and really felt like Humpy-Dumpy. Oh, did I mention they were all free?
But the attraction of the night was the Italian theatre group, Saltimbanco. They started their representation around 7pm with a puppets parade, when big, multicolour paper puppets were launched from Unirii Square in a journey on the streets heading to Constitution Sq. A beautiful marching parade, with a catchy tune. Then they put on the Carnival Show, enchanting us with stilts, masked characters and acrobatics. As at any respectable carnival, we witness two rounds of fireworks. The Saltimbanco's show ended with the Vertical Concert – as you can guess, the musicians and their instruments were hanging in the air, tight with ropes, singing lovely tunes of Latino music and urging your feet to move in rhythms of salsa.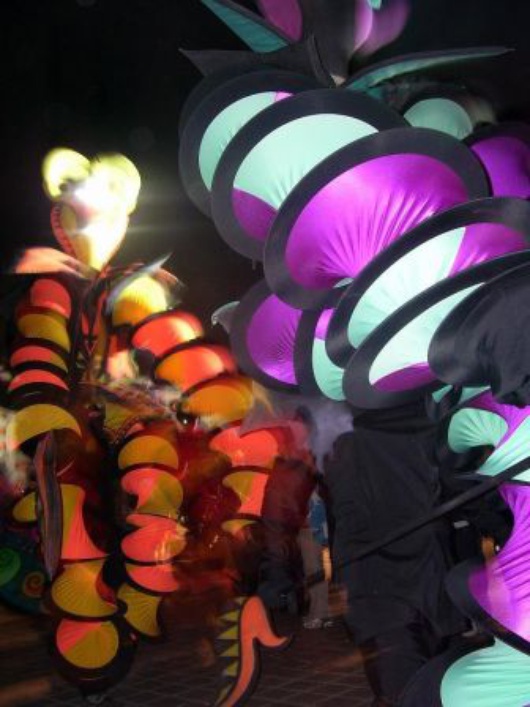 The spirits erupted when the Moldavian group, Zdob si Zdub came on and rocked the stage. If you are a Eurovision fan, you've probably seen them last year, when they came in 6th with their song "Bunika bate doba" ("Grandma' hits the drums"). After 1hour and 20 minutes of jumping, singing, screaming, waiving on their songs, every bone in my body was itching and I was hearing myself talking in whispers – since I've lost my voice!
Romanian traditions have been respect when 5 "stolen" brides made their appearances on stage. The tradition is that at a wedding, close friends of the happy couple "steal" the bride and hide her away until the groom pays a reward for her. One of the stolen brides hidden here had a lovely surprise: after a mini-contest, she and her newly wed were sent at the White Night in ... Paris!
And if you think the party was over...well, think again! It was just the beginning. 3 hours of house mixing in the street followed: green lasers, groovy dancers, lots of energy drinks and a huge flat screen rising from Dambovita river!
In the end, I can find only one word to describe this cultural marathon: Phenomenal!! I can hardly wait the next Bucharest White Night!
by Andreea Luciana Ion