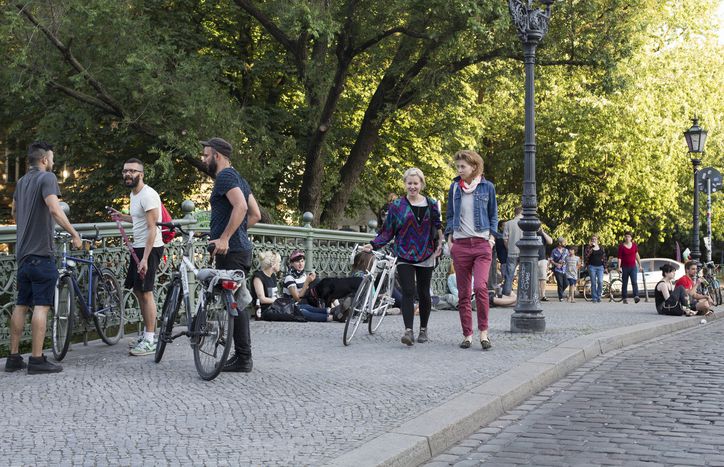 Fifteen Glimpses of Berlin
Published on
Berlin is one of the most booming cities in Europe. The desire to break with it's recent past has produced a multicultural city where every street corner is action packed. Musicians, painters, photographers, activists... There's room for everyone in the German capital. This photo gallery will bring you closer to a small community that's emblematic of the vast, youthful web that populates Berlin.
Film Role
We come across Cris Wiegandt's studio in the Kreuzberg neighbourhood. A Brazilian artist of German ancestry who grew up in São Paulo, Cris arrived in Berlin from Hamburg, with her objects crafted out of paper in tow . She works with paper objects that, within a scene that she also sets up, are later inspired by photography and stop-motion techniques. She's one of the most important designers and animation artists in the German city and has received orders from teams as famous as Disney and Nickelodeon.
Artist Colonies
It's not difficult to find 'artist colonies' in Berlin. Without leaving the Kreuzberg neighbourhood, we stumble upon one of them: Glogauair. Founded in 2006 by Chema Alvargonzalez, it's a mansion where painters, sculptors, designers, photographers, etc. share communal spaces amongst themselves where they mingle, creating a very favourable environment for creative development. In the same residence, they have their bedroom-studios. But Glogauair isn't limited to it's role as an artistic haven: it also supports and introduces the artists that live there to the Berliner art circuit. In the image below, the South Korean artist Kim Hyun Kyung paints in her studio within the Glogauair mansion.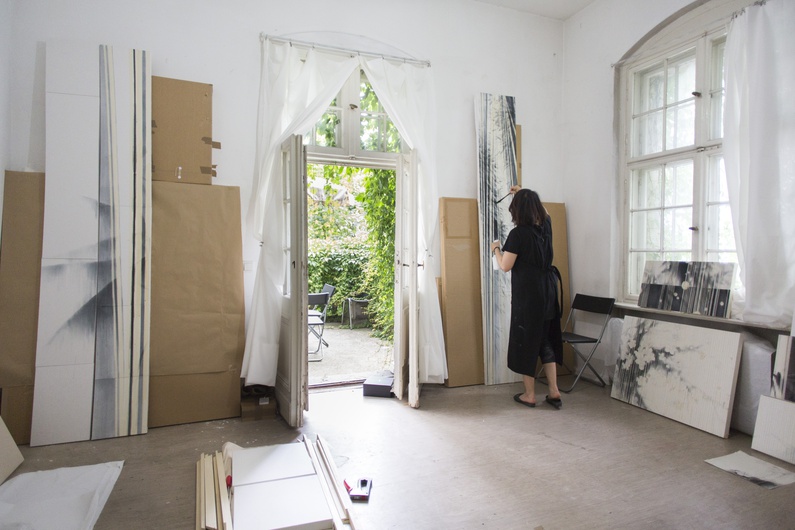 Bartering in Spanish
A different offering lies inside one of the hundreds of bookshops that fill Berlin: Bartleby & Co., a Spanish bookshop in the German speaking capital. Ana S. Pareja and Adrian del Alfonso are two young Spaniards that have pinpointed a single item that's somewhat difficult to find in the German capital: books in Spanish. But Bartleby & Co. offers much more: music, readings and bartering markets are some of the activities that they carry out in this small bookshop on Boppstrasse Street.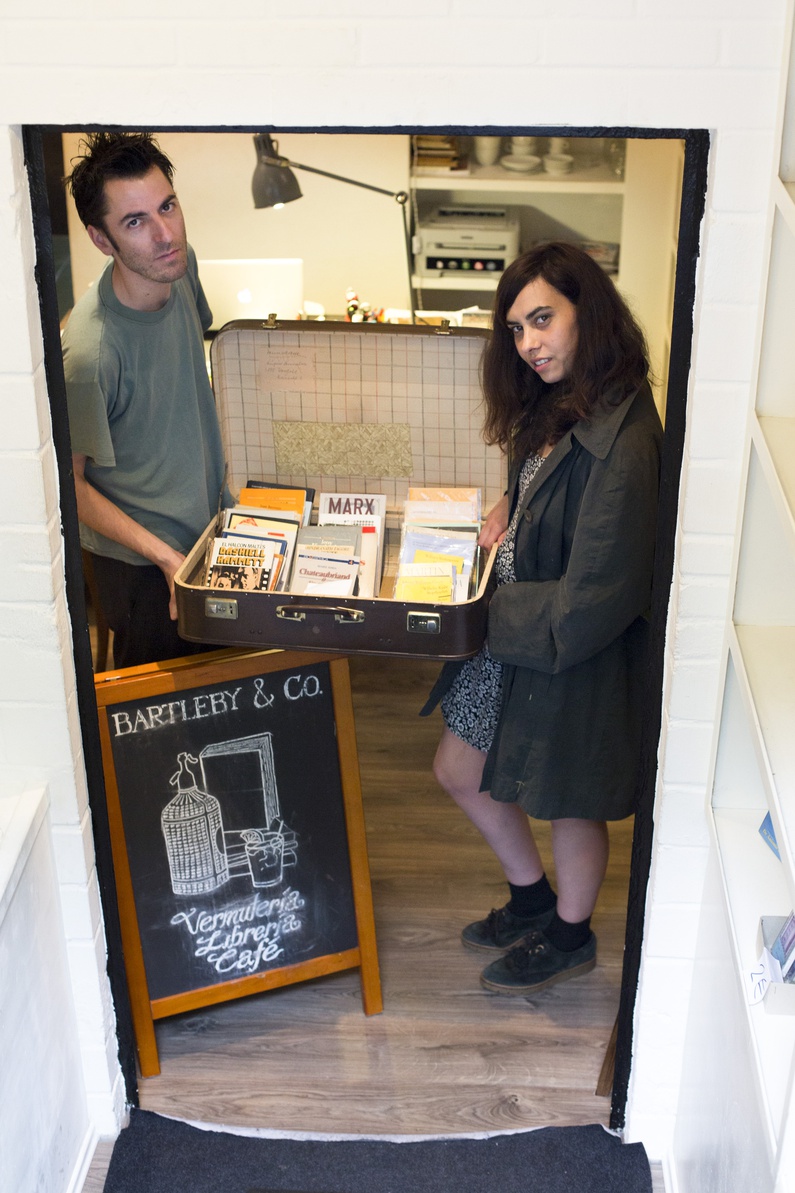 Music Amidst Traffic
To talk about Berlin is to talk about music: it can be found on every street corner. From a solitary violinist in Unter de Linden, to a singer-songwriter in the metro, or even, as in the image below a concert including a drum set in the crossing between Kreuzberg and Friedrichshain. What may seem strange and even frightening before the authorities in other cities flourishes naturally in Berlin.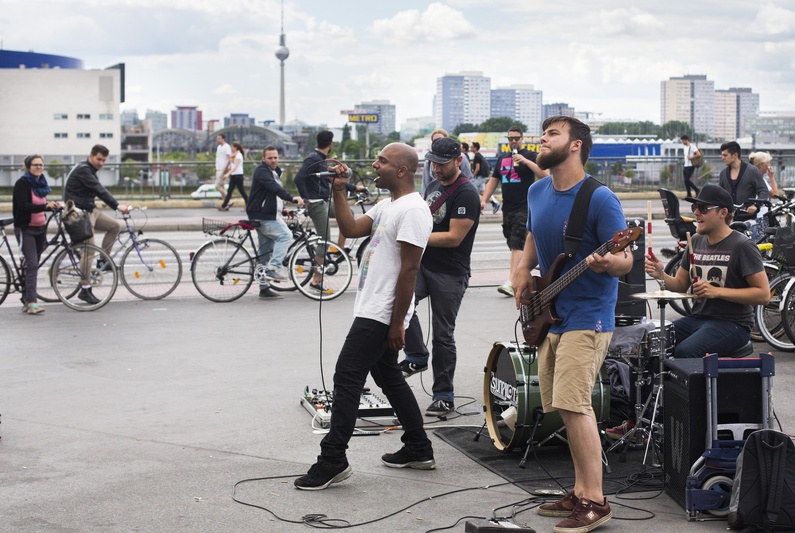 Berlin Sounds like Techno
And if we're talking about Berlin and music, the equation is undoubtedly solved with one word: techno. The best clubs in the city receive the most exclusive DJs in all of Europe. There's a DJ playing techno in a club in Berlin 24 hours a day, seven days a week.
Coexistence
With the fall of the Berlin Wall and the breakdown of East Germany, a multitude of places in the city became vacant. Ever since groups and individuals began to occupy these places, an entire subculture of busy social centres has been established. Thus, Berlin became a model of these spaces' coexistence and survival that hadn't been possible elsewhere in Europe, ranging from the Rigaer Strasse, considered Berlin's squatter epicentre, to Köpi in Köpenicker Strasse.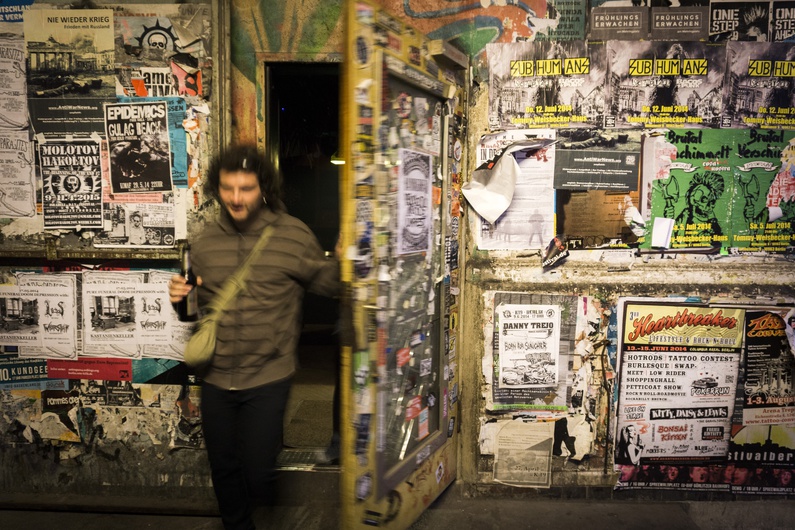 Citizen Activism
Berlin is also a city for activism: all sorts of social and political collectives meet in the city, voicing their demands through acts, debates, speeches, etc. One of them is Zwangsräumungen verhindern, which fights against evictions and gentrification in Berlin. In the image below, a task carried out in the center of Berlin consists of placing crosses for every one of the deceased whose fatal end was connected to a mortgage eviction.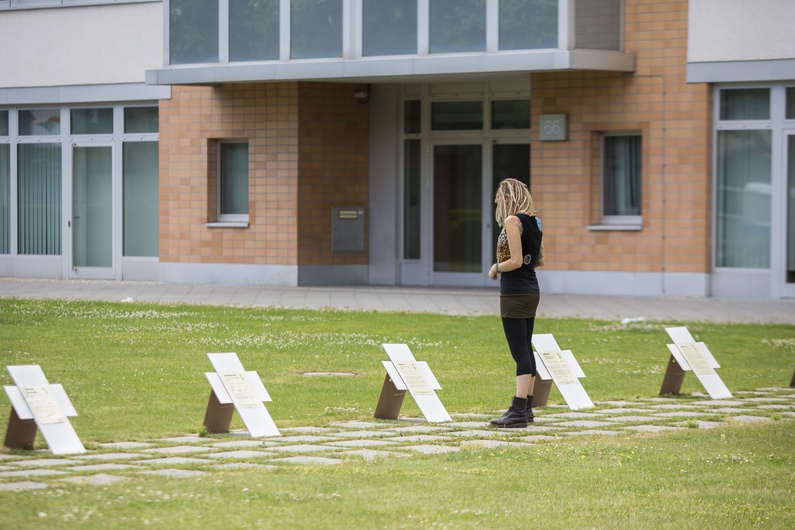 European Alternatives
Hilde and Lucile are two young Berliners who are worried about progressive problems such as LGBT, equality, migration, democracy and EU natural resources policies. They are part of European Alternatives, a trans-European association that fights to achieve a Europe where there's room for all of these issues. While they are based in several European cities, one of their most important bases is in Berlin.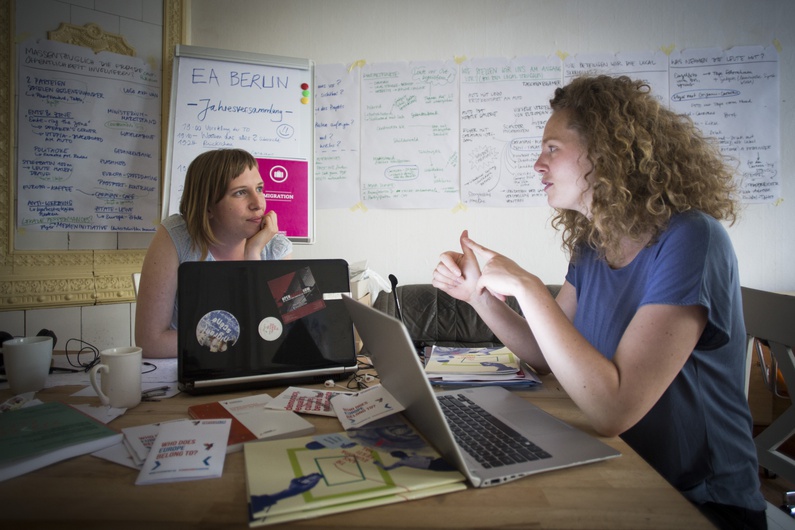 An Airport for All
The Tempelhof airport has not been operational since 2008. Neighbours took hold of the airport after a massive demonstration in 2009 that claimed the space for the citizens of Berlin, following several months of closure. Finally, the City Council enabled some entrances and the maintenance of the airport itself, where all sorts of open air activities were carried out for people of all ages. In 2012, the local government launched an urbanisation plan to be built in the park. But great opposition through Tempelhofer Feld 100% followed in which they collected signatures seeking a referendum (150,000). Yet, the minimum number of votes in favor of maintaining the park as a public space (more than 700,000 votes) broke the speculative ideas and the people emerged victorious.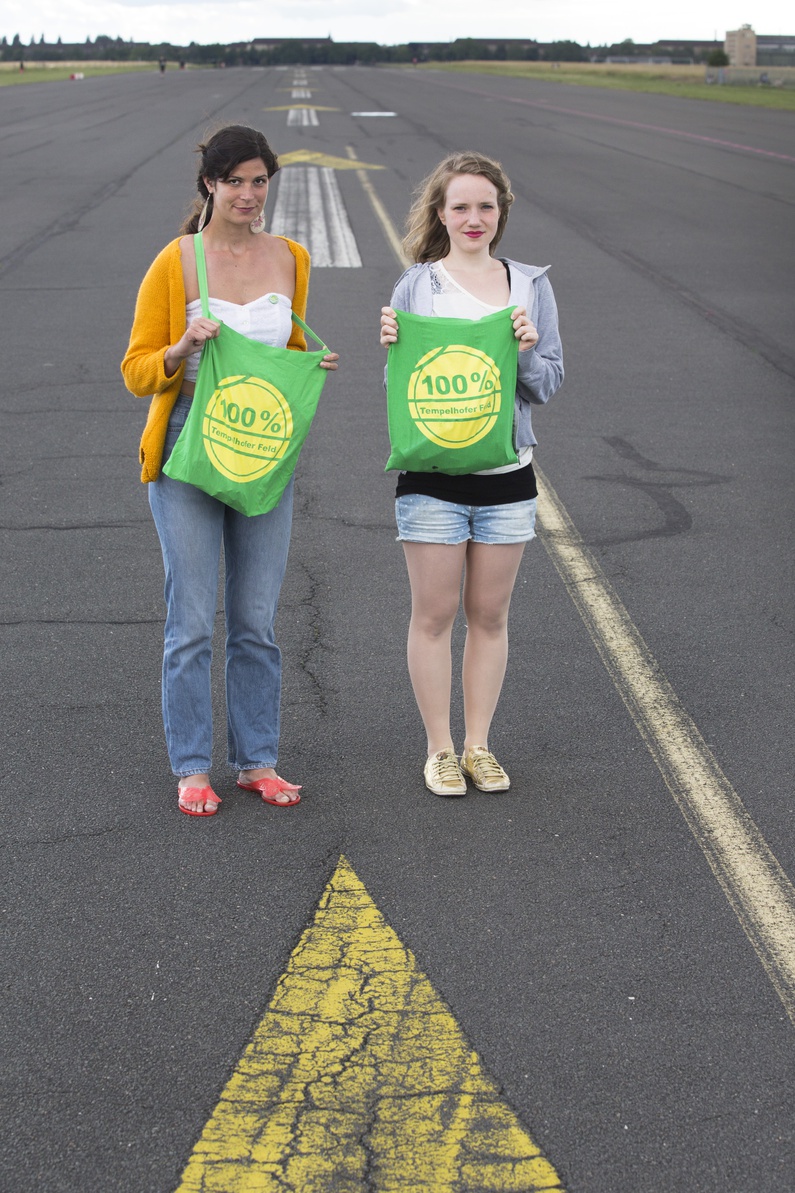 Urban Gardens
In the past decade, the culture of urban gardens has spread all over the city. One of the most important gardens can be found within the Tempelhof Park. Inside, mostly young people interact with nature, harvesting their own vegetables and plants.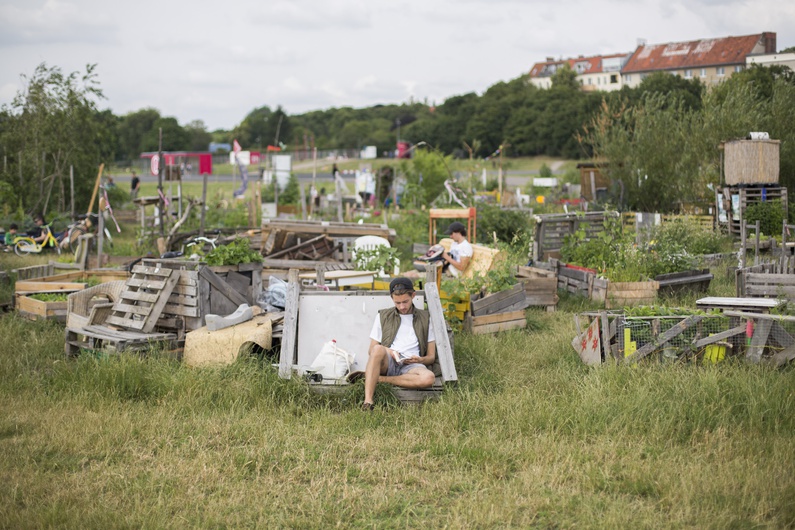 Organic Crops on Uninhabited Plots
The most well known urban farm in Berlin is the Prinzessinengärten. Where there used to be a decades-long abandoned plot, there are now all sorts of plants and organic crops. The organised residents in the neighbourhood took control of this abandoned place and brought it to life.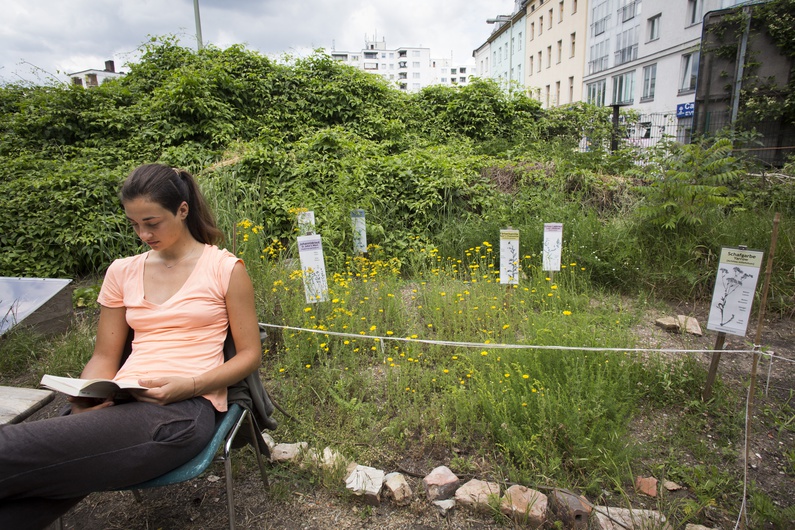 Graffiti in History
In addition to Tempelhof, there are a lot of parks full of young people, when good weather is present. The culture of spending time in parks is very widespread and winter's sought after sunshine has to be offset with the summer months' generous temperatures. Some of them are GörlitzerPark, Tiergarten and Mauerpark, which although the most popular with tourists; nevertheless, Berliners haven't abandoned it. On a Sunday in this park, you can find young people gathered around a barbeque, a food market, second-hand goods and music performances, in addition to other types of performance art. As the image below shows, you can even find graffiti artists painting the remains of the Berlin Wall.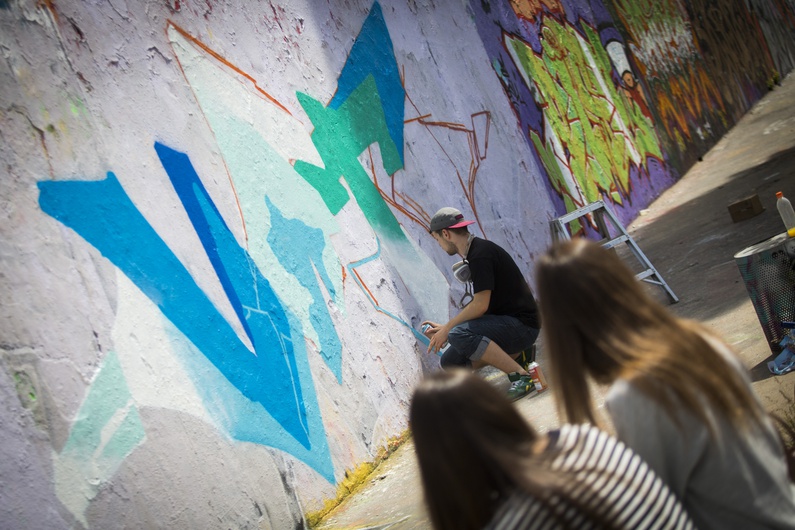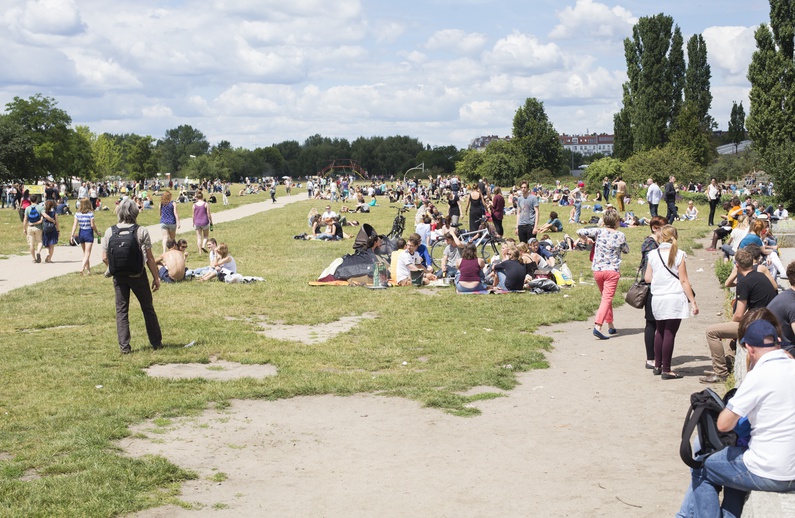 The Young People's Capital
There are three 'fashionable' neighbourhoods in Berlin: Neukölln, Friedrichshain and Kreuzberg. Chocked full of young people on every corner, these boroughs are magnets for culture, clubs, bars and music lounges. Bicycles invade the streets, streets brimming with life. There's no excuse not to buy a beer and spend an afternoon in a plaza alongside strangers. The image below shows streets in Kreuzberg on any given summer afternoon.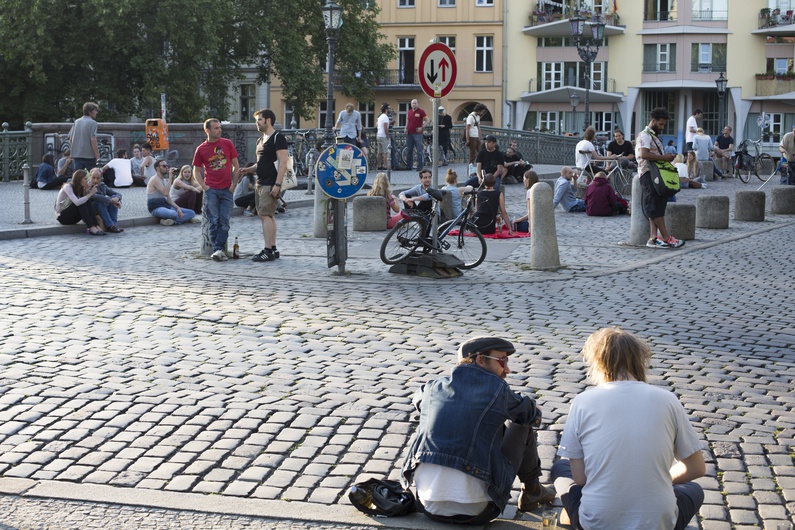 This article is part of a special series dedicated to Brussels. It's part of "Eutopia: time to vote", a project led by CaféBabel in collaboration with the Hippocrene foundation, the European Commission, the Ministry of Foreign Affairs and the EVENS foundation.

Translated from Berlín en quince miradas