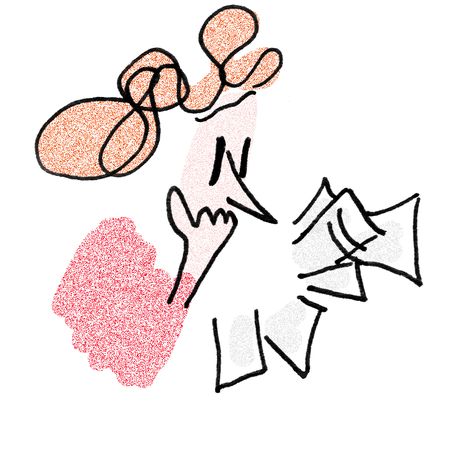 Fiamma Luzzati: 'Italians do not really appreciate comic books'
Published on
The woman writing under the pseudonym Fiamma Luzzati first arrived in Paris in 2007 to 'find her way'. Her passion for comic strips is evident in her two blogs, which tell the story of an Italian's life in Paris, and depict the life of a leader who is curiously reminiscent of one Silvio Berlusconi. Interview
Fiamma Luzzati is a curly-haired woman with a pointed nose. Her character appears in both of her blogs, evolving over the course of the different stories, while essentially remaining unchanged. As a curious and inquisitive character, Fiamma often finds herself observing and questioning various situations. In her first blog The Adventure ('l'Avventura'), the reader sees her going about her everyday life, or having conversations with her friends. In her second blog The Prime Minsiter ('Il Premier'), she assumes the role of a reporter who has recently joined a newspaper, whose new majority shareholder is a group controlled by Tassoni, the fictional Italian prime minister. She soon finds herself working on Le Gynéthéon, a pantheon dedicated to 'celebrating women'. The idea behind this blog is all the more interesting given the character traits of the main character are not dissimilar to those of a certain former prime minister, Silvio Berlusconi.
The real Fiamma won't stand up

It is impossible to track down the woman behind the character. Although we are on the verge of discovering her real identity, Fiamma Luzzati admits to wanting to keep it a secret. 'I simply want to remain free to express myself in the way I want to,' she says. 'My stories are between fiction and reality. I am proud of this. I want to protect it.' Without being prodded, Luzzati gradually opens up about the beginning of her career, and how she came to be creating comic strips for the French newspaper Libération.
In all truthfulness, she has not always had it easy. While still living in Italy, Fiamma wrote children's' books, some of which were published (although not under her current pseudonym), as well as writing some books for adults. Feeling lost, and weary of the situation in Italy, she left for France, where she hoped to find more opportunities. 'I find that it is easier to publish your work in France,' she admits. 'In Italy, the market is rather stuffy, especially when it comes to comic strips. The Italians do not really appreciate them.'
Life in Paris
Upon arriving in Paris, Fiamma proposed writing several different comics. 'I started by proposing an entire book about Berlusconi, a humorous satire. Then, the idea of telling the story of my arrival in Paris came to me, which was nothing more than an excuse to tell the story of the adventures, experiences and opinions of a woman torn between Italy and France while she is starting to immerse herself in Parisian life. Paris is a city in which it is very easy to integrate, unlike Barcelona or Rome, for example. At first, I kept one foot in both Paris and in Rome, often making the round trip between the two. While I was gradually integrating myself into life in the French capital, I also redoubled my efforts to write in French. It has gotten to the point where leaving Paris is no longer something I think about.'
'Leaving Paris is no longer something I think about'
Today, Fiamma draws her cartoons by hand before scanning them, and seems to have found a rhythm and stability in her work. 'I would like to make a living solely from my cartoons, however at the moment this is not possible, and I work as a translator on the side.' However, the situation could well change, and this is an idea that excites her, as would be the idea of publishing a collection of all her comics as a book or a digital version, or releasing an Italian version of her comic. 'Strangely enough, quite a number of Italians come onto Libération's website and stumble upon my blog. In Paris in particular, there is a significant Italian community.' Perhaps they see something of themselves in the comic and find that they have had the same experiences. In any case, Fiamma has become an Italian author read by other Italians living in France.
What matters the most at the moment is the fact that Fiamma's blogs are successful. 'I myself am surprised at how many people follow me,' she admits. 'Many readers leave comments, especially men! Sometimes people criticise me for having adopted a certain bourgeois atmosphere in my cartoons. This is true, but I do it purely to mock myself.' Fiamma does not take offense at these criticisms; they are all part of the game. In the end, the question of Fiamma's real identity matters very little. She is modest and approachable, with a great sense of humour - over to you to discover her.
Images: courtesy of © Fiamma Luzzati
Translated from Fiamma Luzzati : les aventures d'une Italienne à Paris