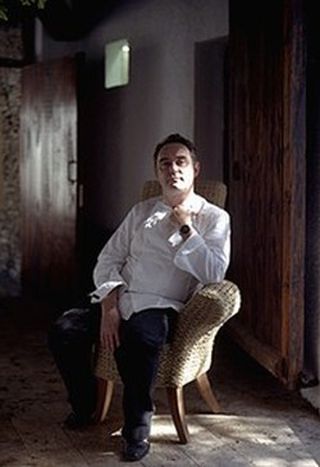 Ferrán Adrià, culinary avant-garde
Published on
Translation by:
miranda hearn
"Who is Ferrán Adrià?" you may well ask. In his own words, he's just "a chef with a restaurant", but this Spanish master is in fact so much more.
Here is an account of a journey of numerous sensations, pleasures and emotions. It began by getting on the motorway and heading towards Roses, a small seaside town in Catalonia, Spain, where the Pyrenees tumble into the Mediterranean Sea. It was there that I found the restaurant El Bulli, where an eccentric, dishevelled genius dressed in white emerged from his 'laboratory' (the kitchen) to wish us a good evening and to introduce us to the mystery that is the Adrià effect.
Curiosity and chaos without boundaries
Parmesan marshmallows, pumpkin oil caramel, oyster with its pearl, or salad of conserved meat and Cantonese crayfish… These are four of the 100 recipes concocted for this season. El Bulli is open for five months each year to cater for just 3,000 lucky diners (they receive 8,000 applications from all over the world). During the rest of the year, Adrià combines his research in the 'Bulli workshop' with trips, conferences, courses and collaborations with businesses.
We sit on the patio, shielded from the sun, where we watch the sea and listen to the waves. I explain to him what café babel is and he swiftly says that whilst he does feel European, cooking knows no boundaries. "Another thing", he goes on, "is to whom you feel closest. Spain, for example, has many characteristics that are different to those of other European countries due to its close ties with Latin America. At the end of the day, we are Latinos above all else."
"But gastronomy evolves and the geographical position of a food can change from one day to the next. Where is cannelloni from? My mother would say Catalonia!", he says with a smile. "Borders are constantly changing and their cuisines change with them. In the kitchen, people leave their geographical affiliations behind. My kitchen's first point of reference is the nearest: this bay. After that, the whole world."
When El Bulli closes to the public, the research stage begins. "You have to remember that El Bulli is a place where you eat radical avant-garde food. What matters to me most is that the customer is happy, but even more than that, that I am happy." People come to eat at this restaurant without knowing that they are going to be served the most extraordinary dishes being made in the whole world; dishes that will invoke surprise, pleasure, laughter and fear.
France in the history books
Adrià considers himself heir to French nouvelle cuisine. So is it a question of France versus Spain? "France versus the world," he corrects. "In the seventies, France revived a creative medium that was in need of complete transformation." Spain has since taken over the mantle but it does acknowledge its priceless inheritance. He explains the difference between the two: "Nouvelle cuisine was one movement. Today there are hundreds: minimalists, naturalists, happenings, performances, live food… the real revolution is that Spain has made cooking contemporary and has attracted media interest. It now draws fondness and curiosity, it contravenes laws and it innovates. It attracts hundreds of young people who want to join in this revolution, bringing fresh ideas with them." He goes on to say that this will result in a 'global' European cuisine that will differ fundamentally from Asian cooking. It will be a compilation of the heritages and movements that will survive this current revolution.
A job for long-distance runners
"Cooking is demanding work in which exigency and perfection must be served up on every plate that leaves the door." Adrià believes that it is an understanding of these requirements and a shared perception of cooking that leads to camaraderie between colleagues in the profession. "The strange thing is that we [chefs] are more highly valued and recognised today, and we are now of interest to the media. We are approached wherever we go. We step into the arena to answer questions, to give insight into what is going on backstage, into our cooking, our recipes and restaurants. That is something that has never happened before."
On top of that, the El Bulli chefs have annotated and documented their activities so that research and advances are not lost. "The publications have a dual purpose: the commercial purpose and the communicative, informative one." I look surprised. He carries on, "El Bulli was not conceived to make money. It is our way of bringing ourselves closer to the rest of the world and showing off our work. We could easily auction places for the restaurant and the figures would surely be impressive…but it's not about that. Dining here costs 150 euros and a wide variety of people come. The important thing is that we are happy with our work and that people enjoy it - not that we give in to the rules of the market or our clients' requests. It is for that reason that the commercial element [TV appearances, cookery books, etc] that surrounds El Bulli is so important [since it finances the restaurant]. My dream is that in two or three years I'll gradually move away from all this and become fully dedicated to my research and travel."
When asked where he would travel, he replies without hesitation "China. The cultural exchange that [the world] is currently experiencing is unparalleled and constantly growing. Chinese cooking is an entire universe in its own right. The problem with Europe has always been its Eurocentrism. If you ask someone in the cooking business to name the best Indian or Chinese chef they have no idea, which is ridiculous as there are more than 2.5 billion people in India and China!"
Chef symphony
At this point we enter Adrià's kitchen, an event which I find somewhat mystical but at the same time intimidating. It is a place of multiple senses, like any of the dishes on his incredible menu. The organisation is impeccable, thirty chefs are finely tuning the Bulli engine tonight. The sound of a running motor can almost be heard amongst the bustle and the coming and going of would-be chefs from all over the world: Italians, Japanese, Brazilians, etc. The hot and cold zones, the carve-up area and the frying area… An assortment of different smells…Hhhmmm, chocolate…!
Art? Food? Emotion? This culinary phenomenon involves living and experimenting with new things, taking on the most radical avant-garde yet and eating a dish that exceeds all your expectations. Tasting this magic-show is an absolute must.
Translated from Ferrán Adriá: la vanguardia culinaria por bandera